Everything We Know About Tom Cruise's 'Mission: Impossible 7' So Far
After abruptly shutting down production due to the coronavirus outbreak, the seventh installment of Tom Cruise's Mission: Impossible franchise will resume filming again in September. Back on track to hit next year's release date, the cast and crew of the action-packed spy thriller will have to follow new COV-19 guidelines during production in the United Kingdom.
Last month, the British Film Commission (BFC) released a 34-page document titled, "Working Safely During COVID-19 in Film and High-end TV Drama Production." These production guidelines detail how to follow social distancing at work and when personal protective equipment need to be worn. M:I's first assistant director Tommy Gormley recently spoke with BBC Radio 4's Today. Gormley expects to shoot a "big chunk" of the movie in the fall and "visit all the countries we planned to."
Simon Pegg, who plays IMF technician Benji Dunn, confirmed the news to Variety and mentioned exterior scenes would be filmed first. Because the Mission: Impossible series is known for its elaborate action sequences, which requires a massive crew and multiple locations, how would the cast and crew shoot in "close proximity" to each other? Pegg mentioned "precautions" would have to take place as everyone involved will be tested for the coronavirus.
Pegg said, "People that are involved in any close proximity stuff, it will have to be determined that they're safe to do that. I don't know what the testing situation is, how that works, or whether they'll be able to be tested regularly."
The Mission: Impossible series follows secret agent Ethan Hunt (Cruise) as he attempts to save the world through death defying stunts. Working for the Impossible Mission Force agency Ethan is constantly on the run, thanks to his deadly adversaries. Four months ago, Ethan's latest adventure came to an untimely stop when a real-life pandemic struck Italy.
With the new Mission: Impossible set to hit theaters on November 19 of next year, check out what we know about the seventh film so far: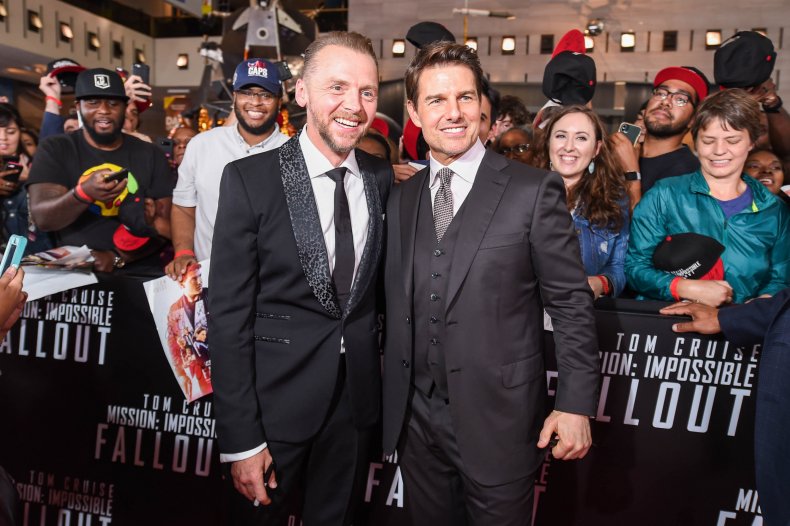 Casting Changes
Last month, Esai Morales replaced Nicholas Hoult as the film's new villain. Due to scheduling conflicts, Hoult would be unable to film the next Mission: Impossible installment and still maintain his commitment shoot the second season of the Hulu's period drama, The Great, per Variety.
Haley Atwell
Last year, the Agent Carter actress landed a part in the next Mission: Impossible movie. Though her role is being kept under wraps, Atwell shared a behind-the-scenes snapshot from her weapons training.
From last December, Atwell wrote on Instagram, "From snipers, pistols and shot guns to the 50 cal, I am learning how to handle these powerful machines under expert supervision."
Last month, Atwell teased a bit about her character during a visit with the Light the Fuse podcast. She said, "There's ambiguity. The interesting thing we're exploring is her resistance to a situation she finds herself in."
"How she starts off, where she becomes. The journey of what she comes into and what is asked of her and potentially where she ends up," added Atwell.
The Director
Last year, Rogue Nation director Christopher McQuarrie struck a deal with Paramount Pictures to stick around with the Mission: Impossible franchise. McQuarrie had signed on for two more movies, per Variety. Before the pandemic struck, Cruise announced on Twitter that the seventh installment was supposed to hit theaters during summer 2021.
Why Two Movies?
After directing Rogue Nation and Fallout, why did McQuarrie feel the need to direct two more? Also last month, The Usual Suspects screenwriter toldLight the Fuse podcast, "The ending of the first movie snapped into place. We knew what the ending was and we knew what the beginning was. And now I had these two sequences, which means, I've got 40 minutes of Mission: Impossible 8 figured out," added MacQuarrie.
Who's Returning?
Ving Rhames (Luther Stickell), Rebecca Ferguson (Ilsa Faust), Vanessa Kirby (Alanna Mitsopolis/White Widow) and composer Lorne Balfe will be returning for M:I 7.
But What About William Brandt?
IMF agent William Brandt (Jeremy Renner) has been in the popular franchise since 2011's Ghost Protocol. Renner had prior obligations filming 2018's Avengers: Infinity War and 2019's Avengers: Endgame back-to-back. This is reason why Renner's character was mentioned in passing during the sixth installment, 2018's Fallout.
Will Brandt show up again? MacQuarrie hinted atLight the Fuse podcast, "Any character, dead or alive, is fair game to return."
Fallout Death
Two years ago, a major death shook the IMF crew in Fallout. Alan Hunley (Alec Baldwin), secretary to the Impossible Missions Force, was stabbed by the villainous August Walker (Henry Cavill). How will the IMF team continue on after Hunley's death?
Fallout Cliffhanger
At the end of Fallout, Ethan wasn't expecting his ex-wife, Julia Meade (Michelle Monaghan), and his new companion, Ilsa ( Ferguson), to meet. Even though Julia has remarried, Ethan is clearly still in love with her. Will he rekindle his old relationship or move on to a new one? I don't think Ethan has time to think about relationships though. Just because he defeated the criminal organization known as The Syndicate in Fallout, that doesn't they won't strike back.
There's Still Number 8
The eighth installment in the Mission: Impossible franchise is scheduled for November 4, 2022.