Everything We Know About When Baseball Is Coming Back
Although the coronavirus pandemic has canceled most sporting events around the globe, Major League Baseball players may actually have a 2020 season.
MLB owners reportedly gave approval to a draft proposal that would have players suited up for the 2020 season in early July, possibly around the Fourth of July weekend, according to an Associated Press report released Monday. Spring training would be set for mid-June, and teams would be expected to play a regular 82-game season. However, the 2020 All-Star Game, which was originally scheduled at Los Angeles' Dodger Stadium on July 14, will likely be canceled.
The proposal, which team owners are expected to present to the players union on Tuesday, also calls for teams to play at their home ballparks. But games would be held at training stadiums and other smaller facilities if state governments do not give clubs a green light to play at major home stadiums and if certain travel restrictions aren't lifted. For instance, should national borders fail to open up in time, the Toronto Blue Jays may be forced to play home games at a location in Dunedin, Florida, a source told the AP.
Despite the pandemic delaying the season and social distancing orders preventing fans from filling up stadiums, the MLB is hoping visitors will be able to return to ballparks by summer. The organization is planning to potentially sell a small number of tickets to games and gradually increase sales.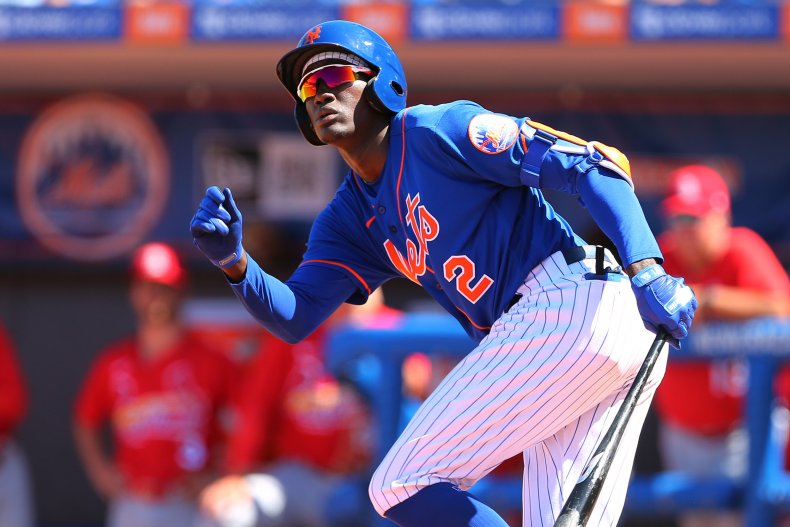 Baseball isn't the only sport that could be making a return. The NFL released its 2020 regular-season schedule on Saturday, with the first kickoff scheduled for September 10.
Although fans and players are anxious for the games to begin, health officials, including Dr. Anthony Fauci, one of the White House's lead advisers on the pandemic and the director of the National Institute of Allergy and Infectious Diseases, has recommended not holding games and allowing patrons in stadiums this year.
"Like, right now, if you fast-forward, and it is now September," Fauci said during an interview with sportswriter Peter King for his "Football Morning in America" column. "The season starts. I say you can't have a season—it's impossible. There's too much infection out there. It doesn't matter what you do. But I would hope that by the time you get to September it's not gonna be the way it is right now."
Fauci added: "Now, even if the virus goes down dramatically in June and July and August, as the virus starts returning in the fall, it would be—in my mind—shame on us if we don't have in place all of the mechanisms to prevent it from blowing up again."