Jake Paul's home was raided by FBI agents on Wednesday, according to a TMZ report.
Authorities arrived at the YouTube star's house in the Calabasas neighborhood of Los Angeles with a search warrant. TMZ photographers snapped images of officers purveying the outside of Paul's home. It was not immediately clear if he was inside when agents arrived.
Federal agents were unable to comment on the nature of the investigation but said in a statement to ABC News's Los Angeles affiliate that multiple firearms were found on Paul's property. The weapons were seized an no arrests were made.
Newsweek has reached out to Paul for comment. This article will be updated if one is received.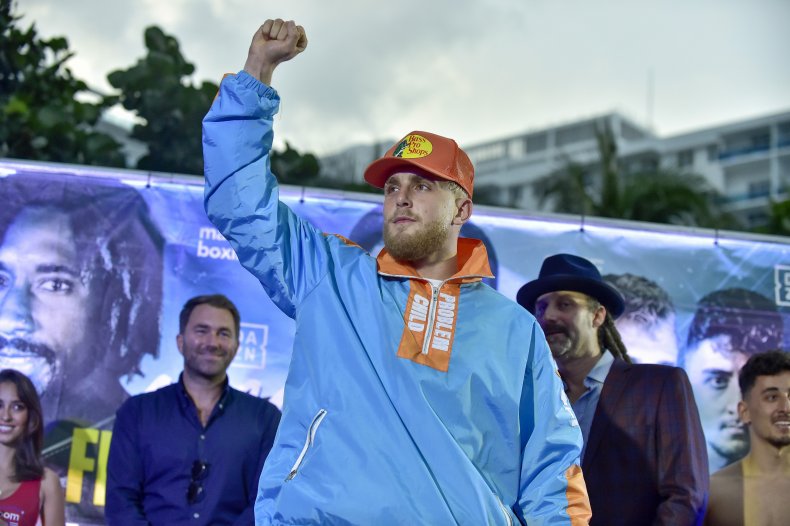 The raid comes following the 23-year-old's arrest in Scottsdale, Arizona in June. Paul was charged with criminal trespassing and unlawful assembly after he was videotaped looting at a mall while protesters were rallying for social and racial justice following the death of George Floyd, a Black man who was killed by a white police officer in Minnesota in May.
Paul, who is known for his controversial pranks, fueds and trolling of other YouTubers, was seen walking through the Scottsdale Fashion Square smashing glass windows at stores including Sephora and a Swarovski crystal retailer. He was also depicted bashing in a car window and passing around a bottle of vodka.
"Our investigation has revealed that Paul was present after the protest was declared an unlawful assembly and the rioters were ordered to leave the area by the police," the Scottsdale Police Department said in a statement at the time. "Paul also unlawfully entered and remained inside of the mall when it was closed. As a result, Paul has been charged with criminal trespass and unlawful assembly."
In an open letter shared on Twitter in June, Paul denied participating in any of the looting that was taking place at the mall, claiming that he was merely there to document what was happening for his YouTube channel, which has more than 20 million subscribers.
"To be absolutely clear, neither I nor anyone in our group was engaged in any looting or vandalism. For context, we spent the day doing our part to peacefully protest one of the most horrific injustices our country has ever seen, which led to us being tear-gassed for filming the events and brutality that were unfolding in Arizona," Paul wrote, adding that he does not "condone violence, looting or breaking the law."
Paul, who is also an amateur boxer, is currently gearing up for his upcoming match against Nate Robinson. The pair are expected to duke it out in the ring ahead of Mike Tyson and Roy Jones Jr in September. Paul won his first match in the ring against AnEsonGib with a knockout punch in January.
This article has been updated with the FBI's findings from the raid on Paul's home.