Everything We Know About 'X'—The New Adult Movie Turned Horror Flick
New horror movie X is coming to theaters soon and the premise alone is turning heads online.
Writer and director Ti West has assembled a talented cast for his upcoming movie which tells the story of an adult film shoot which takes a creepy and potentially deadly turn when an elderly couple starts to interfere.
The trailer dropped online late on Wednesday and instantly caused a reaction across social media. It's our first look at the movie X, and it won't be long until it's out in theaters across the United States.
What Is 'X' About?
The trailer sets up the unique premise of the movie effectively, but still leaves plenty to the imagination.
A group of adult filmmakers ride together in a van and arrive at a barn in Texas to shoot their latest porn movie. However, the barn is owned by an old couple who lives in a nearby house and they don't seem to appreciate what the group is up to. As night falls, the couple's leering interest turns violent.
The trailer suggests there'll be plenty of sex, gore, creepy moments and jump scares throughout X.
Who Stars in the Movie 'X'?
Viewers might be surprised by the names assembled for this horror movie about a fatal porn shoot.
Actress Mia Goth (Emma.) receives top billing while musician Scott Mescudi, aka Kid Cudi, follows up his role in Don't Look Up as a porn star in X.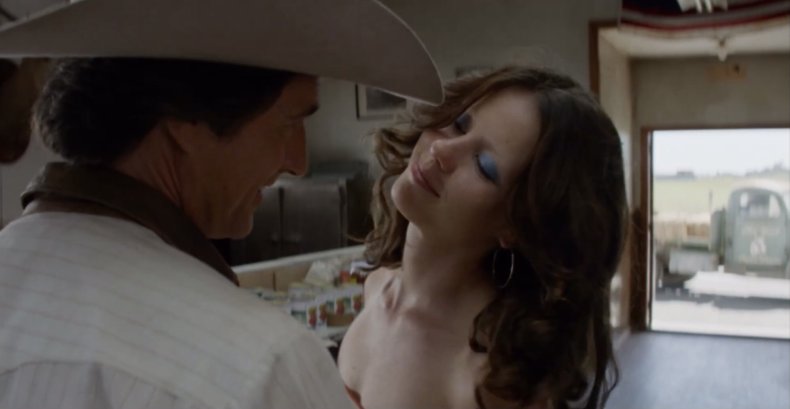 Pitch Perfect actress Brittany Snow also stars while former Disney Channel star Jenna Ortega also features. Stephen Ure, Owen Campbell (As You Are) and Martin Henderson (Grey's Anatomy) all feature in undisclosed roles.
X comes from the mind of horror filmmaker Ti West whose previous movies include The House of the Devil, V/H/S and In a Valley of Violence.
The studio behind X is A24, which was founded in the last decade. It has quickly become known for producing successful and ambitious movies, including Spring Breakers, Ex Machina, Room, Hereditary and Moonlight.
When Is 'X' Out?
We don't have long to wait until X arrives in theaters to titillate and terrify audiences.
While the trailer ominously states that X is "coming soon," A24 confirmed that the movie will come out on Friday March 18, 2022.
Reaction to the Movie 'X' Online
As soon as the X trailer dropped online, curious viewers rushed to share their opinions on social media. Many were surprised by the quality of the trailer while others suggested the movie has Texas Chainsaw Massacre vibes.