Everything We Know About Amazon Black Friday Protests in Europe
Strikes erupted across Europe as Amazon employees called for better wages and safer working conditions on Black Friday, one of the online retailer's busiest days of the year.
The protests are expected to last through the weekend and into "Amazon Prime Day," a discount event for the company's Prime members on Monday and Tuesday.
Amazon officials have said that wages for these workers are in the upper end of what people make in comparable jobs, adding that the unions behind the protests are "misleading" the media for their own gain in a statement to Newsweek.
Unions behind the strikes
Vereinte Dienstleistungsgewerkschaft, which stands for "United Services Trade Union" in German, organized protests in France and Germany. The Berlin-based group, which goes by "Verdi' or "ver.di," has more than 2 million members across more than 1,000 occupations, according to its site. Verdi has organized strikes against Amazon since the spring of 2013.
"These groups are conjuring misinformation to work in their favor, when in fact we already offer the things they claim to be fighting for," an Amazon spokesperson said in a statement to Yahoo! Finance.
GMB Union, which represents about 62,000 workers, was behind the walkouts taking place in the United Kingdom. It's primarily concerned with safe working conditions for Amazon workers in the country, who are frequently injured, knocked unconscious and taken away in ambulances, the union said in a Friday statement.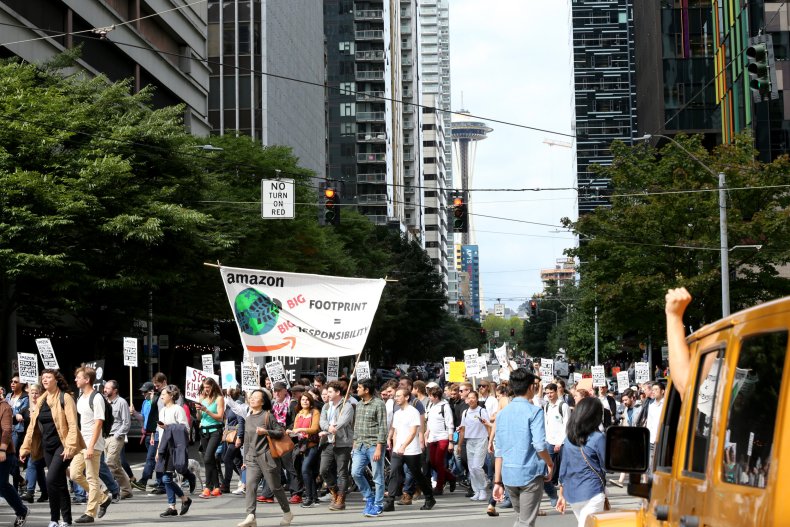 In the U.K.
Protesters convened at Amazon warehouses in eight cities and towns in Britain Friday: London, Bolton, Manchester, Warrington, Rugeley, Coalville, Newport and Sheffield, according to GMB.
GMB cited several surveys in explaining the walkouts, including a 2018 report that found the majority of Amazon workers feared using the bathroom for fear of missing productivity goals.
The union's investigations into the company discovered more than 600 ambulance call outs to Amazon warehouses over a three-year period and more than 600 serious injuries, GMB said in a statement.
No Amazon employees were actually participating in the protests, noting just three such events across the country, rather than eight, according to the company.
"[GMB] is misleading the media and the public about this just as they are misleading the media and the public about the working conditions at Amazon – all in a bid to drive up their organisations membership subs money," a spokesperson said in a statement to Newsweek.
In France
French protests began Thursday night, the BBC reported, when dozens of activists formed a human chain and left refrigerators and appliances outside the Amazon center in Bretigny-sur-Orge.
They also visited Amazon's French headquarters in Clichy, where climate change activists, in part organized by Lyon Climate, gathered to protest the company's greenhouse gas-dumping rapid delivery services.
Some of protesters' signs read: "Stop Amazon and its world," and "Amazon: for the climate, for employment, stop expanding, stop overproduction."
In a statement to the BBC, Amazon cited its "ambitious commitments" in a pledge to become a net zero carbon company ten years ahead of the Paris Climate.
In Germany
On Friday, thousands of German workers walked out of Amazon centers in six German cities and towns: Leipzig, Bad Hersfeld, Koblenz, Rheinberg, Werne and Graben, reported the BBC.
A slew of Amazon protests have occurred in Germany for the better part of a decade, in part because of Verdi's ongoing campaign to include Amazon workers in the German retail industry's collective bargaining structure, according to the union.
Orhan Akman, a Verdi official, said huge Black Friday discount events such as this occur while Amazon workers lack a living wage.
"The company must finally recognize collective agreements for the retail and postal sectors; wages and salaries cannot be determined in the style of lord of the manor," Akman told CNN.
Packages to arrive on time, according to the company
Amazon has told several outlets the protests shouldn't disrupt packages over the weekend.
"While we don't provide exact numbers, we are seeing very limited participation across Germany with zero operational impact and therefore no impact on customer deliveries," an Amazon spokesperson told CNN Business.