'Everything' White House Task Force Adviser Who Sided With Trump Over Masks Says 'Is False," CDC Director Tells Colleague
Members of the White House's coronavirus task force don't always see eye to eye, and Dr. Robert Redfield, director of the Centers for Disease Control and Prevention (CDC), isn't keen on comments the newest addition has been making.
Redfield, who has been a member of the task force since its inception, told a colleague during a September 25 phone call that "everything" Dr. Scott Atlas says "is false." Atlas was added to the task force in August, and Redfield warned a colleague during the phone conversation, which was overheard by NBC News, that he was misleading President Donald Trump with data about mask efficacy, herd immunity benefits and who is at risk.
Atlas contradicted Redfield's sworn testimony last Wednesday that the data shows more than 90 percent of the U.S. population is still susceptible to the new coronavirus. Atlas said during a briefing that same day that Redfield "misstated something" and added that the CDC's state-by-state data "is old." Atlas also said immunity to the infection is not "solely determined by the percentage of people who have antibodies" but also by cross-immunity from other infections.
"So the answer is no, it is not 90 percent of people that are susceptible to the infection," Atlas said, adding that people are "supposed to believe the science and I'm telling you the science."
Redfield and Atlas also broke on the usage of masks. The CDC director told a Senate panel on September 16 that wearing a mask was one of the "most powerful tools" American have right now.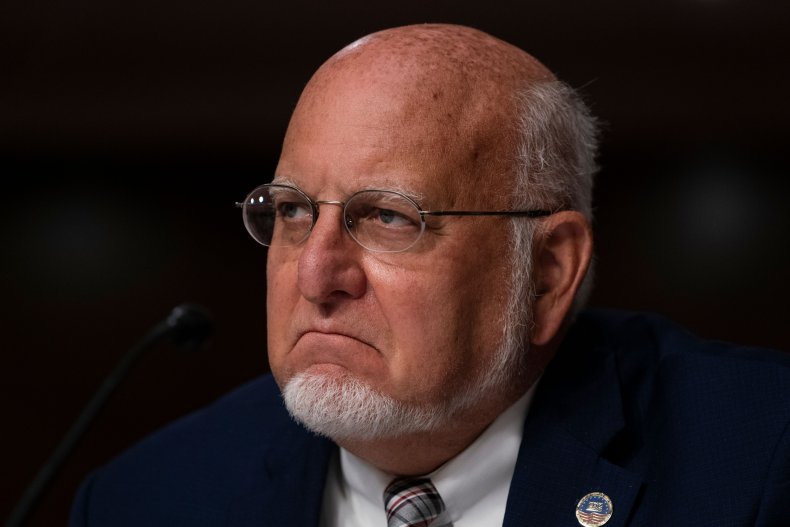 Redfield told senators on September 23 that it's important to use masks if a vaccine is only 50 percent effective, because it'll give immunity to only half the population.
In response, Trump, who called Redfield about his comment that masks could be more effective than a vaccine, said that a mask "perhaps helps" and that Redfield had "made a mistake," a stance that Atlas supported.
"There's no sound science that shows that you should have all populations wear masks in all circumstances...and that is very much in concert with what is posted on the World Health Organization website and that's very much in concert with the president's own policy," Atlas told CNN on September 18.
Newsweek reached out to Atlas, the CDC and the office of Vice President Mike Pence, who heads the task force, for comments but did not receive responses in time for publication.
Trump, who is regularly tested for the coronavirus, started wearing a mask only in the summer and faced criticism for not embracing facial coverings earlier, in order to lead by example. He pushed back on mask wearing, often citing the earliest months of the outbreak when experts, including Dr. Anthony Fauci, head of the National Institute of Allergy and Infectious Diseases, told the public it was necessary to wear a mask only if a person was at risk or had symptoms.
Although the president has started wearing masks and his campaign recommends wearing them at his rallies, images of numerous maskless people gathered closely together while showing support for Trump have brought condemnation.
Atlas told CNN that Trump's view that people should wear a mask when they can't socially distance was "exactly right." He added that the president wasn't going to control what people did at his rallies, calling that "absurd."