Everything William Shatner and George Takei Have Said in Their Long-Running Feud
While on the bridge of the USS Enterprise Captain James Kirk and Helmsman Hikaru Sulu worked together to keep the crew and universe safe, but behind the scenes of Star Trek, the men who played these characters have not seen eye to eye for decades.
William Shatner (Kirk) and George Takei (Sulu) starred in the wildly popular Star Trek television series and numerous Star Trek movies, but offscreen, the two have dissed each other in memoirs, on social media and in the press for years.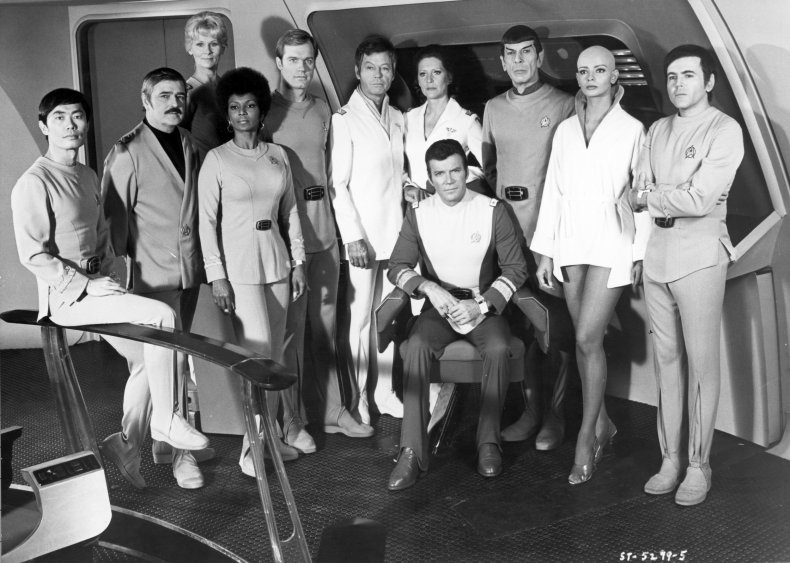 Here is everything that has gone down between Shatner and Takei in their decades-long war of words.
1990s
Takei's 1994 biography To the Stars seems to be the first place he aired his grievances toward Shatner publicly. In the book he accuses Shatner of ignoring him on set of the show as well as changing the script for Star Trek V so his character wouldn't take command of a spaceship, the LA Times reported.
2000s
In 2008, Shatner accused Takei of not inviting him to his wedding. In an interview where he discussed the alleged snub, he said: "There is such a sickness there. It's so patently obvious that there is a psychosis there. I don't know what his original thing about me was. I have no idea," he said during the interview.
He continued, "There must be something else inside George that is festering, and makes him so unhappy that he takes it out on me, in effect a total stranger."
Takei said he did in fact invite Shatner to his nuptials though he never heard back, People reported.
2010s
In Shatner's 2011 memoir, Shatner Rules, the actor said he thought Takei's disdain for him came from an "unwillingness to play second fiddle," the LA Times reported.
2020s
Last year, Shatner doubled down on the claim that he really did not know Takei because his role did not require him to be on as often as Captain Kirk. The actor responded to a tweet claiming that Takei had laughed off the claim.
"He was in less than 2/3rds of the episodes. He was a day player. He came in one or 2 days a week. Do the math. That's why I don't know him. He was on set maybe 3 weeks total per year. That's why I say he has all of these fake stories from the set; when did he have time to act?"
The feud made headlines just last week when Shatner went to space in Jeff Bezo's Blue Origin capsule. At age 90, Shatner became the oldest person to have ever gone to space, Newsweek reported.
"He's boldly going where other people have gone before," Takei told Page 6 upon the news of Shatner's journey.
"He's a guinea pig," he continued.
In commenting on the actor's age, Takei went on to say that he was "not the fittest specimen of 90 years old."
Shatner clapped back at the comments on Twitter saying "Don't hate George. The only time he gets press is when he talks bad about me."