Everything You Need to Know About the Belmont Stakes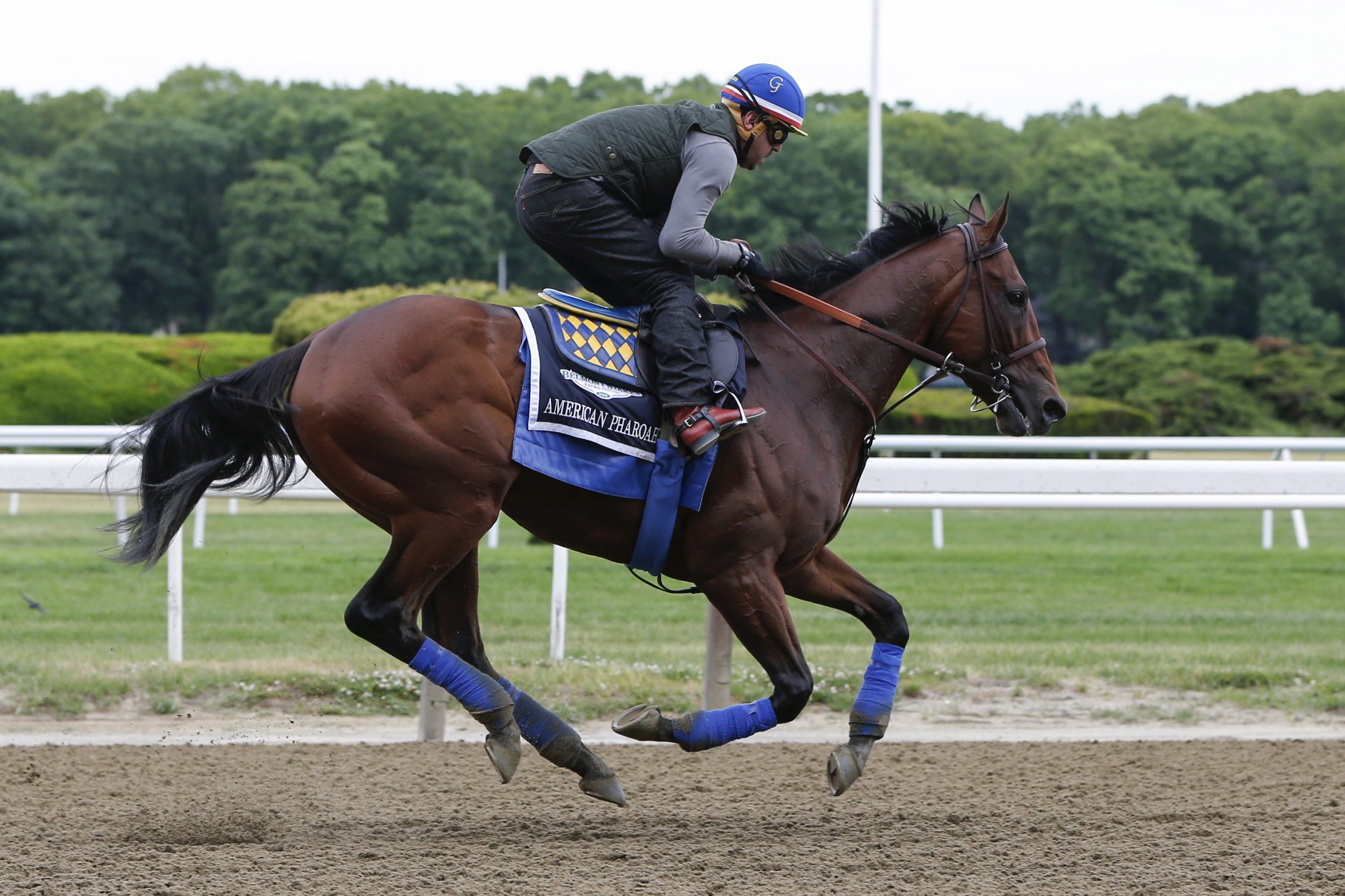 On Saturday at 6:50 p.m., eight horses will line up to compete for the 147th annual Belmont Stakes at Belmont Park in Elmont, New York. Here's everything you need to know to be a horse racing pro (or at least pass for one):
Race Course
The Belmont Stakes was originally held at Jerome Park Racetrack, and then moved to Morris Park Racecourse. When Belmont Park opened in 1905, the Stakes found a forever home.
The course is considered the most challenging of the three Triple Crown races, the Kentucky Derby being the first and the Preakness the second. The Stakes is run on the longest track, at a mile and a half. The last Triple Crown winner finished the race in 2:26. The record time is held by Secretariat, who finished in 2:24 in 1973.
Horses and Jockies
Eight horses are competing in the Belmont Stakes. These are the contenders:
Mubtaahij, ridden by Irad Ortiz, Jr., 10-1 odds
This horse's name means "elated" in Arabic. He is owned by Dubai royal Sheikh Mohammed bin Khalifa al Maktoum. In March, Mubtaahij won the U.A.E. Derby and the $2 million purse that came with it.
Tale of Verve, Gary Stevens, 15-1
The jockey of this horse has already won the Belmont Stakes three times, as well as recording numerous Derby and Preakness wins.
Madefromlucky, Javier Castellano, 12-1
Wearing green and yellow, Castellano hopes to earn even more cash at this year's Stakes after setting a record in 2013 for making the most money by any one jockey in a single year--$26.2 million.
Frammento, Mike Smith, 30-1
A long shot, Frammento will be ridden by a Hall of Fame jockey who has 21 Breeders' Cup victories. Nick Zito, his trainer, also handled two horses that denied potential Triple Crowns in the last 11 years.
American Pharoah, Victor Espinoza, 3-5
The crowd favorite and potential Triple Crown winner, American Pharoah was trained by the legendary Bob Baffert. His jockey, a former bus driver, rode California Chrome last year. He'll be wearing yellow and blue polka dots on Saturday evening.
Frosted, Joel Rosario, 6-1
Trained by a Kentucky native, Frosted has great potential for the Stakes. Because he didn't run in the Preakness, Frosted is well rested for this long race.
Keen Ice, Kent Desormeaux, 20-1
Desormeaux has ridden more than 5,600 winners in his long career, including taking the Belmont Stakes on Summer Bird in 2009. Keen Ice's trainer is also a Kentuckian: Dale Romans, who last won a Triple Crown race in 2011, the Preakness.
Materiality, John Velaquez, 6-1
This horse cost $400,000 because he is the son of 2005 Preakness and Belmont winner Afleet Alex. He is being ridden by a Hall of Fame jockey who last won the Stakes in 2007.
Drinks
The official cocktail of the race is the Belmont Jewel. It includes 1.5 ounces of bourbon, 2 ounces of lemonade and 1 ounce of pomegranate juice, and is garnished with a cherry or lemon on the rocks. The race track has set up extra vendors this year, as the popular drink, sold in a commemorative glass, sold out last year.
Flower Blanket
The official flower of the race is the white carnation. About 700 flowers are used for the blanket, all imported from Colombia. It weighs 40 pounds.
A Philadelphia florist provides the flowers that race track florist Tony Green then glues by hand to a green velvet cloth. "When you drape the blanket over the horse, you want it to look like a bed of carnations," he explains. In case of bad weather, Green will make three blankets: two for the statue of Secretariat, which is outside and may be wind worn, and one for the winner. It takes five hours to make a blanket.
Tickets and Travel
Unlike past years, there is a cap on ticket sales at 90,000. This is due to the mess of overcrowding last year. The park ran out of food and alcohol. There were also issues getting the more than 30,000 people who took the train in and out of the station; delays were up to three hours. To resolve this, the LIRR this year is running more trains at greater frequency.
Triple Crown
The Triple Crown hasn't been claimed in 37 years. The last winner was Affirmed in 1978. The critics are still out as to whether American Pharaoh will be able to pull it off this year.