Everything You Need to Know About Cody Simpson and Lindsay Lohan's Awkward 'Masked Singer' Australia Feud
Cody Simpson is making headlines for a reason other than his relationship with Miley Cyrus. The Australian singer was unmasked as Robot on Australia's version of The Masked Singer on Monday night, but his win has been overshadowed by an awkward encounter with judge Lindsay Lohan.
It appeared Lohan and Simpson had some past drama, which Lohan brought to the public reality show on Monday night. When guessing if Robot really was Simpson, Lohan said there'd be some things for the pair to discuss if it was the heartthrob singer under the mask.
Apparently, Lohan once furnished Simpson's house, and she'd like the furniture back. It may seem like an odd connection, the former Disney star turned Mykonos club queen and Simpson, whose name has quickly become synonymous with Cyrus. The ties lie in Lohan's younger sister, Ali Lohan.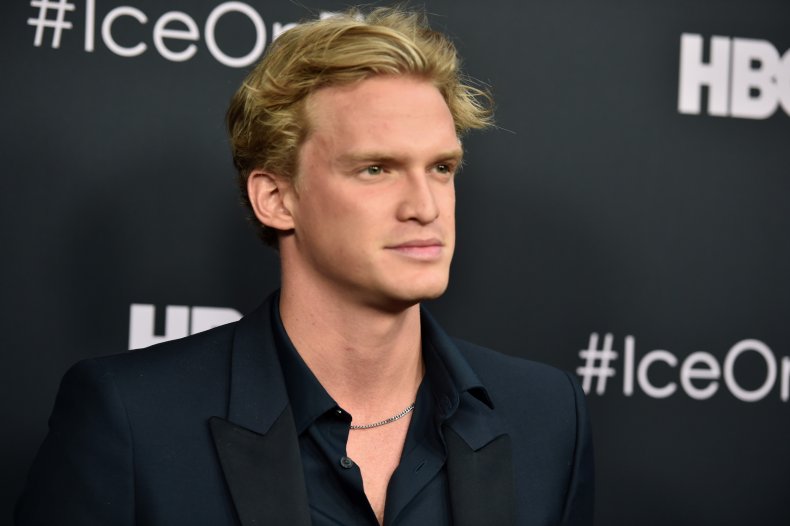 Simpson dated Ali in 2018, according to news.com.au, shortly after he split from supermodel Gigi Hadid. Lohan claims to have furnished a home the pair shared. When they broke up, Ali moved out, but Simpson seemingly never returned the furniture that Lohan had purchased.
On the prerecorded show, Simpson didn't seem to entirely understand what Lohan was saying. He joked that the "furniture never showed up," but he had time to reflect before the post-show press. He revealed Lohan and Ali began ordering furniture to Simpson's Venice Beach home when he refused to buy himself housewide essentials, like a bed frame. "I just didn't really care, you know," Simpson said, according to Too Fab. "They came into the house and kept like, ordering me stuff, and it would show up to the house. [Lindsay] bought me a bed frame."
The reignited feud seemed to be in good fun, though. Lohan raved about Ali's thoughts on Simpson, even after their breakup. "I can't believe this! I can't. I can't. I just need a minute," Lohan said during the reveal. "I'm literally in shock right now. I can't even. I'm, like, blushing for my sister, 'cause I know how much she loves you."
It's unclear if Ali and Simpson keep in contact. During press for The Masked Singer, Simpson revealed his relationship with Cyrus isn't out of nowhere. The pair dated in the past, though the media never noticed. "We were actually together privately for a little while a few years ago, like three or four years ago. But we were in a very different space then, we were partying a lot and a lot more crazy than we are now," he told Popsugar.
Simpson continued. "We both needed the space to figure out what we wanted. She went through a lot, and I had respect and gave her the space to go do her thing with her marriage and all that stuff," he explained. "I think she just learnt a lot, and then we found each other again in a space where both we're sober and really healthy. We're very ambitious, and we're both working on albums at the moment. So, us being able to keep each other sober and be in a nice healthy space allowed this really pure thing to develop between us. I don't think either of us really saw it coming!"