Everything You Need to Know about 'Dead to Me' Before The Second Season Begins
Dead To Me fans, rejoice! The dark comedy is returning to Netflix on Friday, May 8 with 10 new episodes. The show was originally renewed last year, and Netflix dropped the teaser trailer for the show in April.
Warning: Spoilers ahead.
Starring Christina Applegate, Linda Cardelleni and James Marsden, the first season of the show followed Jen Harding (Applegate), a tightly wound woman who had recently lost her husband Ted in a hit-and-run incident. She met Judy Hale (Cardelleni), an optimistic free spirit who claimed her fiancé Steve Wood (Marsden) died of a heart attack, at a widow support group.
However, Judy has a dark secret. Her fiancé is alive, he was one of two people involved in Jen's husband's death: Judy was behind the wheel of the '66 Mustang that killed Ted.
Throughout the first season, the two women coped with their grief as their complicated friendship grew.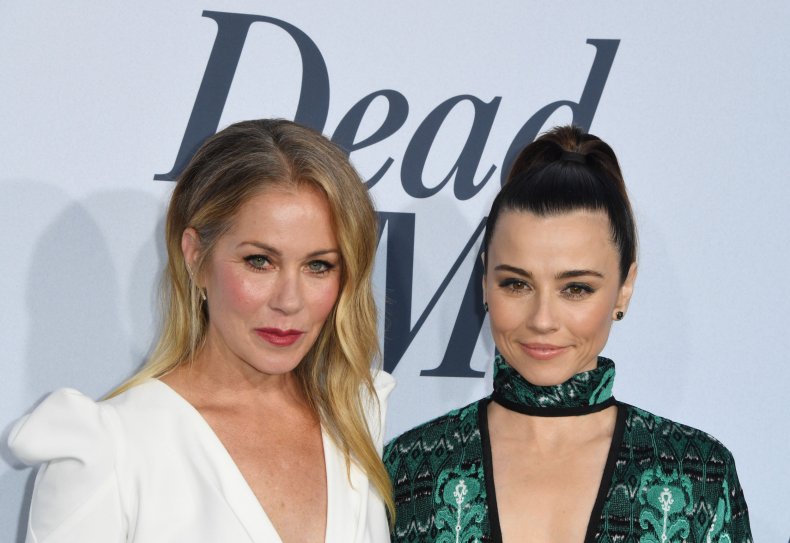 In the final episode of Season 1, Judy finds Steve floating dead in Jen's pool surrounded by blood. Now, the duo returns for and the dark comedy picks up from the first season finale's cliffhanger.
In Netflix's synopsis, the second season begins in "the aftermath of that bloody backyard reveal, the irrepressible pair once again struggle to keep their secrets buried. With a surprising new visitor in town and Detective Perez (Diana Maria Riva) hot on their heels, Jen and Judy take drastic measures to protect their loved ones and each other—no matter the cost."
Showrunner Liz Feldman previously teased what to expect in the second season. "It will be about the further exploration of this friendship, and relationship, and now very complicated dynamic, or even more complicated dynamic between these two women," Feldman told Entertainment Weekly in May 2019. "What I wanted to do was create a situation where they're forced together, and they need each other now in some ways more than they did at the beginning of Season 1."
She also told The Hollywood Reporter that it is unclear whether or not Jen pulled the trigger. "I'll just say that you don't know that she shot him," Feldman confessed in 2019. "Netflix will have to order a Season 2 for us all to find out. Just like the rest of the show, it's not exactly what you think it's going to be."
Dead to Me's first season received an 86 percent rating on Rotten Tomatoes. Applegate previously received nominations for an Emmy and Golden Globe for her role on the show.
Watch the trailer above. Dead to Me Season 2 hits Netflix on Friday, May 8.
Everything You Need to Know about 'Dead to Me' Before The Second Season Begins | Culture