Everything You Need to Know About Kyle vs. Lisa and Camille's Breakdown on 'Real Housewives' Reunion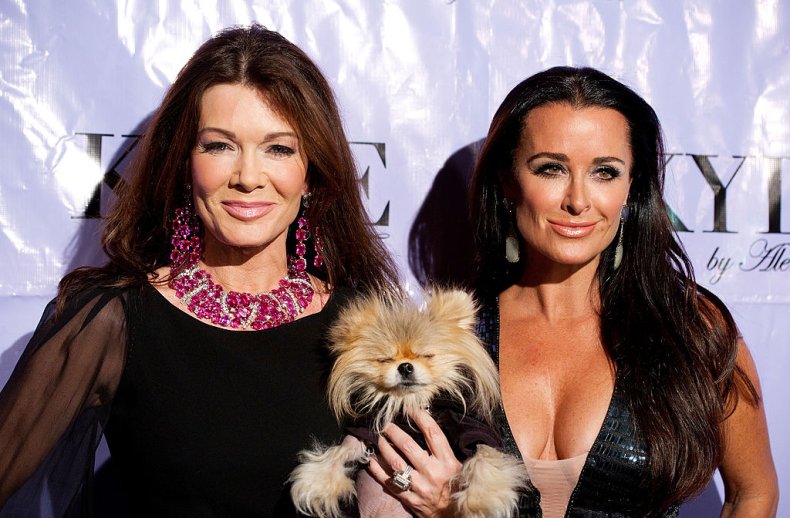 Bravo's Real Housewives reunions are always a wild ride, and the Real Housewives of Beverly Hills reunion—and the aftermath of it—has certainly lived up to its reputation. The season-long feud between Lisa Vanderpump and Kyle Richards (and basically all the women, let's be real) has only gotten more intense and Camille Grammer lost it when she went after Teddy Mellencamp Arroyave, Dorit Kemsley and Denise Richards. There's so much going on it's hard to keep up. Fear not, we've got you covered. Here's everything you need to know about the Real Housewives of Beverly Hills reunion drama.
Kyle Richards vs. Lisa Vanderpump (and now Ken Todd)
What started as a simple dispute over a dog turned into a season-long drama that not only ruined Richards and Vanderpump's decade long friendship but also resulted in Vanderpump leaving the series. Now Vanderpump's husband, Ken Todd, is inserting himself into the drama, accusing Richards of being a bully.
"It's a year this next month that all the negativity against my wife started," Todd wrote on Twitter on Sunday, his birthday. "I know I am not the most eloquent writer—I see and speak in simple terms. This year, there has been a huge amount of nastiness that has pushed my wife to the brink...When, at a time in her life this this, she needed her friends!"
"What really irks me is the hypocrisy of this whole matter. The very PUBLIC issues—lawsuits, over 50 million dollars of the, loans in default, rehab, business misdoings, bankruptcies—have all been swept under a carpet. Lifestyles paid for with other people's money, I call bulls—t!"
Richards blasted back at Todd on Andy Cohen's Watch What Happens Live.
"Ken was saying that we're all wanting to talk about Puppygate because we don't want to talk about what's going on in our lives, but honestly I think Ken wants to talk about everything that's going on with our husband's lives and everyone else's because he doesn't want to talk about what really happened at the beginning of the season with Lisa and the dog coming out at Vanderpump Dogs," Richards told Cohen. "We're supposed to talk about what happens between the women on the show and our relationship. Our husbands, our children did not sign up for the show, we did. So, that's what we talk about and we talked about with Lisa what happened on camera. We're supposed to be honest, that's why we're here."
Richards expanded on her thoughts about Todd's accusations and Vanderpump's behavior on an Instagram story.
"The Real Housewives follows a group of women's lives and how they navigate through their friendships," Richards wrote. "We are followed by cameras that capture what we say and do. We are expected to be honest and say how we feel about any given situation...It is not scripted. It's our reality. I have been on this show many years now...There have been many tears and a lot of laughter over these nine years...I have made mistakes, made good choices, made bad choices, learned a lot and grown as a person."
"This season has left me so frustrated at times. Frustrated that people don't always seem to see the obvious. No, it's not editing. It's people who are good at 'the game.' Bad people can be good at it and good people can be bat at it. People who have spent their entire life treating life as a game and 'winning' at it have had lots of practice."
"When I was told to go to Vanderpump Dogs way back at the beginning of the season, I knew right away what was going on. I was brought there to unknowingly be a part of making [Dorit Kemsley] look bad for entertainment purposes I suppose...Dorit made a mistake. She should have turned the dog back into Vanderpumo Dogs. There is no disputing that. I will not go around and around about that again. Maybe it was the $5,000 return policy that made Dorit think finding a good home for Lucy on her own was a better choice," Richards said.
Then Richards went on to directly address Ken's birthday Twitter message.
"Ken is angry because the cast 'bullied' Lisa when she was going through a hard time. Forgetting the fact that being honest isn't bullying, and the fact that someone has to actually show up to have any interaction with AND the fact that I resisted using any adjective in that realm when Ken got up in my face. However, I DO understand that was a difficult time for Lisa. I had many conversations with her over this time."
What's going on with Camille Grammer?
Grammer certainly made her presence known at the reunion, yelling at all the women, accusing them of being mean girls and saying the only reason she invited them to her wedding was because of the TV "production."
After Grammer accused the women of wanting to "jump on the hate train," Kemsley replied to Grammer, "You do a good job on your own jumping on your own hate train."
"Dorit, you're the most phoniest person I've ever met. You're such a fake," Grammer replied. After Erika (Jayne) Girardi tried to calm her down, Grammer added, ""I have a thing about her. I really do, Erika. I just have a thing about her. I don't like when people pretend they're somebody they're not. It really drives me crazy. I've been around this town for so long and you show up and, I don't know, it's something about you, Dorit," said Grammer. "I just don't feel that you're sincere at times."
"You are perfectly entitled to your opinion," Kemsley told Grammer. "The only thing I ask is that you actually are honest about it. And don't pretend that you like me. And that you want to be friends and invite me to such big moments, like your wedding and your 50th birthday."
That's when Grammer dropped the bombshell that she only invited the women to her wedding because of "production."
"Well, that was production," Grammer replied to Kemsley. "But that is the truth, because I didn't want to invite any of you ladies to my wedding."
This shocked the women, especially Richards, who served as Grammer's bridesmaid. Cohen replied, "You have power over yourself. You have power over yourself, I mean, you do."
Grammer continued to unravel. Eventually, Denise asked Grammer why she's so angry, prompting Grammer to reply, "Oh my God, Denise!"
"Honest to God, like, take it down a notch," Denise said.
"Denise, shut up," said Grammer.
The conversation then shifted to accusations from Grammer that Denise is a bad mother who yells at her kids. Denise denied this. But when Cohen asked Denise what she thought of Grammer trash-talking people at a previous lunch, Grammer had had enough.
"So this is truly a setup," she said, standing up. She unzipped her gown to remove her mic as she walked off set, saying, "I'm done. I'm done."
"Bulls—t. They did say those things. She did say she cursed at her kids. F—k, she did say that. I'm not going through that. Bulls—t. F—k them. I'm leaving. Bulls—t. Nasty bitches," she said, walking into her dressing room.
This ended part 2 of the reunion, but the preview for part 3 shows that Grammer does indeed return, joining the women for even more drama. She is seen in the preview crying and being held by Lisa Rinna.
Expect more twists and turns from the Real Housewives of Beverly Hills when Part 3 of the reunion airs Tuesday at 9 p.m. ET.