Everything You Need to Know About 'Raya and the Last Dragon,' Starring Kelly Marie Tran and Awkwafina
Disney recently announced the casting of Kelly Marie Tran to its upcoming animated film, Raya and the Last Dragon. Tran is joining a voice cast that already includes actress and comedian Awkwafina, a pairing that's worth getting excited about—so excited that we've decided to round up everything we know about the movie so far.
First, the release date: Supposedly, Raya and the Last Dragon will hit movie theaters—if they're still a thing—on March 12, 2021. Next, the directors: The movie comes from directors Don Hall (who previously co-directed 2014's Big Hero 6 and 2016's Moana) and Carlos López Estrada (a music video director who made his feature-length directorial debut with 2018's Blindspotting).
Then there's the story: Raya and the Last Dragon follows Raya (Tran), the daughter of the Chief of the Heart Lands, as she travels throughout the kingdom of Kumandra to find the last dragon. Raya stumbles upon Sisu (Awkwafina), a rare water dragon who has the ability to transform into a human form.
Tran is replacing actress Cassie Steele, who was previously slated to voice the titular role, according to Variety. There's been no official word as to why Steele departed the project. Speaking with Entertainment Weekly, Tran described her character as "totally a warrior," and added, "When she was a kid, she was excited to get her sword. And she grows up to be a really badass, gritty warrior and can really take care of herself."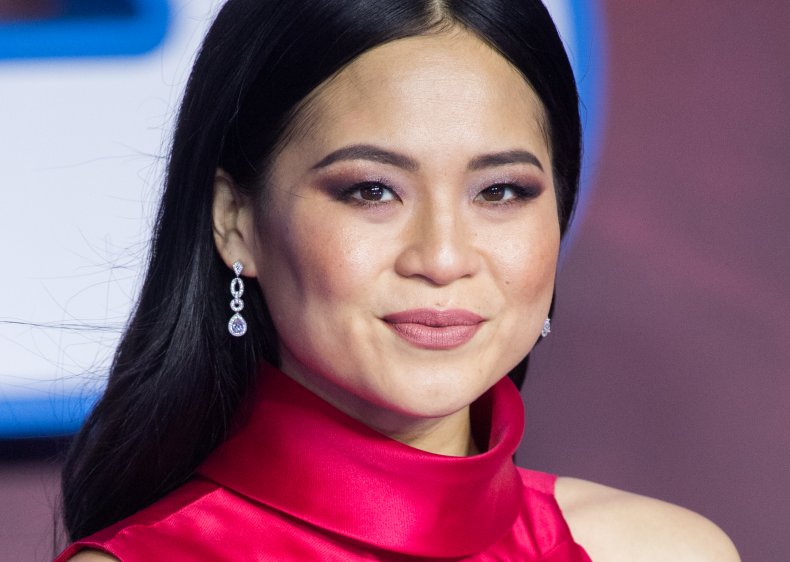 Jennifer Lee, Chief Creative Officer at Walt Disney Animation Studios, praised directors Hall and Estrada, as well as Tran, in a press release, per The Wrap. "As filmmakers, Don and Carlos bring a combination of animation know-how and emotional storytelling to Raya and the Last Dragon, bringing our fantasy adventure to surprising, original, and dynamic heights," Lee said. "They both saw the potential for this film and had a strong vision for the story, especially for our lead character, played by the wonderfully talented Kelly Marie Tran."
Casting Tran isn't just notable because of her high-profile role in 2017's The Last Jedi—it's also a history-making moment for Disney. Tran will be the first actress of Southeast Asian descent to top-line an animated film from the iconic studio.
"I felt so seen, and it was such a blissful feeling," the actress told EW. "I don't know if I can even explain it, but it was this surprise. I've worked on some things before which obviously weren't as culturally specific as this, and I don't think that I knew that I needed that."
Thursday night, one of Raya's screenwriters, Qui Nguyen, tweeted about Tran's casting, writing, "I know a lot of people are excited about her being a Disney princess, but I'm more excited she's gonna be my kids' new favorite superhero. And she looks like them."
The film's other screenwriter, Adele Lim, also tweeted about the casting news on Thursday. "Kelly Marie Tran is our Raya! Loved working with the magic Disney team and my killer scribe brother, Qui Nguyen. Looking forward to March 2021," Lim wrote.
Along with the major casting news, Disney also shared the first image of Raya on social media on Thursday. Catch a glimpse in the tweet below.
Production on Raya and the Last Dragon was put on hold about six months ago because of the coronavirus pandemic, as noted by The Wrap. (Its release, originally scheduled for November 25, 2020, also had to be delayed, obviously.) Work on the new feature will currently continue from remote locations.
The movie's other big star, Awkwafina, spoke about her character in a 2019 video interview with Good Morning America. "She's a shape-shifter dragon. This beautiful, regal beast obviously loved by the country. Half of her is an awkward human, so like me," she joked.
Awkwafina also acknowledged the power of getting to tell a Disney story set in a land inspired by Southeast Asian cultures. "For our specific situation, we're coming from a place that hasn't been told before," she said. "I hope it will represent people in those fractions, but will also add to the roster for really empowered characters that Disney has always showcased."