Everything You Need To Know About Triumph the Insult Comic Dog Featured on 'The Masked Singer'
The Masked Singer opened with a K-9 guest star on Wednesday night. Triumph the Insult Comic Dog took a seat at the judge's table to critique the celebrity singer and take a shot at identifying which stars are under each mask. The character, which is a fictional dog voiced by Robert Smigel, was met with mixed reactions from Twitter commenters.
The dog is known for witty, and sometimes cruel, remarks, particularly when it comes to celebrity culture. He's considered a TV icon after beginning his character career on Late Night With Conan O'Brien.
Some fans of The Masked Singer welcomed the addition of Triumph, while others didn't seem to understand why Fox chose the comedic K-9 to participate.
As the night went on, Triumph The Insult Comic Dog not only insulted the celebrity contestants but took jabs at the rest of the judging panel. The comedic dog called out celebrity judge Robin Thicke's career in a joke on Twitter before the episode premiere.
"This was fun," wrote the dog. "I love a good mystery, for example, figuring out where Robin Thicke's been since 2013."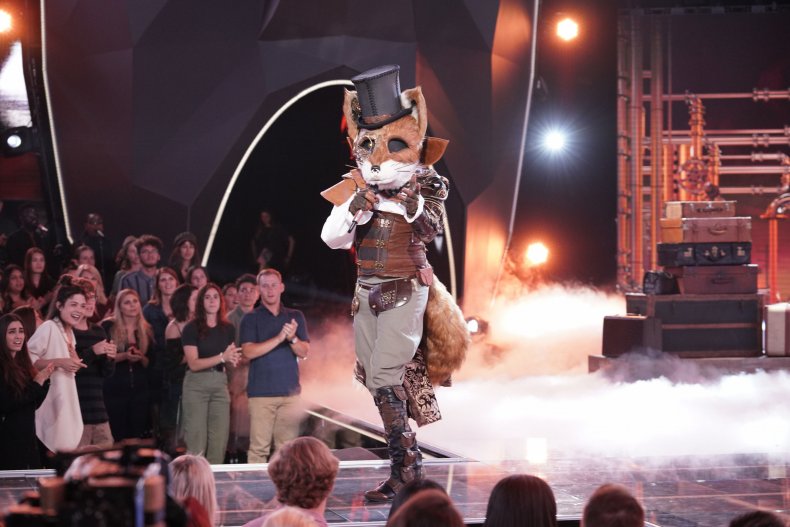 The dog also made Thicke the butt of jokes on the show. When the Fox sang, Triumph claimed dogs and foxes are enemies in the wild, but despite the natural boundary, he enjoyed the performance. As for the natural enemies part, the dog added it's "much like Robin Thicke and any woman born before the year 2000."
The rest of the night was dedicated to the nine remaining masked singers, five of whom took the stage to fight for another week on the pre-recorded show. Many fans pointed out the show must have been filmed at the same time as last week's double episode, as the judges were seen in the same clothing.
So far, a handful of impressive celebrities have been unveiled on the series. They are Olympian Johnny Weir (Egg), TV's Dr. Drew Pinsky (Eagle), Boxer Laila Ali (Panda), Comedian Sherri Shepherd (Penguin), gamer Ninja (Ice Cream), Actor Raven-Symone (Black Widow) and Paul Shaffer (Skeleton).
Much of the reality show's appeal is in online conversations to decode clues about each singer's identity. The show reveals a handful of additional hints each time a masked celebrity sings. Some clues have led to major guesses from viewers. One doesn't seem to be going away. More than a handful of fans and news outlets seem to think Flamingo is Adrienne Bailon. The former Cheetah Girl claims she's not involved though, as she told Too Fab at the People's Choice Awards.
Other guesses of celebrity involvement are ever-changing. The show's finale will be in mid-December.