Everything You Need to Know Before Placing a Bet on the Eagles or Chiefs in Super Bowl 57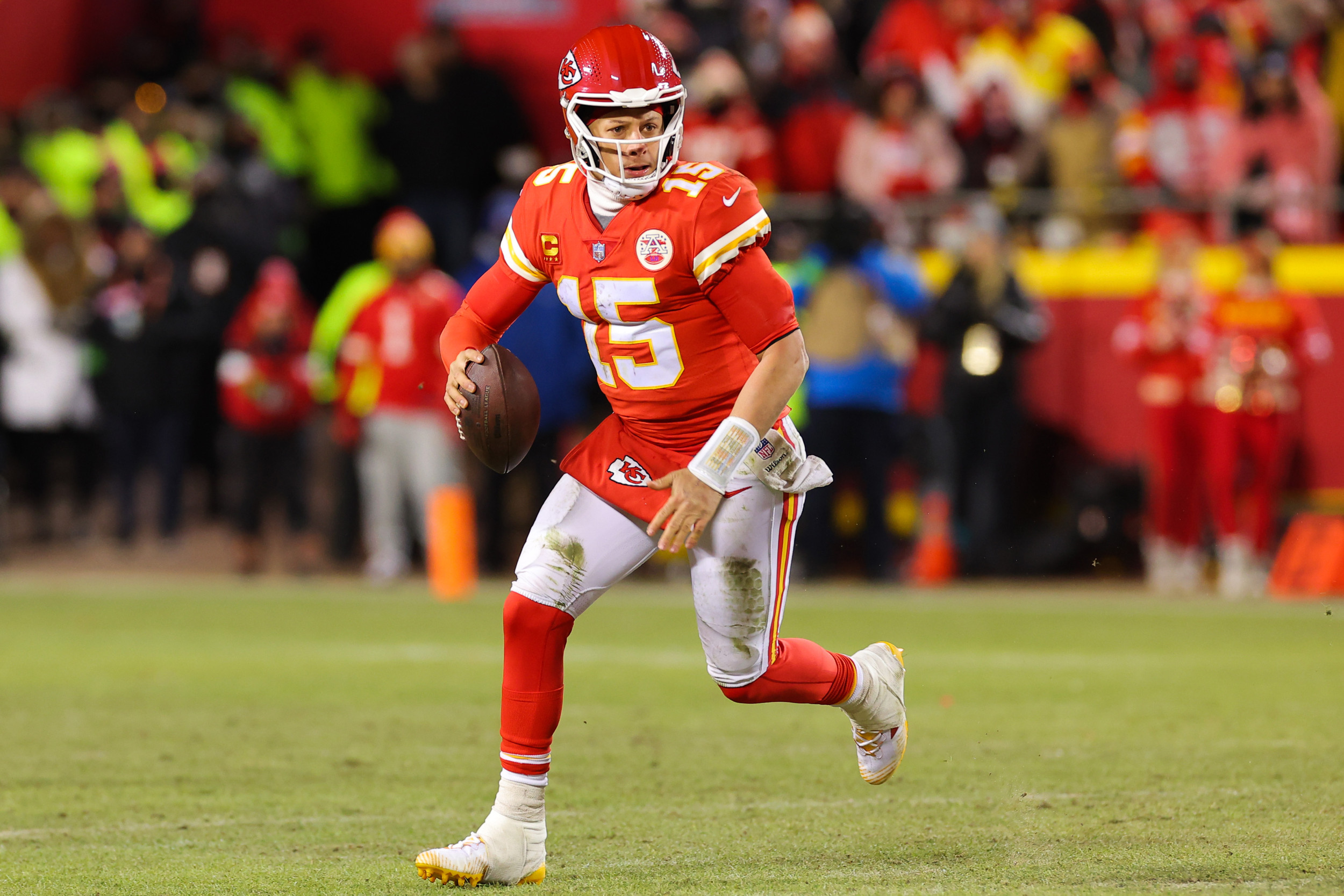 Sports Betting Dime provides exclusive sports-betting content to Newsweek, including picks, analysis, tools and sportsbook offers to help bettors get in on the action. Please wager responsibly.
Super Bowl 57 between the NFC-champion Philadelphia Eagles and AFC-champion Kansas City Chiefs is still nearly two weeks away. Anyone thinking about wagering on the game should use this painfully long interstitial space wisely.
On that note, here are nine topics every prospective bettor should dive into before wagering on the game.
1. Who's favored to win Super Bowl 57?
The Eagles are two-point betting favorites as of early Tuesday morning and -130 on the moneyline. The Chiefs are +110 underdogs to win outright. The opening point spread was Eagles -1 and the moneyline at FanDuel Sportsbook had both teams at -110. But the early money was on Philadelphia and it moved the spread to 2.5 by the end of Sunday night. The line has since shifted slightly back towards the Chiefs.
The game total opened at 49.5 and has remained steady at most sportsbooks, though it has been bet up incrementally to 50 flat at DraftKings.
2. Who has home-field advantage?
Trick question: no one. The game is being played at State Farm Stadium in Glendale, Arizona. That's considerably closer to Kansas City (1,211 miles) than Philadelphia (2,350 miles) but don't expect the crowd to be partial either way. The cheapest ticket to the game is $6,000. Not exactly in the budget for most of the die-hard fans climbing greased-up light posts.
3. What's the weather forecast?
The 14-day forecast is calling for a mix of sun and clouds in Glendale on Feb. 12 with a high of 64 degrees. But State Farm Stadium has a retractable roof, so even if it is raining or abnormally windy, the roof will be closed and weather won't be a factor.
4. Which team is healthier?
The answer to that question today is Philadelphia, and it's not close. The Eagles entered the NFC Championship Game close to full health and came out of their 31-7 rout of the 49ers relatively unscathed.
The Chiefs, on the other hand, had a litany of injury designations heading into the AFC Championship against the Bengals, and saw cornerback L'Jarius Snead and receivers Mecole Hardman, JuJu Smith-Schuster, and Kadarius Toney all exit during the game.
Quarterback Patrick Mahomes was noticeably slowed by a high-ankle sprain, but managed to finish the game and now has two weeks to recover.
At this point, it's still far too early to tell how healthy Kansas City will be come Feb. 12. But you would be hard-pressed to find a Super Bowl participant that needed the two-week hiatus more than this year's K.C. squad.
5. Wait, who's Philadelphia's quarterback?
Casual NFL fans will be well-acquainted with the name of Kansas City QB Patrick Mahomes. Still just 27 years old, the former tenth-overall pick already has a Super Bowl title on his resume (2020), plus a Super Bowl MVP award, one (soon to be two) NFL MVP awards (2018), and two (soon to be three) All-Pro selections (2018 and 2022).
He is the best football player on the planet right now, at least on offense.
The Eagles, on the other hand, are captained by a much-less heralded pivot. Alabama/Oklahoma product Jalen Hurts was a late second-round pick back in 2020, a couple months after Mahomes won Super Bowl 54.
Hurts started four games as a rookie with discouraging results: 52.0 completion percentage, six touchdowns, and four interceptions. He did show flashes of his dual-threat ability though, rushing for 354 yards and three touchdowns.
His second season showed progress. Hurts upped his completion percentage to 61.3 in 15 starts, but he only averaged 209 passing yards per game and was limited to 16 touchdowns and nine picks. He continued to be dangerous with his legs, rusing for 784 yards and ten TDs.
This season, he put everything together. His completion percentage skyrocketed to 66.5, while his touchdown passes increased to 22 and his interceptions dropped to just six, again in 15 starts. Hurts averaged nearly 250 passing yards per game while still proving to be a nightmare for defenses on the ground (760 rushing yards and 13 TDs). He was MVP favorites at points during the first half of the season. Once discarded by Alabama in favor of Tua Tagovailoa, Hurts is writing a feel-good redemption arc.
6. Which team was better in the regular season?
Philadelphia and Kansas City finished with identical and NFL-best 14-3 records. They had the third and fourth-best point differentials at +133 and +127, respectively, and sat first and second in the NFL in points scored (496 and 477).
On paper, they were near-equals, though they got the job done in different ways. The Chiefs leaned on Mahomes' arm and led the league in passing yards (297.8 per game), which was nearly 30 more than any other team.
The Eagles were a run-first team, allowing their NFL-best offensive line to bully its way down the field. Philadelphia led the league in rushing yards (208.0 per game), a ludicrous 53 more than the second-best team (Baltimore).
Running back Miles Sanders was the lead dog in the regular season (1,269 yards). In the postseason, backup Kenneth Gainwell has played a more prominent role (outgaining Sanders 130 to 126 in the past two games), while Hurts has continued to use his legs effectively, adding 73 more rushing yards to his 760 from the regular season.
7. Which team was better against the spread?
While the teams' straight-up records were identical, there was a discrepancy between the teams' ATS (against the spread) records. Despite going 14-3 during the regular season, the Chiefs were a dismal 6-10-1 against the number. They stared down large spreads on a weekly basis and found themselves in a number of close games.
The Eagles were a little better, but not much, going 8-9 ATS in the regular season. They have covered both playoff games by significant margins, though, beating the Giants by 31 as eight-point favorites in the divisional round and the 49ers by 24 as 2.5-point chalk in the NFC title game.
The Chiefs failed to cover as 9.5-point favorites in the divisional round against the Jaguars thanks to a Jacksonville field goal in the final minute which made the score 27-20. They did get an ATS victory against the Bengals, winning 23-20 as two-point favorites.
8. Which coach has the better playoff pedigree?
This one really isn't a contest. Kansas City coach Andy Reid, 64, laps Philly coach Nick Sirianni, 41, in postseason experience.
For years, make that decades, Reid had a reputation for underperforming in the postseason. During his tenure with the Eagles (1999-2012) he took his team to the playoffs nine times, but only reached the Super Bowl once, losing to the Patriots in 2006-07. He finally put that narrative to rest in 2019-20 with the Chiefs, orchestrating a dramatic fourth-quarter comeback to beat San Francisco in Super Bowl 54.
The Chiefs lost to Tampa Bay the next season in Super Bowl 55, dropping Reid's Super Bowl record to 1-2.
Sirianni is in just his second season as an NFL head coach. He was 0-1 in the playoffs last season, losing to the Buccaneers 31-15 in the wild-card round. Prior to taking the Eagles job, Sirianni was the offensive coordinator for the Colts from 2018-2020. The Colts were 1-2 in the postseason during that span.
9. Which team has the better defense?
In the regular season, at least on paper, there wasn't much to choose between these defenses. The Eagles surrendered 20.2 PPG while the Chiefs gave up 21.7. But you don't have to dig too much deeper to realize Philadelphia is considerably stronger on the defensive side of the ball.
Philadelphia's pass rush was by far the best in the NFL. The Eagles racked up an NFL-best 70 sacks in the regular season, the third-highest team total ever. At full strength in the postseason, they have surrendered just 14 points combined in two games. Yes, they did have the benefit of facing an injured Brock Purdy and fourth-stringer Josh Johnson last week, but their last eight quarters have nonetheless been a defensive clinic. Combined, the Giants and 49ers attempted just 45 passes, yet were sacked eight times.
The Defensive DVOA metric at Football Outsiders, which measures efficiency on a play-by-play basis ranked the Eagles sixth-best on defense during the regular season, while the Chiefs were all the way down in 17th. The Chiefs do have an excellent pass rush in its own right, though, finishing second to the Eagles with 55 in the regular season. They took full advantage of Cincinnati's banged-up offensive line last Sunday, sacking Joe Burrow five times.
On offense, Kansas City was given a significant edge in DVOA, sitting first in the league - by a lot - while the Eagles were a distant third.
Newsweek may earn an affiliate commission if you sign up through the links in this article. See the sportsbook operator's terms and conditions for important details. Sports betting operators have no influence over newsroom coverage. If you or a loved one has a gambling problem call the National Council on Problem Gambling 24/7 at 1-800-GAMBLER. Must be 21 or older to gamble.