Everything You Need to Know About Vote-By-Mail: Lawmakers Push to Safeguard Elections As Primaries Are Canceled Over Coronavirus
The Democratic primary for president is changing rapidly as states adjust their electoral process amid the coronavirus pandemic
Nearly a dozen states and at least one territory (Puerto Rico) have already postponed their elections until late May or early June to avoid spreading the disease. Many of them have taken an additional step to protect voters and poll workers by switching to a vote-by-mail system.
Coronavirus has spread to all 50 states with the number of confirmed cases in the U.S. exceeding 44,000 and at least 544 deaths, according to the latest data from the Centers for Disease Control and Prevention. The outbreak was declared a pandemic by the World Health Organization.
The outbreak has caused both remaining candidates—Joe Biden and Bernie Sanders—to stop traditional, in-person campaigning in favor of virtual town halls and events. Biden is currently viewed as the frontrunner for the Democratic nomination as he leads in the delegate count by roughly 300. But there are still 1,679 delegates up for grabs in the remaining contests.
Tom Perez, the chairman of the Democratic National Committee, has urged states not to postpone their primaries and instead expand voting by mail so people can participate in the election without risk. Mail-in ballots are a major reason why turnout didn't decrease in the Florida and Arizona primary elections held earlier this month.
Democrats in the House of Representatives are also pushing for a provision in their stimulus package that would make it possible for every eligible voter in the nation to cast a vote-by-mail ballot for federal elections.
Here's everything you need to know.
How Does Vote-By-Mail Work
Ballots are mailed out well ahead of Election Day, providing people with an extended period of time (usually a few weeks) to vote. In all-mail elections, every registered voter receives a ballot from the state with pre-paid postage and a self-sealing envelope. Voters then have to mail them back or they can drop it off at specified locations.
Voting by mail currently looks different in each state. Most allow all voters to cast a mail-in ballot any time and about a quarter of Americans already vote by mail today. But 17 states restrict voting by mail to people who have disabilities, who are ill or who would be out of town on Election Day.
Which States Are Using It
A handful of states—Colorado, Hawaii, Oregon, Washington and Utah—already vote-by-mail in all of their elections. A Washington official previously told Newsweek ahead of their March 10 primary that they were "more happy than ever that we are a vote-by-mail state."
But amid the coronavirus outbreak, several other states are now considering such a system to conduct their Democratic primaries for president. Election officials in Alaska, Indiana, Rhode Island and Wyoming have already switched to voting primarily by mail.
Maryland, which has postponed its primary until June 2, is also considering vote-by-mail but Governor Larry Hogan said he didn't think it would be possible to get a system up and running in time. New York officials are considering both delaying the state's April 28 primary and expanding mail-in options. Ohio Secretary of State Frank LaRose has proposed sending all voters postage-paid absentee ballots to complete the state's March 17 primary, which had been postponed at the very last minute by Governor Mike Dewine.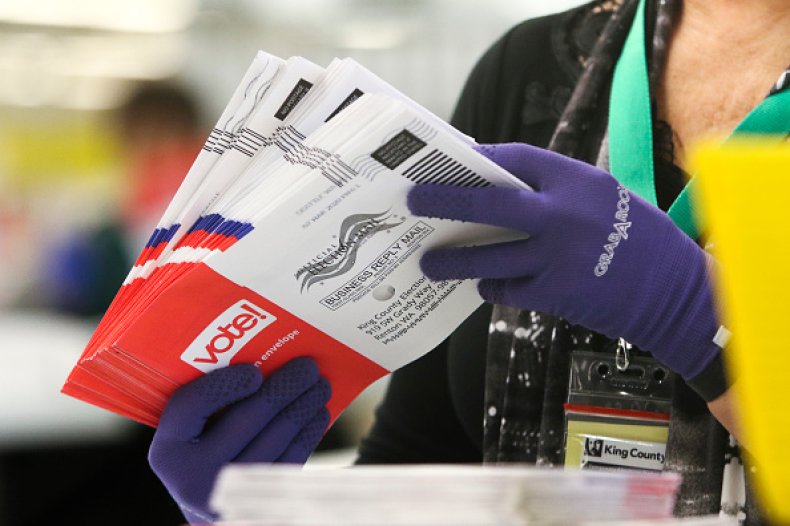 How It'll Affect the Democratic National Convention and the General Election
As long as the votes are in and delegates are awarded by the Democratic National Convention on July 13, then the event will go on as originally scheduled. Even if states move to vote-by-mail, the last primary is scheduled for June 20—more than two weeks before the convention starts.
But officials are already planning for "contingency options" in case the pandemic is still happening, according to a report from The New York Times.
House Democrats are also preparing for the possibility that the coronavirus outbreak could affect the general election in November. The legislation would mandate that states set up a process by which any voter can vote by mail if they choose without having to give an explanation. Voters would be provided with pre-paid postage and a self-sealing envelope. It would also require any state in an emergency to automatically mail absentee ballots to all registered voters no later than two weeks before Election Day. The proposal budgeted $4 billion for these changes to be made.
Senators Ron Wyden (D-Ore.) and Amy Klobuchar (D-Minn.) have also introduced their own vote-by-mail bill. Their proposal would require states to have 20 days of early in-person voting and no-excuse absentee vote-by-mail. It would also provide states a total of $500 million to cover the costs of shifting to such a system.
"Americans are facing unprecedented disruptions to their daily lives and we need to make sure that in the midst of this pandemic, Americans don't also lose their ability to vote," Klobuchar said in a statement.