As Eviction Moratorium Expires, Americans Owe $20 Billion in Unpaid Rent
More than 15 million people in the U.S. are at risk of being evicted from their homes when the nationwide ban on evictions ends on July 31, according to a new report.
The report by the COVID-19 Eviction Defense Project and The Aspen Institute's Financial Security Program, which was provided to Newsweek, said many of the more than 100 million people living in rented homes in the country are making a gradual recovery from the unprecedented economic crisis sparked by the coronavirus pandemic.
But it warned that despite the progress, a "meaningful" percentage of renters remain on the brink of eviction, displacement and homelessness.
More than 15 million people—around half of them children—live in households that are behind on rent payments, the report said.
It cited an estimate by the National Equity Atlas that the roughly 6.4 million households that are behind on rent owe a combined $21.3 billion to their landlords, with an average of $3,000 owed per household.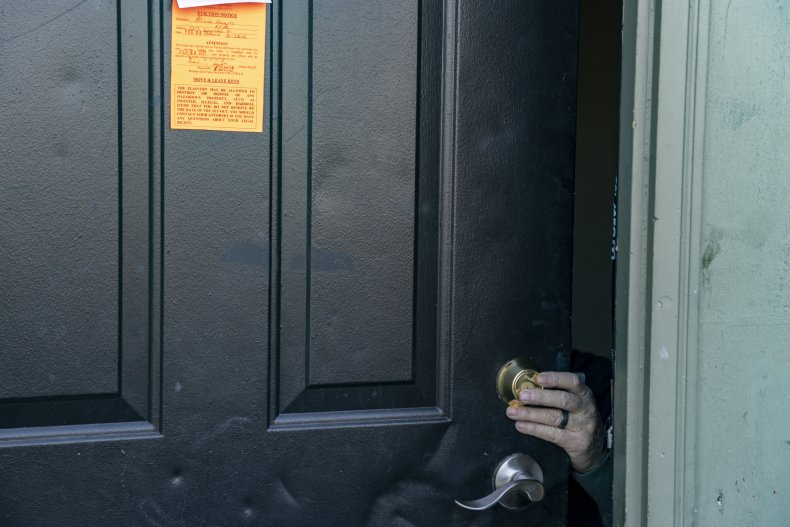 As of July 5, around 3.6 million people in the U.S. said they faced eviction in the next two months, according to the U.S. Census Bureau's Household Pulse Survey.
With the federal eviction moratorium imposed by the U.S. Centers for Disease Control and Prevention lifting at the end of the month, renters are facing civil lawsuits, aggressive debt collection as well as eviction, the new report warns.
These "crises will continue to cause harm years into the future," the report says.
The threat of eviction disproportionately affects renters of color, the report adds. Currently, 22 percent of Black renters and 17 percent of Latino renters are in debt to landlords, compared to 11 percent of white renters.
Congress allocated almost $47 billion for emergency rental assistance in December.
But the report notes that states, counties and nonprofits tasked with delivering the funds to landlords and renters "have faced significant statutory, logistical, and practical obstacles that have made disbursement difficult and time-consuming."
"It's kind of terrible that it depends where you are, what state you're in," Dan Immergluck, a professor at Georgia State University who conducts research on housing, told Newsweek. "Some states have gotten out three-quarters of the rental assistance money and are doing a good job, but in Georgia, we're under 10 percent."
The report urges agencies distributing emergency rental assistance funds to implement policies that stabilize tenants and facilitate the distribution of funds, allow tenants who live in low-income areas to self-attest to their income, and establish "fast lanes" to ensure payments arrive before tenants are evicted.
"State governments must take immediate action to limit harm and create breathing room for local rental assistance programs to get federal dollars to property owners and their renters," the report adds.
"There is an unprecedented amount of assistance available to renters, but it's not reaching households in time," Sam Gilman, co-founder of The COVID-19 Eviction Defense Project and a co-author of the report, told Newsweek.
"I am worried about the families who are going to get evicted while waiting for their checks to arrive in the mail. These preventable evictions cause intergenerational poverty and health challenges. They also harm landlords and cost the state enormous sums of money."
Gilman added: "Without better federal guidelines for processing rental assistance applications and protective state policies that keep people in their homes, families will be facing eviction while they wait for rental assistance checks."