Evidence Mounts of School Health Hazards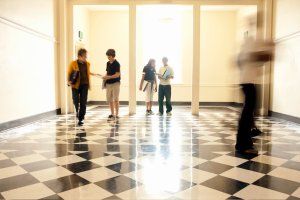 The elementary, middle, and high schools in Cle Elum, Wash.—a town on the eastern side of the Cascade Mountains with a poverty rate twice the national average—were built across from the trash transfer station. They are also near a washing station once used by coal-mining operations, which left hills of black waste containing arsenic, cadmium, and lead. The elementary school opened without heat, and the boilers that were ultimately installed did not burn cleanly and released exhaust into an intake for the ventilation system located feet away. Construction issues led to water seeping into the building, and mold grew throughout the school.
All of this is according to Thelma Simon, a parent who removed her son, Kyle, from the system in 1995 because of his constant asthma attacks, and former teachers who also claim to have been sickened by the buildings. Other kids and teachers reported symptoms including mouth blisters, rashes, and cysts, and teachers in the high school ultimately filed a lawsuit. But though the school district made some improvements in response to the suit, Simon and teachers who left the school system for health reasons say the underlying problems remain unaddressed, and they continue to hear reports of the schools' causing illness. (Mark Flatau, who became the district's superintendent in 2005, says all environmental problems in the high school were resolved well before he arrived and he is unaware of a problem ever existing in the building shared by the lower and middle schools.) Until Kyle graduated from high school in 2008, Simon and her husband drove 64 miles a day to take him to school in a neighboring district.
This should be a one-of-a-kind story. But tales of schools rife with mold and toxins from building materials, as well as schools built on former industrial sites or in the shadow of chemical factories, can be found all across the country. A 2009 report by the nonprofit advocacy group the Healthy Schools Network estimated that roughly 32 million children nationwide may be at high risk of health problems based "solely on the condition of the school."
The Environmental Protection Agency celebrates October as Child Health Month, and the agency's administrator, Lisa Jackson, has been vocal since her appointment in January 2009 about the need to protect children's health in schools. Early in her tenure, she launched an effort to test the air quality at 63 schools in 22 states to gauge how widespread environmental threats are; the agency has yet to release conclusions from the study. The Obama administration has also included a "Healthy Schools" initiative as part of the proposed budget for the EPA, now being considered in Congress. But the EPA is more than a year late in issuing two sets of voluntary guidelines for school environmental health that Congress mandated in legislation passed in 2007, in part because of budget cuts under the Bush administration—one guideline is expected to be issued this fall, but work has not yet begun on the second.
The Healthy Schools Network's Claire Barnett expresses surprise that, given the Obama administration's high-profile focus on education and the seriousness of the environmental health threats, the EPA has not been an equal partner with the Department of Education in turning around failing schools nor equally involved in discussions of education reform. Toxic schools not only cause children lifelong health problems, she argues, but also undermine their ability to learn. "If you're the world's most perfect parent and you have the world's most perfect children, who enter a school…that's shedding 500 parts per million of lead, you've just undone everything," Barnett says. "It happens more frequently than anyone would like to think."
And research such as one study underway at the University of Michigan suggests that the problem of school environmental hazards may disproportionately endanger poor children and those of color. Preliminary findings of the ongoing study, led by Paul Mohai and Byoung-Suk Kweon, suggest the scope of the problem of school pollution and its impact on performance. Their team divided their state into 10 zones based on the concentration of pollutants, including lead and manganese, and found that 64 percent of all students attend school in the top 10 percent most polluted spots in Michigan, and 68 percent of students on the free-lunch program for low-income children go to school in these most polluted zones. Fifty-six percent of white students attend schools in these zones, but 69 percent of Hispanic children and a shocking 92 percent of black students do. They also found that children in schools with higher concentrations of pollutants tend to score lower on standardized tests than children in less polluted schools, though they cannot say with certainty to what extent the pollution is the cause.
The increased vulnerability of children of color, says Daria Neal of the Lawyers' Committee for Civil Rights Under Law's Environmental Justice Project, is the legacy of discriminatory housing policy and zoning laws. People of color were historically confined to undesirable neighborhoods, which were often near sources of environmental pollution, like highways and electrical facilities. Schools in polluted neighborhoods would, therefore, be expected to be polluted as well.
But another one of Mohai's early findings in Michigan suggests that something even more disturbing contributes to the problem: the schools located in the most polluted zones tend to be in spots that are even more polluted than their surrounding neighborhoods. In other words, schools are often put in toxic spots or polluters are allowed to move in next door. This is likely because often in urban areas the only real estate available to cash-strapped school districts is polluted land that no one else would want.
Part of the problem is that schools fall into a regulatory gray area. Even if the EPA steps up its emphasis on school quality, it has no direct oversight of how schools are built and operated. The guidelines it is expected to issue this fall, which will concern where schools may be located, will be entirely voluntary. And in many states, health and environmental-quality departments have limited authority over schools that operate under independent school boards. States with more muscular laws—including Washington state—often lack the capacity to enforce them, and cash-strapped schools like those of Cle Elum may not have the means to do the repairs required. Occupational safety agencies may step in to protect teachers in their workplaces, but there is no official agency charged with protecting children at school. All of that may help explain why resource-limited school districts sometimes turn deaf ears to parents' complaints of environmental hazards in their children's schools.
Students have recently returned to their classrooms, and far too many parents may worry that their children are getting exposed to toxins at their schools. And even the best teachers can only do so much in classrooms that make their students sick.
Editors' note: This story originally misstated the number of children estimated by Healthy Schools Network to be at risk of health problems because of their schools' conditions. We regret the error.