'Powerful' Evidence of Trump Using 'Big Lie' Leading to Jan. 6 Riot: Schiff
Adam Schiff, a member of the House committee investigating the last year's Jan. 6 Capitol riot, said there's "powerful" evidence that ex-President Donald Trump's pushing of the "big lie" about the 2020 election "ultimately led to this mob assembling and attacking the Capitol."
The California Democrat's comments came during an interview on ABC's This Week on Sunday, days after the January 6 committee started a series of prime-time public hearings. During its first hearing on Thursday, the committee's chairman, Representative Bennie Thompson, said the Capitol riot was a "culmination of an attempted coup" and represented Trump's "last stand, most desperate chance to halt the transfer of power."
New Jan. 6 Revelations
On Sunday, host Martha Raddatz asked congressman Schiff if there will be "new revelations in the upcoming hearings that could offer hard proof that Donald Trump was responsible for what happened on January 6th."
"I think you heard a good sampling of what you're going to see in the hearings to come," Schiff responded. "The evidence is very powerful that Donald Trump began telling this big lie even before the election that he was saying that any ballots counted after Election Day were going to be inherently suspect. That lie continued after the election and ultimately led to this mob assembling and attacking the Capitol."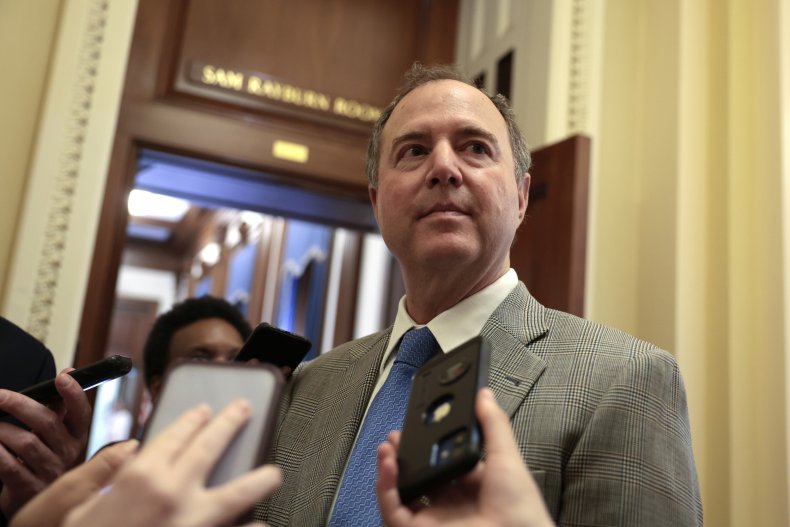 Using the 'Big Lie'
Later, Schiff added that Trump's "knowledge that the big lie that he was articulating was, in fact, a big lie, that his willingness to continue to use that big lie to pressure state legislators, to pressure the vice president, and ultimately to incite that mob tells you a lot about the president's responsibility."
Asked if he thought the former president should be prosecuted over his alleged role in the Capitol riot, Schiff said he'd like to see the U.S. Department of Justice "investigate any credible allegation of criminal activity on the part of Donald Trump or anyone else."
"The rule of law needs to apply equally to everyone, and there are certain actions, parts of these different lines of effort to overturn the election, that I don't see evidence the Justice Department is investigating," Schiff said.
Trump 'Absolutely Knew'
In a separate interview Sunday, Representative Jamie Raskin, a Democrat from Maryland and another member of the January 6 panel, said Trump "had to have known he was spreading a big lie" about the 2020 election.
"I think we can prove to any reasonable open minded person that Donald Trump absolutely knew because he was surrounded by lawyers...telling him in no uncertain terms, in terms that Donald Trump could understand, 'This is BS,'" Raskin told CNN.
In an interview on CBS' Face the Nation on Sunday, Representative Adam Kinzinger, a Republican from Illinois who sits on the January 6 panel, said that if Trump really believed the election was "stolen," then "he's not mentally capable to be president."
"I think he didn't believe it. I think the people around him didn't believe it. This was all about keeping power against the will of the American people," Kinzinger said.
Trump has repeatedly disparaged the House committee investigating the Capitol riot, calling its members "political hacks" generating "fake news."
Newsweek has reached out to Trump's press office for comment.
This story was updated with comments from Kinzinger.