'Evil' TV Show on CBS Season 1, Episode 12 Preview for 'Justice x 2': What Will Happen in the Penultimate Episode?
CBS' hit new drama Evil continues Thursday night with the penultimate episode of Season 1, titled "Justice x 2."
With one week to go until the Season 1 finale, priest-in-training and paranormal investigator David Acosta (Mike Colter) and psychologist Kristen Bouchard (Katja Herbers) return to an old case as Leland Townsend (Michael Emerson) tries to reverse a conviction that Bouchard and Acosta achieved in the series premiere. Meanwhile, Bouchard also faces a family emergency as her daughter, Laura, is rushed to hospital.
The synopsis for the episode reads: "As Leland assists convicted serial killer Orson Leroux with having his conviction overturned, Kristen is called into court to testify while her daughter, Laura, undergoes emergency heart surgery. Also, while paying a visit to a woman in need of spiritual advice, David fears for his safety after witnessing her evil instincts firsthand."
Watch a preview of the episode below:
Hailed by the likes of Indiewire and Vox as one of the best new network television shows this season, Evil's first season has received positive reviews so far.
Evil is created by Michelle and Robert King, the co-creators of CBS' The Good Wife and its spinoff, The Good Fight, on CBS All Access.
The series follows priest-in-training David Acosta (Colter), who is tasked by the church to investigate so-called unexplained phenomena, including acts of evil such as demonic possessions, as well as miracles. Together with psychologist and lapsed Catholic Kristen Bouchard (Herbers), Acosta works to decipher whether there really are mystic forces at play, or whether there is some logical reason to their case.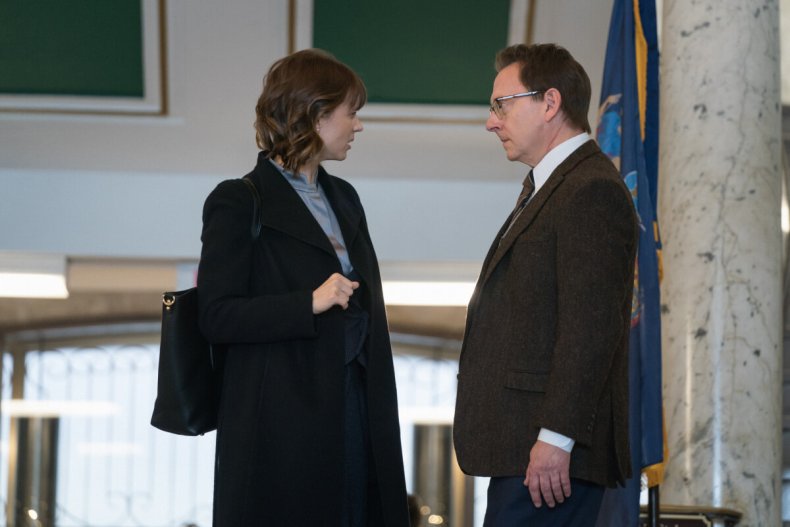 Like their previous work, Evil has a way of fusing together cases of the week with complex themes such as the power of religion in the modern world, technology's influence over humans and even incel behavior. There's a rich darkly comic tone to the scripts which fans of the Kings will appreciate, too.
According to TVLine, as well as watching the show every week, the Kings have a way for fans to get involved, by deciphering what the numbers in each of the episode titles mean.
All of the episodes in Season 1 have numbers in their titles, which, the Kings say, will help solve a mystery in the season finale next week.
"There is a puzzle buried in each of the episodes, except the pilot. The numbers have to do with solving this puzzle," said Robert King.
To recap, the episode titles so far are: "Genesis 1," "177 Minutes," "3 Stars," "Rose390," "October 31," "Let x = 9," "Vatican III," "2 Fathers," "Exorcism Part 2," "7 Swans a Singin'," "Room 320" and "Justice x 2." The title of the season finale has not yet been revealed.
Evil airs Thursday at 10 p.m. on CBS.