The Evolution Of The Bra, From Mad Men's Day To Our Own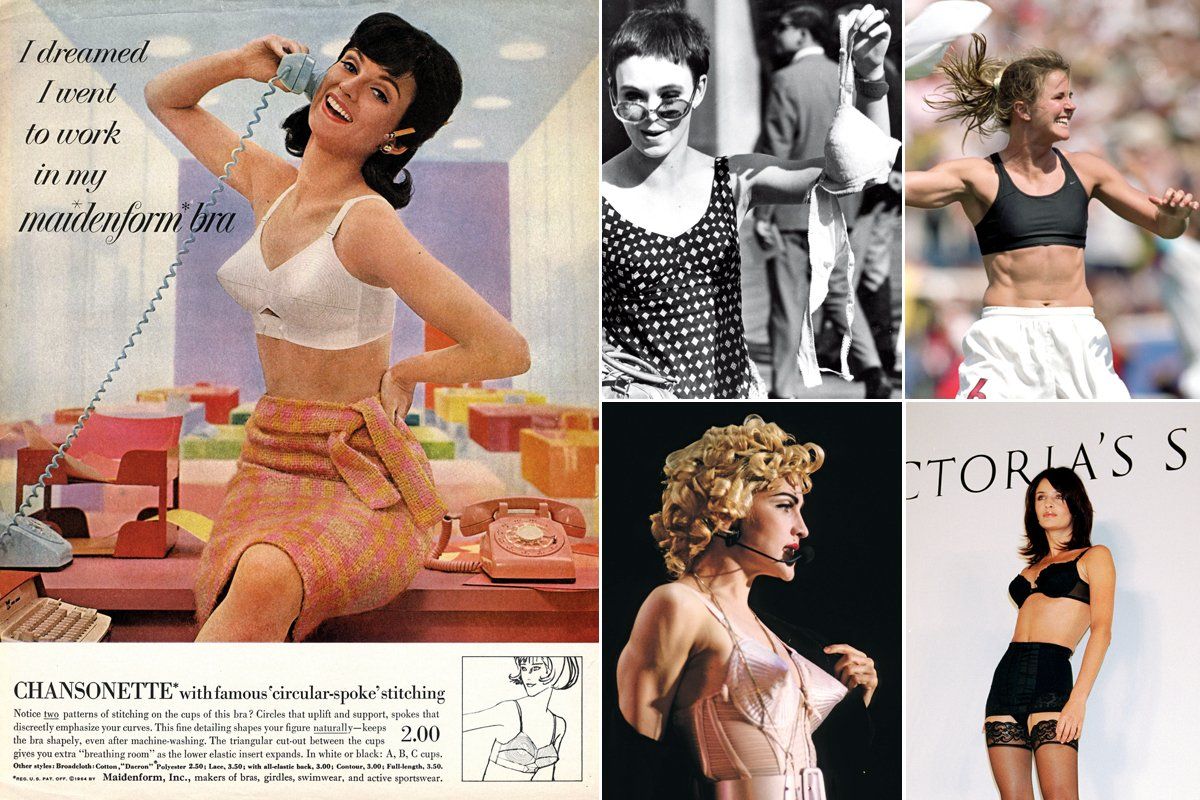 From the moment Mad Men debuted, the fashion industry was smitten with the tightly coiled restraint inherent in early-'60s attire—a time when young women mimicked the starched orderliness of their mothers. It was an era poised on the edge of great social change, and no fashion symbol captured that monumental transition better than the bra. The evolution of the garment—from the sculptural '60s brassieres to "bra burning" and beyond—traces the shifting self-image of American women over the decades.
Early 1960s: Taking a Bullet The bra-and-girdle combination gives ladies a Rubenesque silhouette, which finds its ideal in Mad Men's Joan Holloway. Breasts are hoisted high for display and given a conical, Barbie-doll-like shape. Bullet bras represent the last great moment for hourglass voluptuousness; the coming "youthquake" shifts the ideal silhouette to Twiggy's tomboy rakishness.
1968: 'Bra Burning' With the rise of feminism, bras are redefined as a form of oppression, and women go braless in defiance. During a Miss America pageant, feminists protest by tossing bras and high heels into a garbage can. Journalists equate the moment with the burning of draft cards in the anti–Vietnam War movement.
1968: The Ultimate Lift While feminists are decrying the need for bras at all, the Wonderbra is introduced and successfully marketed to mainstream culture. It's revived in the 1990s, this time with the support of the fashion industry: waifish model Kate Moss famously declares that Wonderbra even gives her a bit of cleavage.
1970: Are You There God? It's Me, Margaret Judy Blume's young-adult novel about religion, sex, puberty, and more tackles the fraught topic of training bras as an introduction to womanhood.
1985: Dolce & Gabbana Domenico Dolce and Stefano Gabbana show their first collection in Milan. The designers go on to use lingerie to underscore female sexuality; aesthetic signatures include corset details and old-fashioned bras peeking from low-cut décolletage.
1990: Blond Ambition Jean Paul Gaultier creates an exaggerated conical bra for Madonna's "Vogue" video. The shape reflects Gaultier's fascination with the bullet bras of his mother's era—but Madonna resurrects it as a statement about self-empowerment and sexual provocation.
1995: Pin-up Perfect Founded in 1977 as a handful of boutiques, Victoria's Secret becomes—by the 1990s—a mall destination where women go to mimic Helena Christensen. The company's first fashion show is a combination of self-assured strutting for women and voyeuristic pleasures for men—and lingerie becomes mainstream entertainment.
1999: Très Sportif After making the winning kick for the U.S. at the Women's World Cup finals, Brandi Chastain whips off her team jersey to reveal her sports bra. Her image becomes symbolic of a new kind of woman: athletic, strong, confident.
2004: The Wardrobe Malfunction During the 2004 Super Bowl halftime show, Justin Timberlake rips at Janet Jackson's bodice, revealing her nearly naked breast. The FCC accuses CBS of indecency, and the bra once again rises as a symbol of propriety.
2007: Not Your Mother's Bra "Mad Men" becomes an instant fashion phenomenon, inspiring young women to buy the kinds of undergarments their mothers wore—the better to look like Joan. Still, these girls are liberated: their purchase is now a fashion choice; Joan's was a social obligation.