The Evolving Battle Over Vaccine Mandates | Opinion
Welcome to the autumn of the vaccine mandate showdowns. Let's survey the shifting battleground.
A government-imposed vaccine mandate for all citizens remains off the table, at least for now. Requirements that government employees get a shot seem to have a stronger legal basis, but resistance is bubbling among the ranks of municipal police and fire departments. Even the military has heard some grumbles.
President Joe Biden has demanded that companies with more than 100 employees require vaccines—threatening federal punishment for those that don't comply—but the enforcement structures for that plan are still under construction.
Some of the largest private companies that established a vaccine requirement are feeling the heat of pushback. Most notable are the airlines—the holiday travel season is now threatened by pilot and flight crew protests that could ground significant portions of their flying fleets.
In the dwindling segment of private businesses and events that remain free to enact rules of their choice, the public is commensurately free to react accordingly. Few environments have yielded results as diverse as the blossoming return of live concerts.
After more than a year of darkened stages and idle performers, audiences are streaming into live venues again, and performers are thrilled to resume a steady income. But the first policy hurdle on the way to scheduling a national tour is determining what to require of the public in terms of vaccination status.
When Dave Grohl announced that his Foo Fighters would play a June 20 concert at Madison Square Garden in New York, exuberant fans snapped up tickets with a rush undimmed by the requirement of full vaccination status. But as attendees trickled through the gates flashing their vax worthiness, a small but loud cohort of protesters registered bitter disappointment. One placard accused the band and the venue of "crimes against humanity."
Inside, more than 15,000 ecstatic fans felt differently. One presumes their moods ranged from delight at the prospect of a safer public experience, to a grudging willingness to show papers before rocking out. But along that spectrum, every fan had one thing in common—a willingness to scale a vax barrier in order to buy a ticket.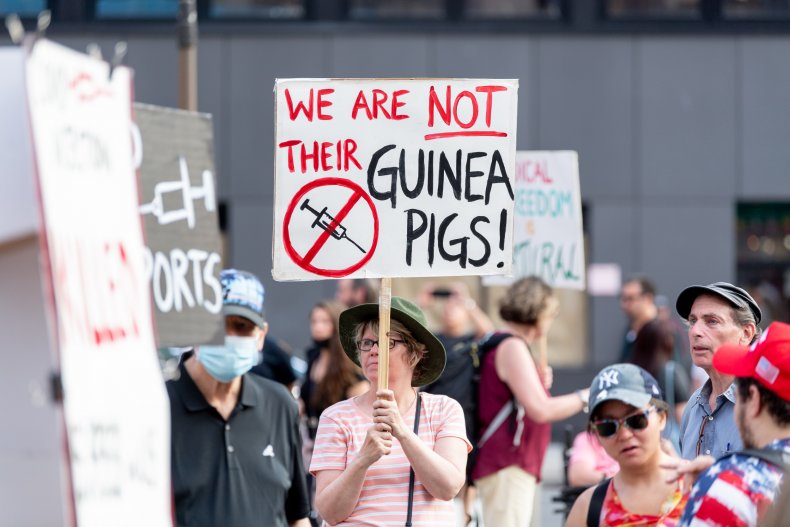 Eric Clapton made the calculated assessment that his fans had the opposite passion—a desire to be free of pandemic restrictions. The guitar legend announced in July that he would refuse to play venues that required vaccines before what he called a "discriminated audience." He seemed to break that rule for a September concert in New Orleans, but asserted that the venue did not have a concrete mandate because it allowed admission to concertgoers with a negative COVID test within 72 hours.
For his part, country star Travis Tritt issued a statement this month announcing that he would not tolerate any form of COVID obstructions for his fans: "Any show I have booked that discriminates against concert-goers by requiring proof of vaccination, a COVID test, or a mask is being canceled immediately." Four dates went on the chopping block that day.
The plot thickens in the case of comedian Patton Oswalt, who announced the cancellation of five performances in locations that would not meet his demand of vaccine proof or recent COVID tests. Those locations were in Utah and Florida, where venues declined to make ticketholders jump through the hoops Oswalt wanted. The venues argued that state law forbade them from enacting vaccine and testing requirements. Then followed a debate over whether a concert is a "private rental" that can establish its own health rules beyond the long arms of legislators and governors.
This nationwide tug-of-war will be with us for as long as the virus occupies our headlines. The live-performance petri dish, which has brought a wide range of public reactions, reflects the conundrum businesses and workplaces face across the nation. There are customers and employees who support vaccination rules, comforted by a sense of the added safety they provide. There are also those who resist such policies as not only a violation of personal choice, but an abridgment of basic liberties.
And both perspectives can be found in the same office, the same police force, the same jet cockpit, the same crowd outside a concert or sporting event. It is a big, sloppy marketplace, and to make things even more slippery, it is changing, and not just in one direction.
On any given day, there are people who had been vaccine-averse who decide to get the shot, because the evidence supports it or their job requires it. But there is also a community that was considering the shot, only to be turned against it by the heavy-handedness of a mandate, whether from an employer or the government.
Nothing can make this tense dance any simpler. But one thing can make it more just: government getting out of the way. Individuals are free to accept or refuse the shot, and employers are free to require it. Employees are then free to respond by mobilizing in ways that might change company or government policies.
In the entertainment world, concerts and sporting events can require vaccines or not, and the public can attend events that offer policies they like while avoiding those that do not.
Recognizing and upholding these freedoms will not solve disagreements, but it will afford freedom of choice to all involved, with the chips of decisions and consequences falling where they may.
Mark Davis is a talk show host for the Salem Media Group on 660AM The Answer in Dallas-Ft. Worth, and a columnist for the Dallas Morning News and Townhall.
The views expressed in this article are the writer's own.