It's been over a decade since best friends Ewan McGregor and Charley Boorman have filmed one of their Long Way motorcycle adventures. In Long Way Around (2004), they ride from London to New York; in Long Way Down (2007) from Scotland to South Africa. Fortunately, filming finished for their new series Long Way Up before the pandemic began so us weary wanderlusters on pause now have a reason to look ahead to the future of travel too.
The Hollywood stars/motorcycle enthusiasts start their epic journey fittingly at the "end of the world" (where we also find ourselves in 2020), or rather Ushuaia, Argentina, the southernmost city in the world. At the tip of South America they embark on a 13,000-mile journey over 100 days through 16 border crossings and 13 countries all the way up to L.A. But this time they're focused on reducing the impact their travel will have on the environment—they're riding prototype electric Harley-Davidsons.
While it's a valiant sustainable, planet-friendly choice to ride electric bikes on such a long journey, it comes with its own unique challenges when their bike batteries are about to die on a remote stretch or the power goes out in the middle of nowhere.
Wheeling in their bikes into locals' restaurants and homes to charge also gives them a chance to connect deeper with those they might otherwise pass along the way. Harley-Davidson is known for its distinctive growl, but with these electric bikes the two roll into town quietly, asking locals, "Do you mind if we plug in?"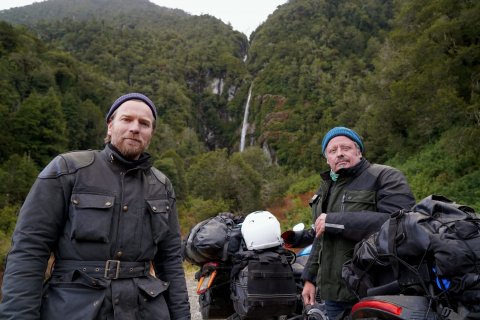 McGregor's star factor also has intensified since the earlier Long Way series—playing Star Wars' Obi-Wan Kenobi gets him swarmed by fans when he's off his bike in a few places. But mostly, it's only Ewan and Charley (who also has had a long successful Hollywood career), anonymous silhouettes on empty roads, filming each other from cameras mounted on their crash helmets.
It's bare-bones travel, unscripted and with a straightforward premise—to keep riding into the unknown and to plug in along the way. Two old friends riding through otherworldly landscapes that look straight out of Star Wars on electric bikes made just for them—OK, maybe there is a bit of star power involved. But the journey is fueled by an even stronger force—a long way of friendship.
Newsweek talks to Ewan McGregor and Charley Boorman about why the world needs this show more than ever as travel is stalled during a pandemic, the pros and cons of riding electric motorcycles and more.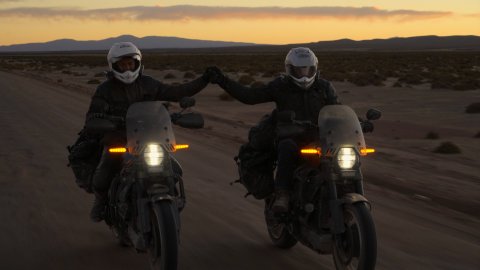 How did you two become friends? You've traveled so much of the world together. What's been the bond all for all these years?
EWAN MCGREGOR: We met doing the film Serpent's Kiss around 25 years ago shooting in Ireland. And at that point we both had babies. My daughter, Clara, and Charley's daughter, Doone, were both I think born a month apart. And we both were madly into motorbikes. So we had two things in common, and also we made this crazy film together, which was an experience in itself.
So it sort of girded this amazing friendship, and then when we went back to London we rode together all the time. We would do these track days where you get to spend the day riding around the race track with each other and a bunch of other crazy bikers. And then we even had a race team for a while.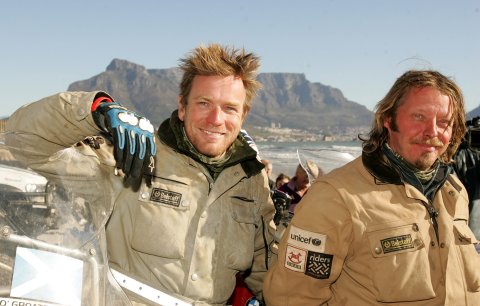 So why now Long Way Up—the third installment in your motorcycle adventures. Why more than a decade since your last series?
CHARLEY BOORMAN: Wow. I suppose it's been quite a while. For a long period of time, we kept missing each other because we were always working on different things, and we drifted apart because of being on the opposite sides of the Atlantic.
Then a few years ago, I had a big crash and smashed my legs up. Ewan came over here to make a movie and stayed in our house for a while and we reconnected. Then because when we met 25 years ago our first conversation was about motorbikes we carried on again talking about motorbikes.
We'd always thought about doing a third one and Ewan always had this affinity for going up through South America and Central America. We got Russ Malkin and David Alexanian, our business partners and producers together for dinner, and we came up with it. Russ had the idea of what about doing electric? And that little seed sort of popped in there and grew.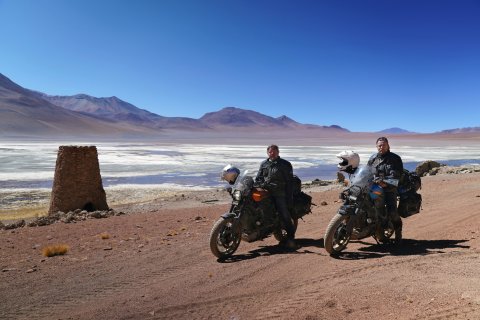 Charley, you had two serious motorcycle accidents, one during the early planning. Why did you get back on the bike and especially with the camera on you?
BOORMAN: The first crash was hard and it took a long time to get back from that within a couple of years. I wasn't really walking very well, but I could ride a motorbike.
It was always my goal to get back on the motorbike. I'd woken up after the crash—I had broken three limbs quite badly and was feeling very sorry for myself—and I looked over at the bed next door, and there was a guy who was much, much worse off than me.
And I thought, you know what? These are just broken bones. So I used getting back on the motorbike as motivation. It was always about the bikes—it was always therapy for me.
Ewan, you've traveled all around the world riding with Charley. What's your shared travel philosophy?
MCGREGOR: I read this book by Ted Simon, a journalist for The Sunday Times. In the '70s, he decided to go around the world and write about it. He wasn't a biker, but he decided the best way to do it would be on a motorbike. So he bought a brand-new Triumph bog standard, not a touring bike. He packed it up, and he took off and spent four years riding around the world and he wrote a beautiful book about it called Jupiter's Travels. It's sort of like our trips in that it's not bike obsessive. It's about the world and his experience traveling the world.
That's a bit like our shows Long Way Round and Long Way Down. And now Long Way Up. We do it on motorbikes and we love bikes, but the shows are not bike-centric particularly.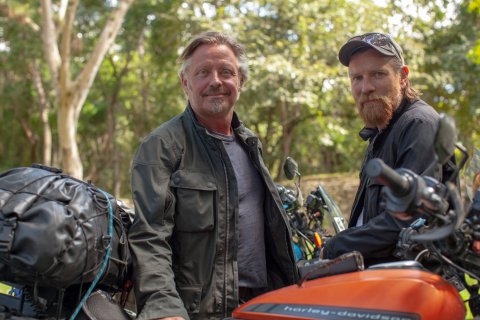 When did you start riding around the world together?
MCGREGOR: I started to do little trips after movies. For instance, I finished working on the film Big Fish in Alabama. And while I was there, I bought a Harley-Davidson Road Glide, knowing that when I finished the film, I was going to ride it across country, back to L.A.
It was an exciting part of making that film for me. The day it finished, I jumped on my bike and took off. It was very satisfying: not knowing where you're going to stay, bike all day, seeing what happens along the way. In America, it is very easy; you can always find a motel or somewhere to stay.
We took that a step further and were looking at trips that Charley and and I could do on a world map. We started thinking of riding from London to China. And we thought, what are we going to do when we get to China—just turn around and come back?
That doesn't really make much sense. So we just kept looking across the map. And if you draw a straight line, it takes you to New York. I said that's it. London to New York, of course.
We made the first show, and it was driven by a sense of adventure, very much influenced by Ted's book Jupiter's Travels—and it's changed all of our lives because it's something that we've learned that we really love to do.
In Long Way Up riding electric bikes proves to have its own unique challenges. But what were the benefits beyond it being better for the environment?
BOORMAN: Electric is where the world is going. In America, certainly, there are electric cars, not so many electric bikes. So we thought: Wouldn't it be a great idea to do that? And no one's really done it properly before.
And that causes all sorts of challenges: Where do you charge? How do you charge? When can you charge, how long does it take? All of those things sort of go through your mind.
What was lovely is that when you're plugging in your bike, you're sort of plugging into people's lives because you're seeing it in a very different way as you would normally just putting in petrol and moving on.
It brought a lot of heartache and a lot of frustration at the beginning, but overall it really enhanced the whole journey.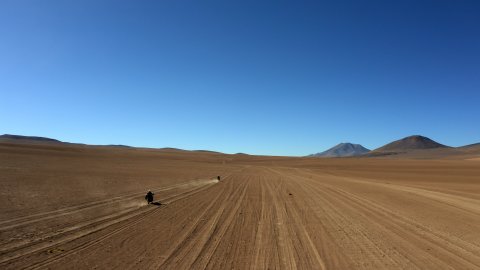 Why do you think now—during a pandemic when travel has been stalled for many—is a good time for Long Way Up to come out?
BOORMAN: We got really lucky that we've finished the show on the 18th of December. And then, Christmas came along and then the world changed. Hopefully, it's changed temporarily. We all have gotten used to traveling and used to flying around wherever we want to go.
And suddenly, we're a bit restricted in doing that. I think that now's a great time to sit down and reflect on what's around you, and friendships, like Ewan and I have.
It's the perfect time to watch this show, to plan for someone's next adventure. And when they do head out, maybe they can come down and ride electric bikes, which we've done.
We've teamed up with Rivian, who made the support vehicles which were also electric, and we managed to leave every hundred miles or so a charging point for people. So if anybody wants to give it a go when things lighten up a bit there's a network sitting there waiting for them to head down to the bottom of Argentina.
MCGREGOR: [Laughs.] You might need an eagle eye to spot some of them. Some of them are quite difficult to find.
Hopefully, it's a pleasure for people to live vicariously through our eyes. The nature of our trips is that people feel like they come along with us. There's something about the way we shoot them with our brilliant cameraman Claudio von Planta, who also rides with us on a motorcycle.
It's very immediate. It's unplanned and unscripted, and whatever happens happens. It makes people feel that they're along on the ride with us, which after six months or more of being stuck and not being able to travel, that might be a bit of a relief.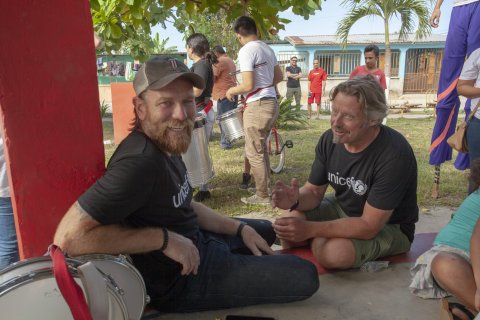 Beyond a much-needed mental escape in 2020, what else do you also hope Long Way Up inspires?
MCGREGOR: Hopefully beyond that, it might inspire people to go and explore themselves. We've met people all over the world who have told us that they'd watched Long Way Round, and they decided to go around Europe in their campervan or it's inspired people to go on cycling or motorcycle trips.
We have a certain way of life in America and in Europe and in Great Britain, and there are people in all of the rest of the world that have very, very different ways of life, different responsibilities, different priorities.
And that's the beauty of life. That's the beauty of the human experiences that we all live in different ways; the way we live is led by our cultures and our past. And we experienced that when we traveled and we bring it home with us.
Hopefully, that's also something that people would like to see from this. The different cultures and the different ways people live is very inspirational.
So is this last installment in the Long Way series?
BOORMAN: It's always funny whenever you finish one, you start to talk about another one to get over the last one.
We're young enough to maybe squeeze a couple more in.
---
The first three episodes of Long Way Up premiere globally on Apple TV+ on September 18, and new episodes will roll out weekly.