Ex Antifa Member Wants Group Labeled a 'Domestic Terrorism' Threat, Claims They're Trying to 'Hurt' and 'Harass'
An ex-Antifa member is calling out the group, claiming that the far-left group is "trying to hurt" and "harass" and that its actions should be designated as "domestic terrorism."
President Donald Trump and some Republican lawmakers have pushed for labeling the decentralized left-wing group's activists, who fight back against far-right white nationalism and fascism, as terrorists. But unlike white nationalists and supporters of the far-right, Antifa members have never been responsible for any deaths, although they routinely brawl with far-right demonstrators at protests.
Nonetheless, Gabriel Nadales, who now works with the conservative Leadership Institute, views the ideology and its activists as a significant threat.
"Antifa sounds good," Nadales, who joined the group back in 2010, said during an interview with Fox News America's Newsroom on Monday morning. "Antifa stands for anti-fascism and I joined thinking I was going to be doing something good."
"But unfortunately, once you get into Antifa and you start realizing that what they're doing is not right," he continued. "They're trying to hurt people, they're trying to harass people. And you know, the reason I left Antifa was because I started asking questions and as soon as I asked questions, they started harassing me."
Discussing weekend brawls between Antifa and the far-right Proud Boys, who self-identify as "Western chauvinists," over the weekend in Portland, Nadales said: "unfortunately this is not going to stop unless we take Antifa seriously." He did not, however, call out the far-right group who organized the Portland protest, to which Antifa responded. Instead, Nadales argued that the U.S. should "declare Antifa a domestic terrorism organization."
Antifa supporters and Proud Boys demonstrators clashed Saturday in Portland, with police arresting 13 people, The Oregonian reported. The local newspaper additionally reported that authorities were largely successful in keeping the counter demonstrators separated, working to de-escalate violence.
In July, self-identified Antifa supporter Willem Van Spronsen attacked an ICE detention facility in Washington with "incendiary devices" while armed with a rifle. Although he was shot and killed by police without harming anyone, he wrote in a manifesto that he planned to "take action against the forces of evil," and described ICE detention centers as "concentration camps."
There have been numerous mass shootings and domestic terrorism attacks carried out by far-right white supremacists. Most recently, 21-year-old Patrick Crusius allegedly drove to El Paso, Texas, to carry out a mass shooting in a local Walmart. A manifesto linked to the shooting referred to a "Hispanic invasion of Texas." Investigators also told ABC News that he later told them that "he wanted to shoot as many Mexicans as possible." Twenty-two people were killed in the attack, while more than two dozen others were injured.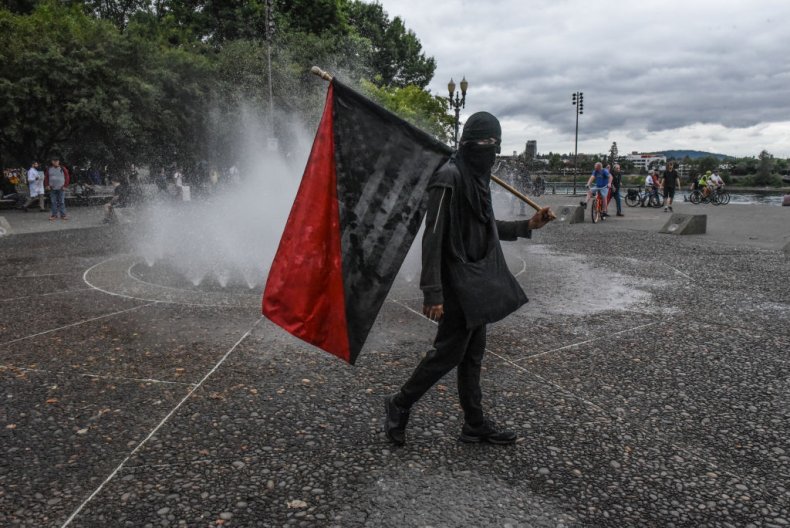 White supremacy-related violence, hate crimes and hate groups are on the rise nationally. An FBI report showed that hate crimes increased by 17 percent from 2016 to 2017, marking the third straight year of a rise in hate crimes. The Anti-Defamation League reported that extremist-related murders spiked 35 percent between 2017 and 2018, "making them responsible for more deaths than in any year since 1995." Right-wing extremists carried out every one of those murders.
Despite the data about the the growing threat of white supremacist violence, Trump and other Republican leaders constantly equate Antifa's actions with violent right-wing groups.
"Major consideration is being given to naming ANTIFA an 'ORGANIZATION OF TERROR,'" Trump tweeted over the weekend. "Portland is being watched very closely. Hopefully the Mayor will be able to properly do his job!" He did not, however, call out the Proud Boys or their right-wing supporters.
Responding to Trump's message, Portland Mayor Ted Wheeler said: "Frankly, it is not helpful."