Ex-Buyer for Pork Dealer Dies in Single-Vehicle Crash Days After Federal Charges Issued
Days after being charged with mail fraud, a former manager for Lynch Livestock, a pork dealer based in Iowa, died in a car crash Monday.
Steven Demaray, 70, was the regional buying manager for the company and died after driving a truck that crashed into an overpass support pier near New Hampton, Iowa, according to Iowa State Patrol.
Demaray was the only person in the truck and died at a hospital. An accident report gave no reason why the truck went off the road and said roads were dry.
Indicted by a grand jury on two counts of mail fraud on Nov. 4 along with former Lynch Livestock bookkeeper Billie Joe Wickham, Demaray is accused of misleading and cheating farmers who sold pigs to Lynch Livestock in 2016 and 2017.
According to The Associated Press, Demaray pleaded not guilty in his first court appearance Nov. 10, and was out on bond at the time of the crash.
The indictment alleged that Demaray would change the weights and quality classifications of the pigs when he received a fax from a buying station detailing a purchase. Allegedly, Wickham would then use a manual scale to make scale tickets that matched Demaray's fabricated information.
Changing the information allowed Lynch Livestock to pay farmers significantly less than what their animals were worth, a practice the USDA fined the company $15,000 for in 2017.
Another USDA investigation found similar practices still in place through December 2020, leading to Lynch Livestock being ordered to pay a $445,626 civil penalty, including restitution to the farmers they misled.
For more reporting from The Associated Press, see below.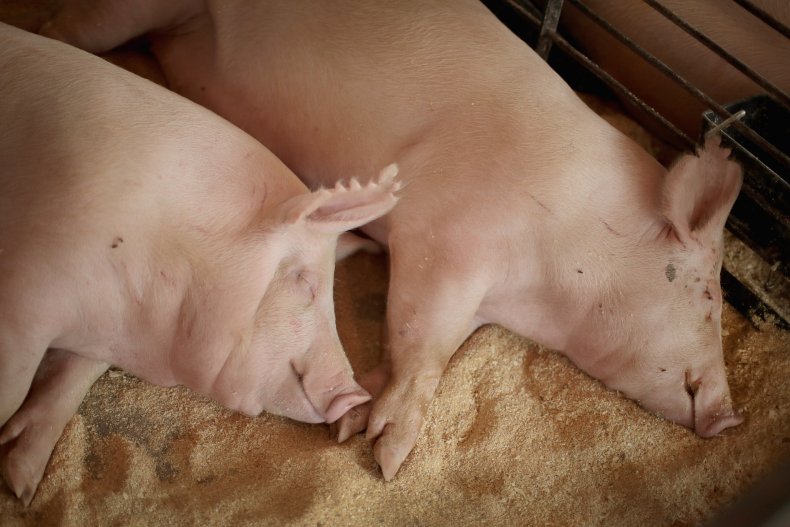 Lynch Livestock, a licensed livestock dealer, operates buying stations in Iowa and several other states where hog farmers and producers sell their animals. The company, which is owned by major Republican donor and philanthropist Gary Lynch, then supplies hogs to processing plants for major pork brands around the country.
Lynch sent a note to employees Monday saying he had a "sad heart" to share the news of Demaray's death. "Our thoughts and prayers are with the family as they make it through this difficult time," he wrote.
Demaray and Wickham made "false and misleading statements" to regulators with the U.S. Department of Agriculture to conceal the fraud and to assure livestock sellers their practices were fair, while destroying documents with the real weights, the indictment says.
Lynch Livestock promised then to adopt digital-only scales, replace its software to ensure animal weights were properly recorded and take other corrective action. Demaray left the company in 2017. Wickham, who is expected to make his initial court appearance next week, moved to a different position.
Lynch Livestock said that it had fired employees responsible for the latest violations and announced pork industry veteran Dan Sutherland would be its new CEO, but a federal grand jury soon began hearing testimony about the fraud.
Sutherland said in a statement last week that the company was "extremely disappointed" that federal prosecutors had moved forward with criminal charges. He said the company had worked with USDA regulators and made "proper restitutions, paid fines and implemented appropriate internal changes."