Ex-Canadian Solider on Evacuating People From Afghanistan: 'It Was All About Survival'
David Lavery, a former special forces soldier in Canada, recalled evacuating people to safety after the fall of Kabul in a story published Thursday on the Canadian Broadcasting Corporation (CBC)'s website.
"It's horrible and hard to process. There was a constant hum, a 24/7 of noise, desperation and panic," Lavery told the news agency. "It was all about survival."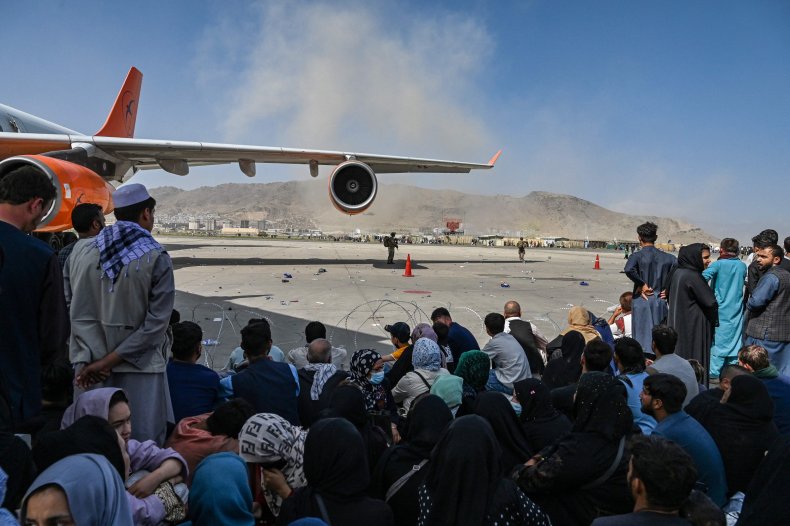 Lavery is a former member of Joint Task Force 2, a counter-terrorism unit of the Canadian Forces, and he owns a private security company in Kabul called Raven Rae Consultancy Services.
Even after spending more than two decades around war zones, Lavery said the Taliban takeover following the pullout of military forces from the U.S. and its allies deeply shook him.
"It will haunt me because I can see the desperation in people's faces," Lavery told the CBC. "I could hear people on the other side [of the gate] who knew me screaming, 'David, don't leave us!' But I couldn't open the door."
The CBC's story claims Lavery was the the only Canadian remaining on the ground at Kabuls' Hamid Karzai International Airport after Kabul fell on August 15. The Canadian embassy had already flown out, and Canadian Forces did not arrive for another four days, according to the CBC.
Lavery had a list of more than 1,200 applicants seeking refuge in Canada that had been compiled by advocates and Canadian veterans of the Afghanistan war. The former soldier then spent days searching for those people in hopes of getting as many of them out of the country as possible.
Lavery and his son Brant had been already been helping Afghans get to a hotel near Hamid Karzai International Airport before the Taliban took Kabul. Lavery said the hotel was protected by both U.S. and British forces, however it became too dangerous for him to leave the compound without military support following the Taliban takeover.
Thus, Lavery spent the days following August 15 going back and forth from the airport to the back gate of the hotel, searching for Canadians and Afghan allies.
Lavery recalled the chaotic scene at the airport during a Zoom interview with the CBC from a hotel in Germany days after he was safely airlifted out of Afghanistan himself.
Lavery's team guided refugees to the airport and got those with valid Canadian documentation on transport planes out of the country. He coordinated with Wendy Long, the founder of the Afghan Canadian Interpreters (ACI) group, via WhatsApp video calls.
He would inform Long's team in Canada of where people should be at the Kabul airport, and her contacts in Kabul would locate him by yelling out for "Canadian Dave" and looking for a man wearing a red bandanna.
Lavery would similarly spot Canadians by the red clothing they were told to wear, and then he would send members of his team to bring those people to the hotel. Once there, he said he would then negotiate with British troops.
"I would be in one chat room [with Afghans] and I would say, 'Canadian Dave is looking for you,'" Wendy Long told the CBC. "Then I would go back to the other [video] chat and I would see people waving red scarves and chanting 'Canada' and Dave walking toward them."
Lavery described the trauma of having to turn away desperate Afghans after locating the people he was tasked with finding. Yet, he said he was rewarded by seeing the relief on the faces of those he managed to rescue, a sentiment echoed by Long.
"Seeing those smiling faces on the other side of the gate was invaluable to us and it encouraged us to keep going," Long said. She credited Lavery with helping save at least 100 people with Canadian passport or visas.
On August 26, Lavery and wife boarded a German airlift out of Kabul. He left with plans of returning once it seemed safe enough to check in on his staff at Raven Rae, which he said employed about 50 local Afghans.
On Labor Day, Lavery said he received a text message informing him the Taliban had taken over his company's office.