Ex-CDC Director Robert Redfield Says He Got Death Threats for Saying He Thought COVID Leaked From China Lab
Robert Redfield, the previous head of the Center for Disease Control and Prevention (CDC), revealed Thursday he allegedly received death threats for backing a theory that coronavirus leaked from a lab in Wuhan, China.
Speaking to Vanity Fair, Redfield said the threats began in March after he said he believed the virus had originated in a lab.
The remark, which he stressed at the time was simply an opinion and for which he provided no evidence, came during an interview with CNN.
"I'm of the point of view that I still think the most likely etiology of this pathology in Wuhan was from a laboratory. You know, escaped," Redfield told the network's chief medical correspondent, Sanjay Gupta. "Other people don't believe that. That's fine. Science will eventually figure it out."
Redfield, who led the CDC under former President Donald Trump's administration from 2018 to 2021, told Vanity Fair that he was allegedly targeted by fellow scientists over the statement.
"I was threatened and ostracized because I proposed another hypothesis," he said. "I expected it from politicians. I didn't expect it from science."
The origins of the virus have been a widely-debated topic since the start of the pandemic in March 2020, causing rising tensions between the U.S. and China.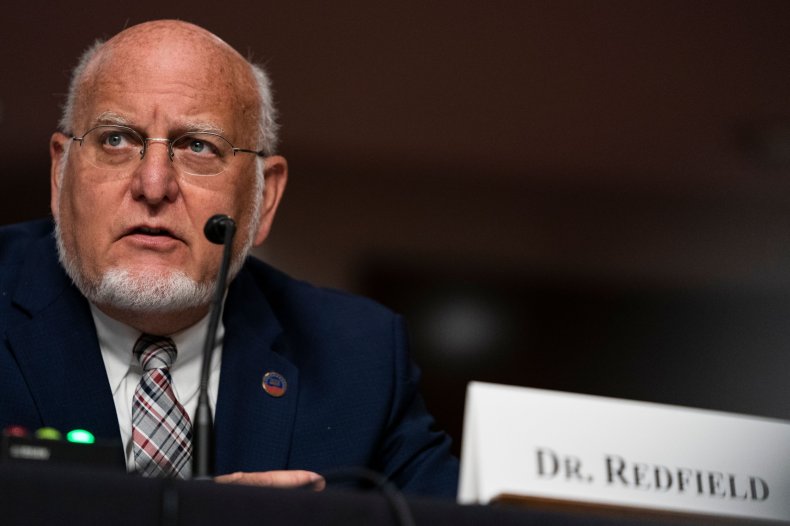 The possibility that SARS-CoV-2 emerged from a lab—an idea promoted by Trump—was dismissed by scientists in the early days of the outbreak.
Earlier this year, a World Health Organization (WHO) team that went to Wuhan to investigate the matter has said the theory that the virus got out because of a lab accident is "extremely unlikely" and that it was more likely to have started in bats and jumped to humans through an intermediate animal host.
The lab-leak theory has gained traction in recent weeks amid new reports, including one from the Wall Street Journal on a U.S. intelligence report that suggested three researchers at the Wuhan Institute of Virology were sick enough in November 2019 to be hospitalized.
President Joe Biden announced on May 26 that he was asking the intelligence community to "redouble their efforts to collect and analyze information that could bring us closer to a definitive conclusion" on the origins of COVID-19.
Dr. Anthony Fauci, the nation's top infectious disease expert, told CNN on Thursday that he still believes "the most likely origin [of COVID-19] is from an animal species to a human, but I keep an absolutely open mind that if there may be other origins of that, there may be another reason, it could have been a lab leak."
Trump weighed in on the issue Thursday, writing in a statement: "Now everyone, even the so-called 'enemy,' are beginning to say that President Trump was right about the China Virus coming from the Wuhan Lab."