Ex-Cop Charged With Pulling Gun on Man While Trying to Prove Election Fraud
A former Houston, Texas police captain was arrested after allegedly running an air conditioning repairman off the road and pulling a gun on him in the mistaken belief that he was behind a massive voter fraud conspiracy.
Mark Anthony Aguirre, 63, was arrested by Houston police officers on Tuesday and charged with felony aggravated assault with a deadly weapon for the October 19 incident, according to the Harris County District Attorney's office.
"He crossed the line from dirty politics to commission of a violent crime and we are lucky no one was killed," Harris County District Attorney Kim Ogg said. "His alleged investigation was backward from the start – first alleging a crime had occurred and then trying to prove it happened."
A court document indicates that Aguirre rammed his SUV into the back of the repairman's truck, believing that 750,000 fake ballots were loaded in the back of the truck. After both men were outside their vehicles, the former police captain allegedly pointed a gun at the head of the repairman and forced him onto the ground while placing a knee on his back.
Although Aguirre suspected that the repairman was the mastermind behind a non-existent fraudulent ballot scheme, only ordinary air conditioning parts and tools were found in the back of his truck. A thorough investigation by Houston police and the Harris County Election Security Task Force subsequently found the election fraud claims to be entirely baseless.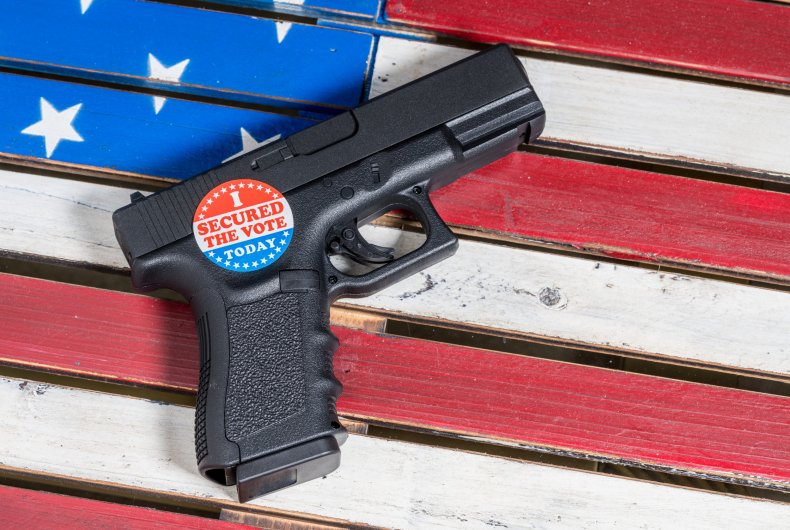 Aguirre told police that he was conducting the "civilian investigation" on behalf of a Houston group called Liberty Center for God and Country. He did not mention that the group had paid him a total of $266,400 for his efforts, including $211,400 on the day after the incident, according to prosecutors.
As part of a pre-election lawsuit attempting to stop voters from dropping off mail-in ballots in person, Aguirre signed an affidavit claiming that Democrats planned to submit up to 700,000 fake ballots in Harris County, according to The Houston Chronicle. He allegedly hung up on a reporter who asked him for evidence of the conspiracy, which was said to involve prominent Democrats and Black businessmen.
Unsubstantiated conspiracy theories alleging massive election fraud have continued after the presidential election, with President Donald Trump claiming that fraud was to blame for his loss to President-elect Joe Biden. No credible evidence of fraud or irregularities that would change the election's outcome has been found.
On Monday, the Electoral College officially sealed Biden's victory by a margin of 306 to 232 votes. The president-elect also received over 7 million more votes nationally than Trump, winning in excess of 81.2 million total votes—by far the most votes of any presidential candidate in U.S. history.
Newsweek reached out to the Harris County District Attorney's Office for comment.