Ex-Cop Says He Shot Moviegoer Over Fear of Being Attacked During Argument
A former Florida police captain on trial for murder said he believed he was about to be attacked before he opened fire in a Tampa movie theater.
Curtis Reeves, 79, took the stand Thursday and described the events leading up to the fatal shooting of Chad Oulson in 2014. When the prosecutor asked if he killed Oulson out of "blind fury," Reeves claimed that he was afraid for his safety, according to local news station WFLA.
"No sir, I killed him out of fear," Reeves said.
During a recorded interview played in court, Reeves told detectives that he asked 43-year-old Oulson, who was sitting in front of him during a showing of Mark Wahlberg's Lone Survivor, to put away his cellphone, the Tampa Bay Times reported.
Reeves claimed that he was afraid of being attacked after Oulson responded by yelling. He said that Oulson proceeded to turn around, stand on his seat and lean forward while his wife tried to hold him back. Reeves told the jury that Oulson "looked like a monster" and appeared to be "out of control."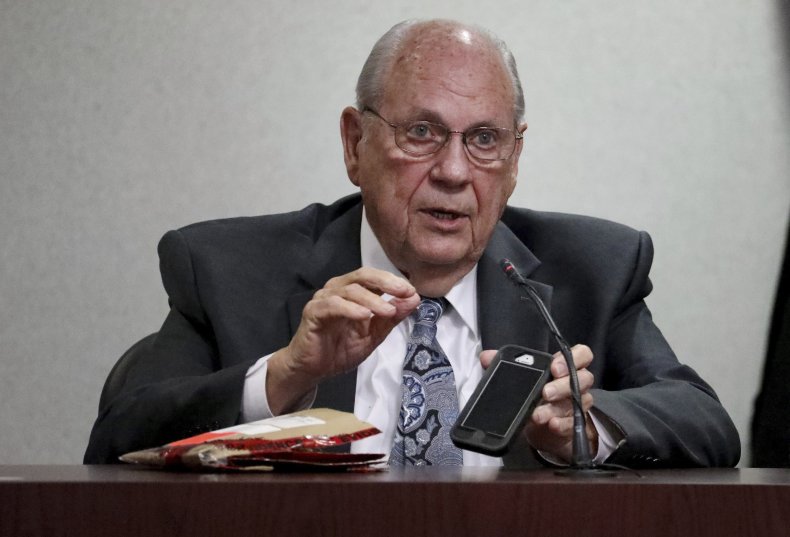 "I thought the guy was going to beat the hell out of me," Reeves recounted in the recorded interview. "I don't think I've ever had anybody get in my face like that and it scared the crap out of me."
Reeves said that something hit his face during the incident, knocking his glasses out of place. He reached for his .380-caliber handgun in his front pocket and fired, shooting Oulson in the chest and piercing the man's rib, heart, and lung, ultimately killing him. The bullet had hit Oulson's wife's finger, as well. Reevestold the jury he had "no other choice" than to reach for his pistol.
"I didn't want to shoot anybody," Reeves saidwhen the defense attorney asked if he wanted to shoot Oulson. "I came to the theater with my family to enjoy a movie. Not to be attacked by some guy that's out of control."
After the shooting, investigators interviewed everyone in the theater. However, no one reported hearing Oulson verbally or physically threaten Reeves, but police said Oulson had only flung a bag of popcorn into Reeves' face, the Tampa Bay Times reported.
"I'm sitting back here second-guessing myself," Reeves told the detective in the recorded interview. "My life is ruined. My family's life is ruined, his family's life is ruined," he added after learning Oulson had died.
Reeves was a member of the Tampa Bay Police for 27 years. He was charged with second-degree murder and could be sentenced to life in prison if found guilty.
Update 02/24/22, 3:45 p.m. ET: This article has been updated with additional information and background.