Ex-Defense Secretary, Ohio Gov Urge Anonymous Sources to Step Forward Publicly With Claims Trump Called Veterans 'Losers'
Former Defense Secretary Chuck Hagel and Ohio Governor Mike DeWine both said the anonymous sources who have claimed President Donald Trump referred to U.S. military veterans as "losers" and "suckers" would be more credible if they came forward on the record.
Citing anonymous sources,The Atlantic on Thursday reported that Trump had repeatedly disparaged current and former members of the U.S. military, suggesting that veterans were "losers" and "suckers." The president's critics quickly jumped behind the claims, while multiple current and former White House officials dismissed the report as "false."
"I said before, if you want to make an anonymous comment and if you feel so strongly about that that you make that comment to an established, well-respected reporter and a magazine, then you ought to have the courage to go out and use your name, too," Hagel, who served as secretary of defense under former President Barack Obama from 2013 to 2015, said Sunday during an interview with ABC News' This Week, discussing The Atlantic report.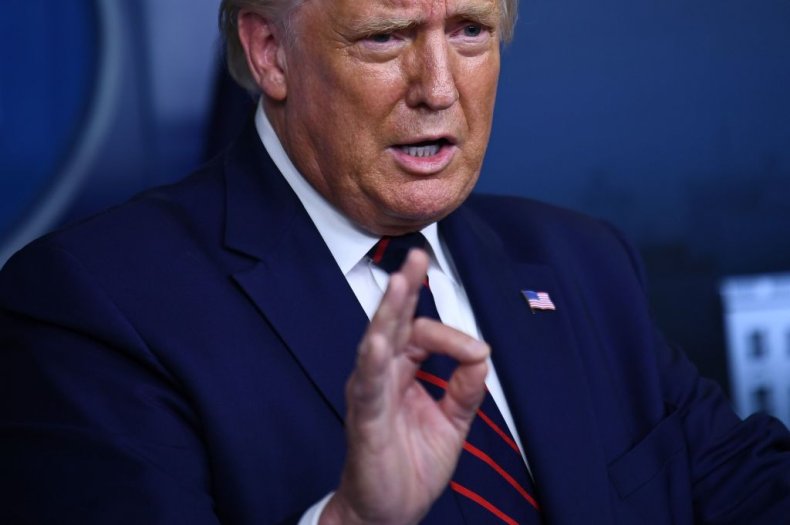 "I've always believed that. I think it's important now. If these guys who said it or allegedly said it, think it's that important for the future of this country, then they should show some courage and step forward as well," he said.
DeWine, a Republican, later told This Week that the president has always been "extremely respectful" of the military in conversations they've had. Appearing more skeptical of the report than Hagel, DeWine also said the sources should speak on the record to grant more credibility to their claims.
"People should come forward if they, you know, anonymous sources are—are interesting, but, you know, it's never going to have the credibility, I think, for the general public unless someone—you know, people actually come forward and are willing to do that," the Ohio governor said.
Newsweek reached out to the White House for comment, but did not receive a response by the time of publication. The Trump administration and the president have flatly denied the report's claims, as have multiple former administration officials.
"This report is false. President Trump holds the military in the highest regard. He's demonstrated his commitment to them at every turn: delivering on his promise to give our troops a much needed pay raise, increasing military spending, signing critical veterans reforms, and supporting military spouses. This has no basis in fact," a White House spokesperson told The Atlantic in a statement.
Former White House Press Secretary Sarah Huckabee Sanders strongly criticized the report as well. "The Atlantic story on @realDonaldTrump is total BS. I was actually there and one of the people part of the discussion - this never happened. I have sat in the room when our President called family members after their sons were killed in action and it was heart-wrenching," she tweeted.
Even former White House national security adviser John Bolton, who has become a harsh critic of the president, suggested the story was inaccurate. "I didn't hear that," Mr. Bolton told The New York Times. "I'm not saying he didn't say them later in the day or another time, but I was there for that discussion."
Fox News and the Associated Press later reported that they had independently confirmed some of the claims made in The Atlantic report, citing high-level military and administration sources. The president's critics also pointed out that he has previously made similar remarks publicly. In July 2015, Trump called the late Senator John McCain, who was a former prisoner of war in Vietnam, a "loser."
"He's not a war hero," Trump said. "He's a war hero because he was captured, okay. I like people that weren't captured."