Ex-Detective Slams Police in Gabby Petito Search as Hunt for Brian Laundrie Intensifies
A former detective said the investigators looking for missing 22-year-old Gabby Petito should have obtained a search warrant for the home and electronic devices of her fiancé, Brian Laundrie, the day Petito was reported missing.
"Why would you [try to] get consent from the guy, and not get a search warrant?" Pat Diaz, a former Miami-Dade homicide detective of 35 years, told Fox News.
"You can get a search warrant for everything in that house, including his laptop," Diaz added.
Diaz told Fox that examining Laundrie's electronic devices could have given investigators clues about where Petito is.
The North Port Police Department said it has "has no authority to execute a possible federal search warrant on our own."
"I don't see how anyone without all the facts in this case can come up with a reasonable conclusion and opinion on the matter," Josh Taylor, a spokesperson for the department, told Fox. He added that law enforcement has yet to determine whether a crime has even taken place.
Police are now also searching for Laundrie after his family said Friday they hadn't seen him in three days. Authorities began looking for Laundrie in the Carlton Reserve, a 24,565-acre area in Venice, Florida, on Saturday. The search was ongoing as of Sunday.
"The search for Brian Laundrie continues Sunday morning in the Carlton Reserve," the North Port Police tweeted.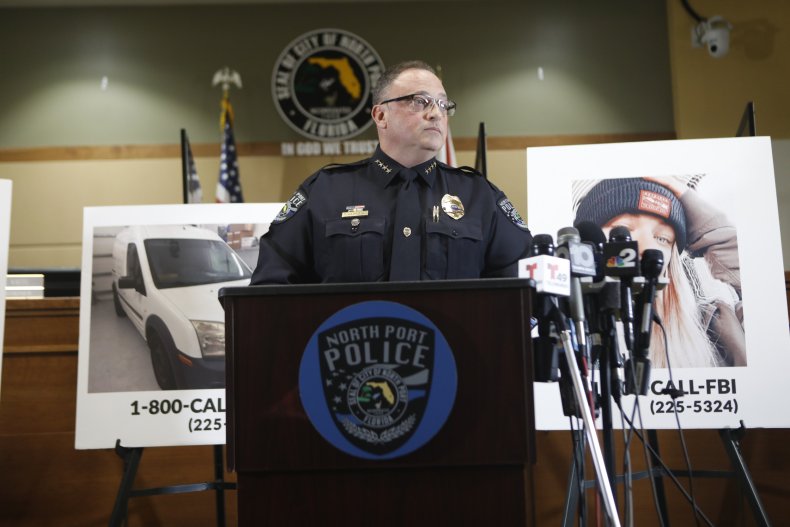 "A team of more than 50 looking for anything of note after his parents say this is where he went. We continue to corroborate all info in the search for him and Gabby. 1-800-CALL-FBI."
Law enforcement officials are deploying drones, K-9s and four-wheelers in their search for Laundrie, WFLA reported Sunday.
Police have noted that the case of Petito's disappearance is not currently a criminal investigation. They said that while Laundrie is a person of interest in the case, he is not wanted for a crime.
"We are not currently working a crime investigation. We are now working a multiple missing person investigations," North Port Police Department stated on Friday.
On Saturday, the FBI said it had extended its search for Petito to Grand Teton National Park in Wyoming, where is she believed to have been seen at the time she was last in contact with her family in August.
Petito was first reported missing on September 11.
A YouTube user also said Sunday that they may have passed by Petito's van in Grand Teton National Park on August 27 and also captured it on video. The account, Red White & Bethune, posted footage that shows a white van with Florida plates.
"I thought that if other people in the area that day saw us and started watching our videos, they may watch this one and realize that they too may have seen Gabby Pepito or [Brian] Laundrie in the area that day and could lead investigators to find Gabby!!," Red White & Bethune wrote on Facebook.
Jenn, a YouTuber with the account, told Fox News she submitted the video to the FBI.
Newsweek has reached out to the North Port Police Department for comment.
Updated 09/19/2021, 2:45 p.m. ET, with North Police's response to Fox News.