Ex-National Intelligence Director Questions White House's Capability of 'Coping With Multiple Crises' as Iran Tensions Flare
Former National Intelligence Director James Clapper has expressed concern over whether President Donald Trump's administration is capable of "coping with multiple crises" as tensions with Iran have flared.
Clapper, who is also a retired lieutenant general from the U.S. Air Force, appeared Thursday on CNN to discuss the downing of a U.S. drone by Iran's Islamic Revolutionary Guard Corps (IRGC) over the Strait of Hormuz. During the interview, Clapper questioned how Trump's administration would act in response, particularly as the White House is addressing numerous other foreign policy concerns.
The former intelligence head said that the U.S. has historically managed to "handle more than one contingency at a time."
However, he said he was "not sure, in this case, how this administration works, whether they're actually capable of coping with multiple crises." He continued, saying, "particularly if one gets really serious, really hot, as in combat, which is, you know, certainly a possibility in Iran."
Asked by the host whether he was concerned, Clapper responded: "Well sure, I worry about that."
The IRGC announced that it had shot down the U.S. military drone on Thursday morning, claiming it had encroached on Iranian airspace. The U.S. military confirmed that the unmanned aircraft had been shot down, but said it was flying over international waters.
During his CNN interview, Clapper urged caution and dialogue, pointing out that "both" Iran and the U.S. could be correct in their assessment. He pointed out that Strait of Hormuz is relatively narrow and its possible that the drone briefly entered Iranian airspace but by the time it was shot down, perhaps it had returned to international airspace. The intelligence analyst also cautioned that "first reports are never quite accurate."
President Trump tweeted on Thursday morning that Iran had made a "very big mistake." Later in the day he suggested to reporters, however, that he found it "hard to believe it was intentional if you want to know the truth."
"It could have been somebody who was loose and stupid that did it," the president said. "I would imagine it was a general or somebody who made a mistake in shooting the drone down," he continued. "Fortunately, that drone was unarmed. It was not—there was no man in it—it was in international waters but we didn't have a man or woman in the drone, we had nobody in the drone. Would have made a big, big difference."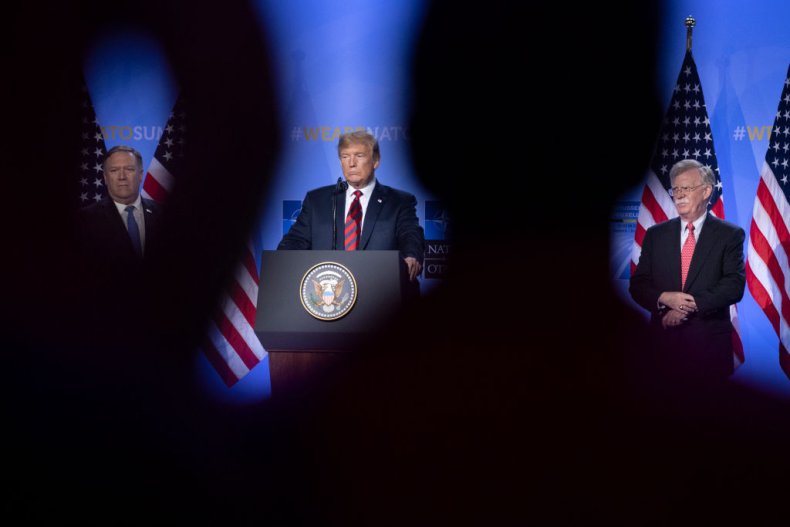 While Washington and Tehran have had tensions for decades, the situation has escalated in recent weeks. The Trump administration has accused Iran of being behind several attacks on allied oil tankers in the Strait of Hormuz. Iranian leaders have denied the accusations, and some close U.S. allies have expressed skepticism regarding the Trump administration's evidence.
Critics of the Trump administration's actions towards Iran have raised serious concerns, with some drawing comparisons to the steps taken by the administration of George W. Bush in the lead up to the invasion of Iraq. That war, which lasted more than eight years, was launched based on false intelligence claiming inaccurately that Iraq had weapons of mass destruction.
2020 Democratic frontrunner Joe Biden joined the chorus of critics on Thursday morning, arguing that escalating tensions with Iran were a "self-inflicted disaster" brought on by Trump's hardline policies.