Ex-DNC Staffer's Lawyer Defends Nunes Parody Accounts, Says 'No Reasonable Person' Would Think They're 'Serious'
Lawyers for a Virginia man mocked Devin Nunes by pointing out that cows lack opposable thumbs after the congressman launched a legal battle to discover the identities behind the anonymous satirical Twitter accounts "Devin Nunes' Cow" and "Devin Nunes' Mom."
"No reasonable person would believe that Devin Nunes' cow actually has a Twitter account, or that the hyperbole, satire and cow-related jokes it posts are serious facts," write the lawyers in a legal motion, according to The Sacramento Bee on Tuesday. "It is self-evident that cows are domesticated livestock animals and do not have the intelligence, language, or opposable digits needed to operate a Twitter account."
The legal motion is related to a subpoena issued against Adam Parkhomenko, a political strategist who formerly worked for the Democratic National Committee (DNC). Although Parkhomenko's connection to the Twitter accounts is unclear, attorneys for Nunes issued the subpoena in October in an attempt to gain access to supposed direct messages between Parkhomenko and the anonymous accounts. Both Parkhomenko and Twitter have refused to hand over the information.
The new filing is aimed at quashing the subpoena. Parkhomenko's attorneys argue that the "blatant parody accounts" are not defamatory and are merely engaging in protected free speech.
"Defendant 'Devin Nunes' Mom' likewise posts satirical patronizing, nagging, mothering comments which ostensibly treat Mr. Nunes as a misbehaving child," the motion continues. "In light of the content, a reasonable person, reading the accounts in context, would not take Defendant 'Devin Nunes' Cow' or Defendant 'Devin Nunes' Mom' to be serious accounts imparting actual facts about Plaintiff. They are parody accounts."
Scott Surovell, a Virginia state senator and attorney at the firm representing Parkhomenko, described Nunes as "thin skinned" in a tweet on Tuesday. He claims Nunes is engaging in a "SLAPP" lawsuit, a type of lawsuit filed with the intent of silencing critics by burdening them with the cost of defending themselves in court.
"First time I've seen one of my firm's pleadings quoted on Twitter," the lawyer tweeted "But happy to help put a silly SLAPP suit to death by a thinned skinned Congressman!"
The Parkhomenko subpoena was issued as part of a lawsuit Nunes initially filed in March against Twitter and the parody accounts, along with Republican strategist Liz Mair. Nunes alleges that the group had defamed him, claiming that he had been subjected to insults "that no human being should ever have to bear and suffer in their whole life."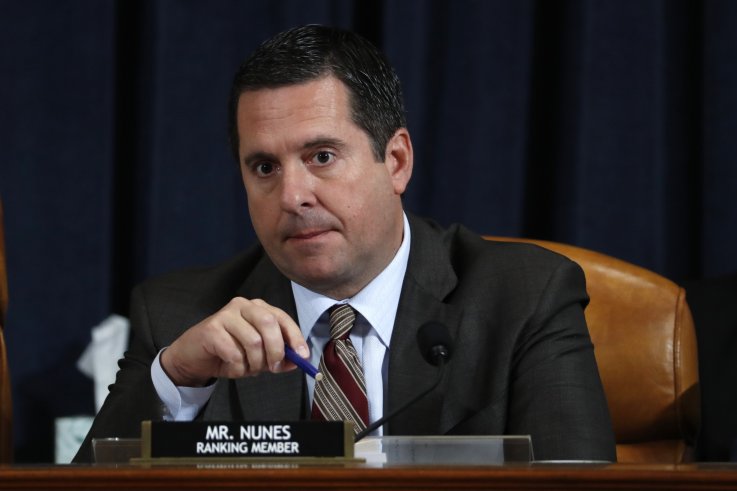 Ex-DNC Staffer's Lawyer Defends Nunes Parody Accounts, Says 'No Reasonable Person' Would Think They're 'Serious' | News