Ex-Elections Director and Registered Republican Says Claims Presidential Election Was Rigged Are 'Insulting'
A Republican who previously served as an elections director in Louisville, Kentucky, posted a lengthy thread on Twitter to push back against unsubstantiated claims that the presidential election was rigged and that there was widespread fraud.
President-elect Joe Biden was declared the winner last Saturday after Nevada and Pennsylvania were called in his favor by the Associated Press, Fox News and other TV networks. But President Donald Trump and many of his supporters have claimed, without evidence, that Biden and Vice President-elect Kamala Harris won through widespread voter fraud.
Current and former election officials—Republicans, Democrats and independents—have dismissed Trump's claims, pointing out that there is no evidence of significant voter fraud and that such fraud is extremely rare in U.S. elections. James Young, a former Kentucky elections official who is registered as a Republican, described the claims that election officials had rigged the results as "insulting to my personal experience as an administrator and to both my personal and professional experience with America's leading public servants."
"As an elections professional who works with hundreds of government admins (@GOP, @DNC, and non-partisan), my message is this... Election Administrators are good, honest, capable, and willing people. They are the hardest working people I know," Young wrote on Twitter.
Young now works as a member of the leadership team at Inclusions Solutions, which helps local governments make voting more accessible to individuals with disabilities through a range of products.
"Again, does 'fraud exist'? It has been my experience that, yes, it does...but in very small, insignificant cases. And of course, these cases should be prosecuted and all ill-intended actors should receive punishment," Young tweeted.
Sharing photographs of himself with local election officials from various parts of the country, Young pointed out that they are ordinary people and well-intentioned members of their communities.
"It infuriates me knowing the integrity of these public servants [is] being called into question. Election Administrators are heroes, not partisan actors. Having been on both sides, I can't stress enough how proud you should be of these individuals," he wrote.
Newsweek reached out to the Trump campaign for comment, but it did not immediately respond.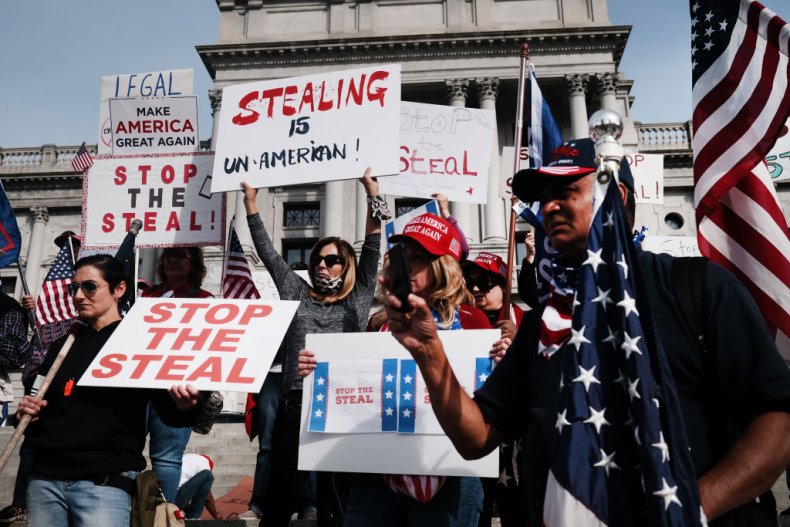 In a report published Tuesday, The New York Times spoke with election officials in every state—Republicans and Democrats—and found that none of them had discovered evidence of significant voter fraud.
"There's a great human capacity for inventing things that aren't true about elections," Ohio's secretary of state, Frank LaRose, a Republican, told the Times. "The conspiracy theories and rumors and all those things run rampant. For some reason, elections breed that type of mythology."
In Georgia, where Biden appears to have narrowly beaten Trump by just over 14,000 votes, Secretary of State Brad Raffensperger, a Republican who was endorsed by Trump in 2018, has dismissed allegations that the election in his state was mismanaged.
He said he believed there were some instances of "illegal voting" but they would be investigated and were "unlikely" to change the results in Trump's favor.