Ex-FBI Acting Director On Congress Pursuing Trump Impeachment: 'If They Don't Act Now, When Will They Ever?'
Former acting FBI Director Andrew McCabe has questioned if and when Congress will ever take steps to pursue President Donald Trump's impeachment.
McCabe, who was fired by the Trump administration last year, appeared for an interview on CNN's New Day on Thursday morning to discuss his views on Congress and whether or not Trump should be impeached. The ex-FBI leader suggested that lawmakers were not acting rapidly enough to address the findings of special counsel Robert Mueller's report.
"Under these circumstances, knowing what they know, confronting the sort of resistance that they're getting from the administration, if they don't act now, when would they ever?" McCabe asked.
Co-anchor John Berman pressed McCabe, asking if he thought representatives in Congress were "acting too slowly."
"I think that they should be moving forward, they should be moving forward in a deliberate and careful fashion. They claim to be doing that," he responded. "But it would be–I think it would be good for them to make a little more progress."
While several Democratic lawmakers–particularly Representatives Rashida Tlaib of Michigan and Al Green of Texas–have vocally pushed their colleagues to pursue Trump's impeachment, House Speaker Nancy Pelosi has remained reluctant. She has argued that such a process is "divisive" for the country and argued it would be better to defeat the president at the ballot box in 2020.
While many Democratic leaders have backed Pelosi's position, a growing number of lawmakers in the House, including one Republican, have publicly supported pursuing the president's impeachment.
Even if Trump was impeached, however, it appears unlikely that he would be removed from office. Although the House, with Democrats controlling the legislative body, could potentially pass an impeachment resolution, Republicans control the Senate. Thus far, Pelosi has even resisted starting an impeachment inquiry, as many of her colleagues have urged.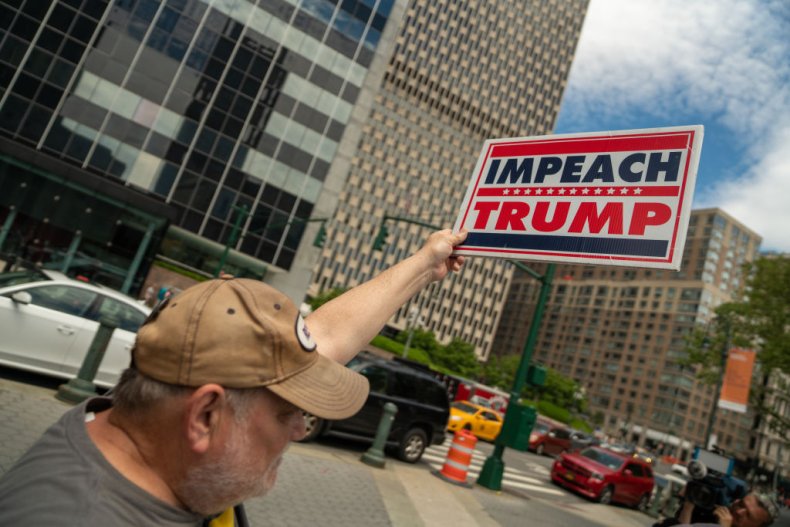 "I respect everybody's time when they think there should be an inquiry," the top Democrat in Congress said Wednesday morning at an event, according to the San Francisco Chronicle. "I don't think you should have an inquiry unless you're ready to impeach."
McCabe served as deputy director of the FBI under former director James Comey, who was infamously fired by Trump in 2017. McCabe then took over temporarily as acting director of the bureau until Christopher Wray was tapped to fill the role. Several months later, it was announced that McCabe would step down and go on paid leave until his retirement. However, he was fired, days before retirement, after an investigation concluded that he was responsible for an improper media disclosure.