Ex-FBI Agent Urges U.S. to Bomb Mecca in Retaliation for Pensacola Shooting, Says a 'Cruise Missile' Would Send the 'Message'
A former FBI agent suggested that the U.S. should bomb Mecca in retaliation for the mass shooting by a Saudi aviation student at the Naval Air Station in Pensacola, Florida on December 6.
John Guandolo, who parted from the FBI in 2008 after a series of alleged ethical violations, made the remarks on the latest edition of his Understanding the Threat radio show. The title of the show mirrors the name of his anti-Muslim group, which the Southern Poverty Law Center has categorized as a hate group.
"[Even after] an organized attack where people are filming a Saudi Air Force officer killing Americans on a naval air station and we're like, 'Hey, the Saudi president, the Saudi king said he is really sorry, deeply disturbed,'" said Guandolo. "How about a cruise missile right down Mecca, right on the Kaaba? Maybe that would send them a message that we're done playing in this war."
Although the Pensacola shooter was identified as Mohammed Saeed Alshamrani, a 21-year-old Lieutenant in the Saudi Air Force, there has been no indication or evidence suggesting the Saudi government was involved in or endorsed the attack in any way.
Guandolo suggested the U.S. government is "incompetent" for not issuing an unprovoked attack on the Muslim holy city.
"Even an attack on a U.S. military base isn't enough to smack any of our leaders on the side of the head like a two-by-four to wake them the heck up," Guandolo said. "We win this war at the local level. The federal government is completely and utterly incapable of fixing this. They're incompetent."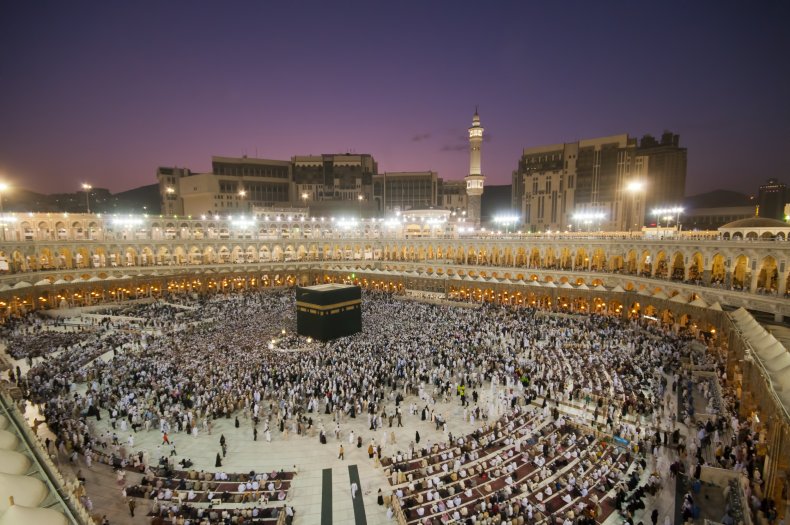 Despite Guandolo's declaration of the U.S. government's incompetence, he is a strong supporter of President Donald Trump.
Guandolo's unwavering support of Trump includes the unusual position of insisting that critics of the president should be tried and executed for what he claims is "treason." Other notable positions include his suggestion that only Christians should be eligible to hold public office, as well as a false claim that American Muslims do not have First Amendment rights.
Understanding the Threat's website describes the group as "the only organization in America providing tools to leaders, police and citizens to identify and dismantle jihadi/terrorist networks in their local communities." In addition to "jihadis" Guandolo also promises to protect America from the threat of "Marxists." A biography on the site provides a flattering portrayal of Guandolo's service in the FBI, failing to mention any of the allegations that led to his dismissal.
Guandolo's departure from the FBI came after alleged ethical breaches that include "inappropriate sexual advances" towards a witness in the corruption case of former U.S. Representative William Jefferson (D-La.), as well as an alleged attempt to solicit $75,000 from the same witness as a donation to a group he supported. He is also alleged to have engaged in a number of extramarital affairs with female FBI agents. He resigned before the agency could investigate his alleged activities.
He began his career as an anti-Muslim conspiracy theorist and self-styled Islamic terrorism expert in earnest during the administration of former President Barack Obama. A frequently repeated conspiracy theory involved the unsubstantiated claim that former CIA Director John Brennan was secretly a Muslim.
Although Guandolo is said to have used his expertise to train law enforcement around the world, his dealings with individual officers have not always gone well. In September he lost a lawsuit filed by former Minnesota sheriff Richard Stanek, who claimed Guandolo had assaulted him during a 2017 law enforcement conference in Nevada. Stanek said Guandolo shoved and punched him after he objected to "discriminatory" handouts the hate group leader had distributed at the gathering. The jury agreed, ordering Guandolo to pay $600,000.