Ex-FBI Director Comey Concerned Over Trump Getting Intelligence Briefings After He Leaves Office
Although President Donald Trump is serving the final days of his presidency, he is expected to continue receiving intelligence briefings even after he leaves the White House. Former FBI Director James Comey, however, is warning future officials about what information they choose to share with Trump.
"Former presidents are—not all the time, but on a regular basis—given general intelligence briefings about the state of the world and threats to the country. And that makes good sense because they speak so often, even though they're not in office, around the country and around the world, representing us," Comey said during a Friday appearance on ABC's The View.
"So they want to give them a picture of what's going on in the world, and they're also given specific information if there's a threat to them," he added.
But Comey suggested that the next national intelligence director should strongly evaluate whether Trump should be granted access to that type of information.
"That is all controlled by the director of national intelligence, who will have to take a very hard look at whether Donald Trump should be given information, including any information that might be sensitive to the security of the United States," Comey said.
"The guy's a lying demagogue who you can't trust, and so you want to be very, very careful about what you give him," he said about Trump.
Avril Haines, a former deputy national security adviser who previously served in the Obama administration, has been nominated by President-elect Joe Biden to become the director of national intelligence. If confirmed by the Senate, she will be the first woman to hold the position.
Marc Selverstone, a professor in presidential studies at the University of Virginia's Miller Center, confirmed to Newsweek that former presidents do continue to receive briefings after holding office, but it is usually upon their request.
Selverstone added that "the privilege also comes at the discretion of the sitting president," although he noted that no modern president has countermanded that privilege.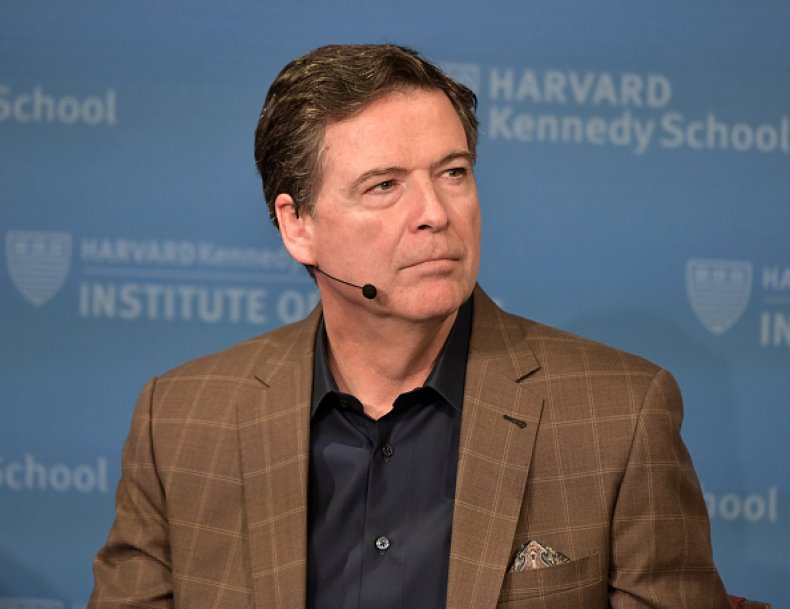 Trump's firing of Comey from his FBI post in May 2017 was controversial. Many members of Congress expressed concern that the move would jeopardize special counsel Robert Mueller's investigation of Russian interference in the 2016 election.
Although Comey was found to have violated FBI policy by leaking a classified memo to the press, the Department of Justice declined to prosecute him.
The former FBI chief said one way to ensure Trump will no longer receive intelligence briefings after January 20 is for the Senate to find Trump guilty during his impeachment trial.
"I'm hoping he will have been stripped of the perks of a former president by being convicted by the U.S. Senate and barred from further participation in public office," Comey said.
On Wednesday, the House of Representatives voted to impeach Trump for the second time during his presidency. The single impeachment article then goes to the Senate for a trial. After Biden's inauguration on Wednesday, the Senate will be split 50-50, with Vice President-elect Kamala Harris breaking any tied votes.
Newsweek reached out to the White House for comment but did not hear back before publication.
This story was updated at 3:40 p.m. with comments from Marc Selverstone.