Ex-FBI Director James Comey Suggests Trump Needs 'Affirmation' Like a Toddler
Former FBI director James Comey condemned President Donald Trump's actions ahead of the insurrection against the U.S. Capitol on January 6, while suggesting that the president needs "affirmation" as much as toddlers do.
Trump is set to depart the White House this Wednesday, as President-elect Joe Biden will be inaugurated on that day. He will be leaving office as the first president in U.S. history to be impeached twice, and has been widely condemned by Democrats and prominent Republicans for inciting his supporters to storm the U.S. Capitol in an unsuccessful attempt to block Congress from certifying Biden's Electoral College win.
"I think there has to be historic sanction for this behavior," Comey said during an interview broadcast by Sky News on Sunday.
Backing impeachment, Comey said that Trump should be "convicted" and "barred" from holding future elected office.
The former FBI director, who was famously fired by Trump in 2017, expressed his hope that the president will attract less media attention after President-elect Joe Biden takes office. "I'd like to see some of the lights go out and he can stand on the front lawn of Mar-a-Lago and shout at cars in his bathrobe," Comey said.
A former Republican who now identifies as an independent, Comey compared Trump to toddlers in the interview.
"This sounds like hyperbole. I don't mean it that way. This is an absolute statement of fact. I have never seen an adult with a greater hunger for affirmation than Donald Trump. I've seen it in two-year-olds and three-year-olds. Affirmation is like air, he needs it constantly," he said, warning that Trump's remaining time in office could be "dangerous."
"There's a menace to him in private that you don't pick up in public, but I have felt it sitting close to him," Comey said. "That—that constantly reminded me of a mob boss, because I've known mob bosses and helped put them in jail. And that menace, coupled with that hunger for affirmation, is a really dangerous recipe."
Newsweek reached out to the White House for comment, but did not immediately receive a response.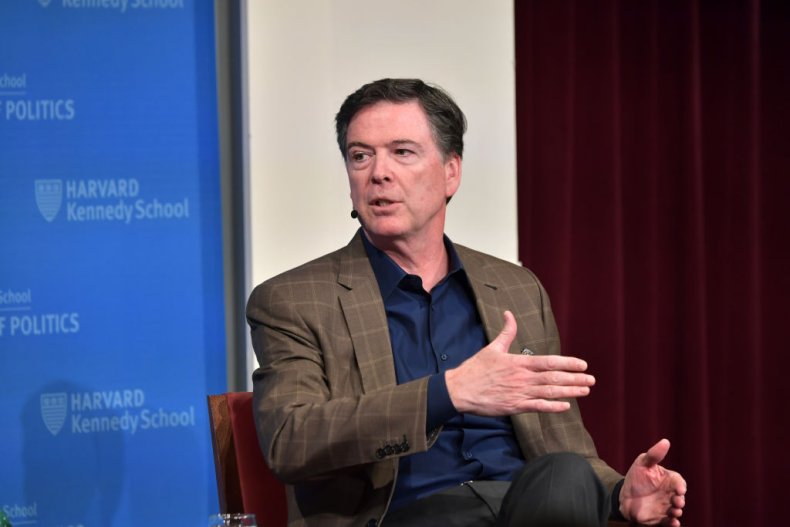 The House of Representatives voted to impeach Trump last Wednesday, with 10 Republican lawmakers joining with Democratic colleagues to back the decision. The president's impeachment came after he incited a violent insurrection against the Capitol a week earlier, with a mob of his supporters storming the legislative building as Congress met to certify Biden's win.
Ahead of the riot, Trump spoke to his supporters at a nearby rally urging them to march to the Capitol and "fight like hell." Five people died in the violence that ensued.
Whether the Senate will vote to convict Trump and bar him from holding elected office again in the future remains to be seen. While Democrats have just regained narrow control of the upper chamber of Congress, a conviction vote requires a two-thirds majority. This means at least 17 GOP senators would have to side with Democrats in voting against a president from their own political party.