Ex-Fed Prosecutor Says Giuliani Lacks Too Much 'Attention to Detail' to be on Trump's Defense Team: 'Forgot to Zip Up His Pants'
On MSNBC Live Thursday, host Stephanie Ruhle asked her panel of guests how "dangerous" involving President Donald Trump's personal lawyer Rudy Giuliani in Trump's impeachment trial could be.
Giuliani told reporters at Trump's Florida resort Mar-A-Lago on Tuesday that he wanted to be involved with the trial as much as possible, listing the things he could potentially do were he asked.
"I would testify, I would do demonstrations, I would give lectures, I would give summations," Giuliani said. "Or, I'd do what I do best. I'd try the case."
"How dangerous would it be if Rudy Giuliani participates in this trial?" Ruhle asked.
Newsweek subscription offers >
"Well, nobody's going to put Rudy Giuliani in charge of this trial," said former federal prosecutor and MSNBC legal analyst Cynthia Alksne. "This is a guy who recently went to The New Yorker, gave an interview and forgot to zip up his pants. He does not have the attention to detail to try a case at this point."
Ruhle clarified the parameters of the question and asked what could happen if Giuliani were to be called as a witness.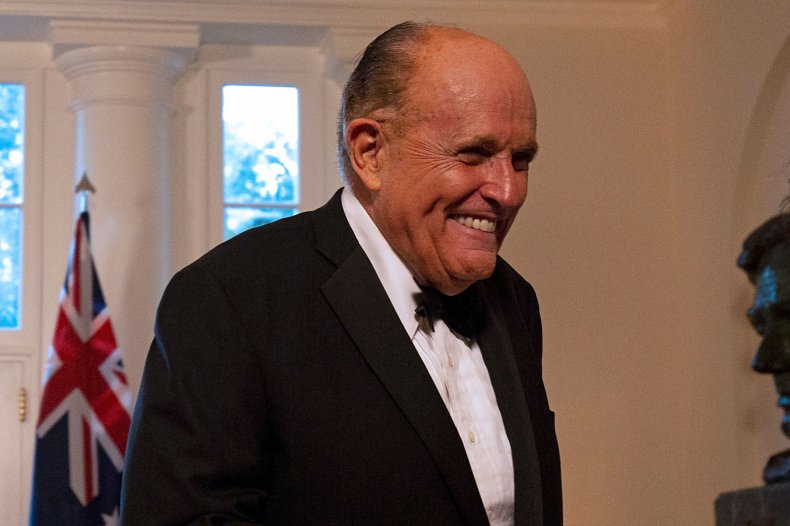 "It would be explosive but there's no chance they're going to do that," Alksne replied. "The president says, 'I would love to testify.' Rudy says he'd love to testify. The president would love to release his tax returns. The president would love to talk to Mueller. None of that is true. They just say it to keep it repeated."
Newsweek subscription offers >
"Rudy Giuliani is essentially the guy who caused this scandal," Alksne continued. "He has caused this impeachment on some level for Trump by encouraging him to continue this dangerous behavior and to try and extort the president of Ukraine. There is no way Mitch McConnell is going to allow a 'drug deal bomb thrower' like this, as John Bolton has called him, to go forward and testify in the trial."
Former senior adviser to Jeb Bush Michael Steel agreed with Ruhle's assertion that Giuliani's comments to reporters was "just nonsense talk with a double Scotch in hand at a party."
"I think that we would all get a great deal of new information, a great deal of new insight from having Rudy Giuliani testify," Steel said. "I would love to hear from John Bolton, from Mick Mulvaney, from Mike Pompeo. A lot of people who aren't going to be testifying publicly because they could only create more problems for this administration."
Newsweek reached out to Giuliani for comment but did not receive a response in time for publication.
Giuliani has been vocal about his desire to be part of the president's legal defense team for the impeachment trial, even if the chances of that happening are slim.
"I don't know if anybody would have the courage to give me the case," Giuliani told reporters Tuesday, "but if you give me the case, I will prosecute it as a racketeering case, which I kind of invented anyway. It was 30 years ago, but let's see if I can still do it."
Giuliani also said he believes history will look at Trump's impeachment as an "illegal coup."
"I think it will go down in history to disgrace [House Speaker] Nancy Pelosi and [House Intelligence Committee chairman Adam] Schiff. There's never been a partisan impeachment," Giuliani said. "Schiff and Pelosi have done a reign of terror like Joseph R. McCarthy. They're going to go down in history like him when people calm down and watch this carefully."
Ex-Fed Prosecutor Says Giuliani Lacks Too Much 'Attention to Detail' to be on Trump's Defense Team: 'Forgot to Zip Up His Pants' | Politics