Ex-Football Player Brandon Tatum Says LeBron James Wouldn't Hesitate to Have White Officers Defend Him
Ex-football player and former police officer Brandon Tatum criticized Los Angeles Lakers start LeBron James for his Black Lives Matter activism, arguing the NBA player is unaffected by police violence and wouldn't hesitate to have white officers defend him.
"LeBron James is living on a high horse, he's in a multimillion-dollar house living around nothing but white people. He is not affected by none of this violence. He could care less," Tatum told Fox News' Laura Ingraham on Wednesday. "And at the drop of a dime, he will have white officers at his house doing investigations on false claims if there is some."
Tatum accused Black people like James and the founders of the Black Lives Matter movement of virtue signaling through anti-police rhetoric and calls to defund the police.
"LeBron James and these wealthy people like the BLM co-founder living in million-dollar houses, they don't care. They just want to push a virtue signal because they have nothing better to do," he said. "They are not educated enough to look at things from both sides and they continue to want to push a narrative that's just not true. I really wish they would be held accountable and at least ashamed of what they're doing to our country."
On Wednesday, James came under fire for a since-deleted tweet which showed a photo of Nicholas Reardon, the police officer who fatally shot 16-year-old Ma'Khia Bryant in James' home state of Ohio, with the caption, "YOU'RE NEXT #ACCOUNTABILITY," followed by an hourglass emoji.
The four-time NBA champion addressed the tweet later writing: "I took the tweet down because its being used to create more hate -This isn't about one officer. it's about the entire system and they always use our words to create more racism. I am so desperate for more ACCOUNTABILITY."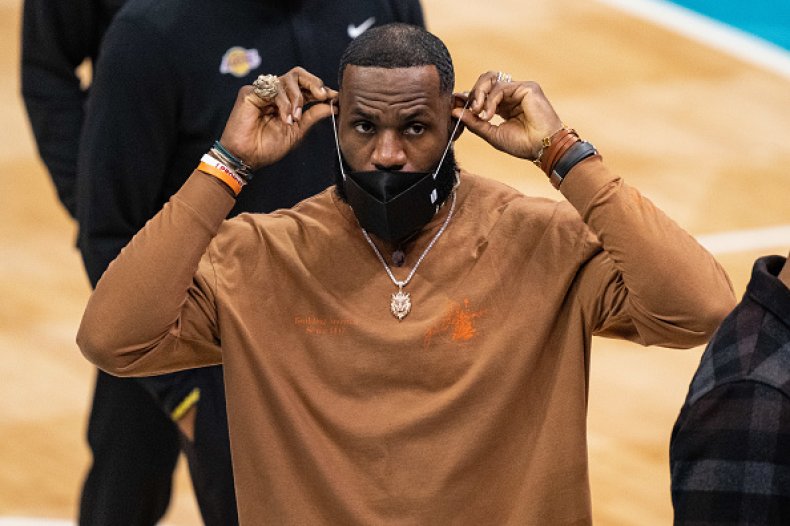 This is not the first time the ex-football player has been critical of the BLM movement. Tatum, who identifies as "a Black conservative," also runs a YouTube channel where he releases videos of him talking about politics. In 2017, one of his videos went viral after he expressed opposition to NFL players "taking a knee" during the national anthem.
In response to Bryant's death, Tatum retweeted a video of the Columbus, Ohio, girl's mom remembering her as someone who "promoted peace."
Tatum wrote: "As [Bryant] was attempting to stab another girl. People need to stop getting on TV lying about their kids. I saw the body camera..."
In an unprecedented move, police released body camera footage just hours after Tuesday's shooting. Video shows Bryant, in a driveway, pushing a person who falls to the ground. The 16-year-old then appears to swing a knife at a girl on the hood of the car before an officer fires his weapon what sounds like four times, fatally striking Bryant.
Newsweek reached out to James' team for comment, but did not hear back before publication.