Ex-Fox News Reporter Condemns Tucker Carlson's White Supremacy Comments: It's 'Horrible,' 'Not Right'
Former Fox News reporter Carl Cameron condemned Tucker Carlson's recent remarks about white supremacy on Thursday, calling the conservative host's remarks "horrible," merely "entertainment" and "not journalism."
Carlson called Americans' growing concerns over the rise of white nationalism and white supremacy a "hoax" and "conspiracy theory used to divide the country" during a segment on Tuesday's Tucker Carlson Tonight. His comments were made in response to critics of Donald Trump that say the president failed to respond appropriately to two mass shootings that occurred over the weekend that left dozens dead.
"The whole [white supremacy issue] is a lie," Carlson continued. "It's actually not a real problem in America. The combined membership of every white supremacist organization in this country would be able to fit inside a college football stadium."
Although the Dayton, Ohio shooting had no direct link to white supremacy, the suspected El Paso, Texas shooter appeared to have been motivated by anti-immigration rhetoric.
Appearing on CNN on Thursday to discuss Carlson's remarks, Cameron declared that the Fox News host was simply "just not accurate." "He has not apologized for it as far as I know," the reporter continued, "but the idea that white supremacy doesn't exist or the idea that there's something okay with a football field or a soccer stadium full of white supremacists is also wrong."
"It's just not journalism. It is opinion making," Cameron added. "It is entertainment and unfortunately it's an entertainment that can catch on with a very viralized America. It's horrible and it's not right and it's good that he's on a vacation whether it was intended or not."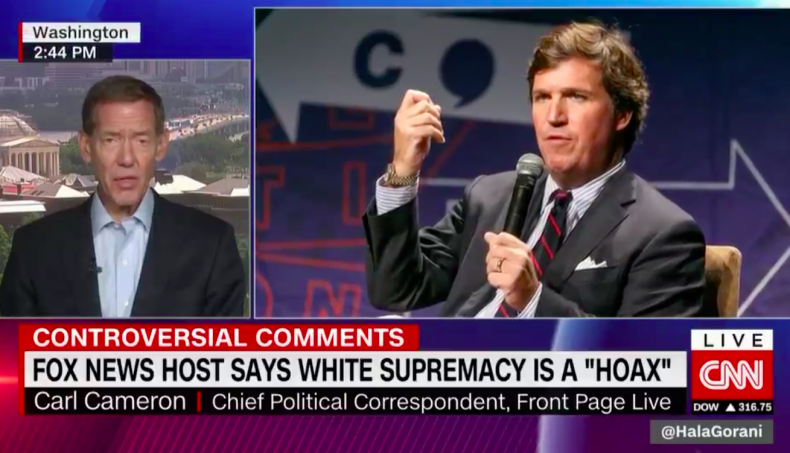 One day after Carlson made his remarks, #FireTuckerCarlson began trending on Twitter, with thousands of Americans calling on Fox News to terminate the host's job. In response, Carlson urged viewers to "calm down" during a segment on Wednesday's Tucker Carlson Tonight.
"We want to take a second to pass on a sincere message to official Washington, and particularly to our colleagues on other cable news channels, and it's this: Please, for the sake of the nation, calm down," the conservative host said, before announcing that he will be taking "several days off" to go fishing with his son.
Since the weekend, Democrats and Republicans have aggressively sparred over whether Trump's inflammatory rhetoric about immigrants, and especially hispanics, encouraged the hate and violence involved in the El Paso shooting.
"It's not the job of this show to defend the president and everything he says," Carlson said on Tuesday night. "Some things we are not going to defend. But in point of fact, he never endorsed white supremacy or came close to endorsing white supremacy. That's just a lie. But he condemned it anyway. Their response, 'he didn't really mean it.'"