Former GOP Congressman Joe Walsh on Monday condemned President Donald Trump for attempting to hold the next G7 summit at his own hotel and predicted that Republicans would eventually vote to support impeachment.
Monday, Trump confirmed that he will not be hosting the 2020 G7 summit at his Trump National Doral Miami hotel and blamed Democrats for the failed plans despite having received criticism from both parties. Roughly 48 hours after acting chief of staff Mick Mulvaney made the announcement, Trump revealed that summit will no longer be hosted at Doral in a tweet where he called the criticisms that led to the reversal "Irrational Hostility."
"I thought I was doing something very good for our Country by using Trump National Doral, in Miami, for hosting the G-7 Leaders," the president added.
During an appearance on CNN, Walsh explained to host Brianna Keilar that Trump's failed effort to hold the G7 summit at his own Miami Doral resort has turned voters against him, which would in turn encourage Republicans in Congress to turn on him.
"Look, I think he knows [impeachment is] coming and it needs to come," Walsh said. "That's directed at Republicans."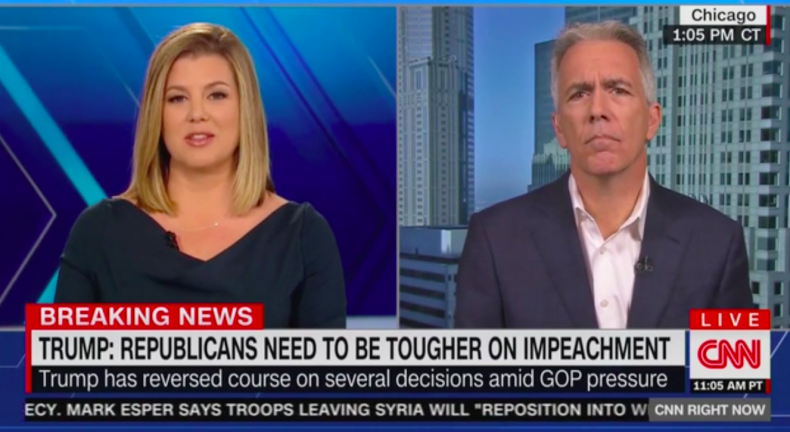 Trump "sounded like a frightened baby right there. This Doral thing, him hosting, wanting to host the G7 at his [resort]. That was different, Brianna, something changed," he continued, "That was almost like such an in your face, I don't give a damn what you do about me, I can do whatever I want [move], that even Republicans pushed back against him."
"It's really important to note though, I need to say this: Republicans don't like him. Republicans in Congress, they don't like him. They don't fear him, they don't respect him. They do believe he's incompetent, they do believe he's a moron," Walsh added. "Everything I say about Trump publicly, the vast majority of my colleagues up on Capitol Hill, they feel the same way about him privately."
The former Republican went on to note that while "they don't fear Trump," congressional Republicans do "fear Trump's voters," before asserting that even the president's base are turning on him over Doral.
"I was campaigning in Iowa all weekend and even just talking to Republican voters on the ground in Iowa. They were even bothered by this Doral thing. The G7 thing. The best that they could say was, 'It doesn't look good,'" Walsh said. "Republicans in Congress, they fear Trump's voters and Trump's voters were bothered by what Trump did. That will move them."
Walsh, a former GOP member of the U.S. House of Representatives from Illinois, announced on August 25, 2019 that he will be running for president in 2020.