Ex-GOP Congressman Says Republicans On House Intel Committee Have 'Lack of Love of Country' for Defending Trump
Former Republican Congressman Joe Scarborough slammed GOP lawmakers on the House Intelligence Committee Wednesday for using conspiracy theories to defend President Donald Trump in the ongoing impeachment inquiry and suggested that they have a "lack of love of country" because they put politics first.
"I gotta say, I mean, I don't know if you knew it or not, I was in Congress, and Newt [Gingrich] was the Speaker [of the House]," said Scarborough, who voted to impeach President Bill Clinton while he served in the House of Representatives.
"I would say if a Republican ranking member of the Intel Committee, like, did half — even threw any conspiracy theory out in a hearing like this, Newt would yank him off in a second. Anybody would," he said during his MSNBC show Morning Joe.
Gingrich, a Republican, is a columnist for Newsweek and the former Speaker of the House who has regularly defended Trump in the face of the ongoing impeachment inquiry.
Continuing his criticism of the GOP representatives, Scarborough, who now identifies as an independent, said that "nobody is at home" and "there is no adult" among the Republican members of the House Intelligence Committee.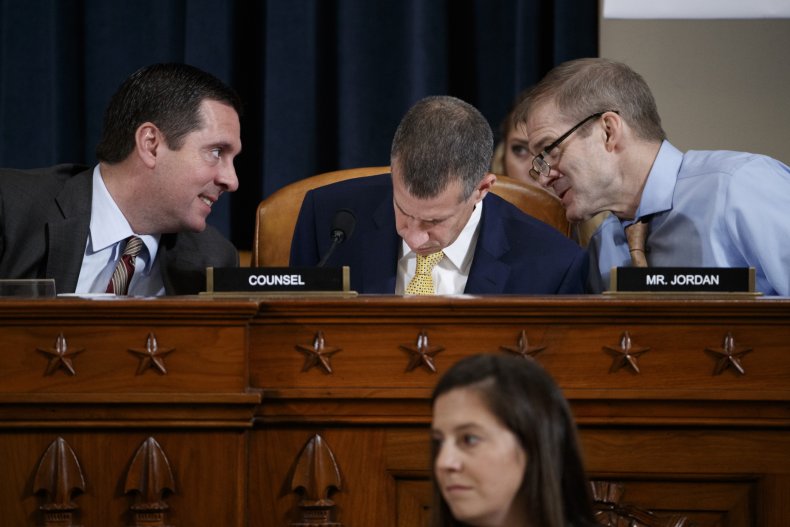 "It's lack of character among people on these committees. Just a lack of character and a lack of love of country that they put their political party above their country," the MSNBC host said later in the segment.
Scarborough's co-host Mika Brzezinski, who is also his wife, said that his accusation against the GOP lawmakers did not come lightly.
"In the 13 years I've worked with you, I have never heard you accuse someone of not loving their country. And in fact, you're very careful with those words," she said.
The MSNBC host has regularly criticized Trump, and cited the president as key to his decision to leave the Republican party.
"You didn't have Republicans coming out and saying, I can never support Donald Trump because he's racist," Scarborough said in an interview with The Late Show hosted by Stephen Colbert in July of 2017. "Time and time and time again, they turned the other way, and they're doing the same thing now. It's actually disgusting. And you have to ask yourself, what exactly is the Republican Party willing to do?" he asked. "How far are they willing to go? How much of this country and our values are they willing to sell out?"
The impeachment inquiry against Trump centers around his efforts to pressure Ukraine to announce investigations into unsubstantiated claims against Democratic presidential candidate Joe Biden and his son Hunter, as well as into a debunked conspiracy theory that Democrats and Ukrainians worked together to interfere in the 2016 presidential election. During the ongoing House inquiry, Republicans have attempted to defend these concerns, despite a lack of evidence and witnesses testifying that they are not credible.
Republicans have also attempted to undermine the credibility of key witnesses in the inquiry. They have drawn significant criticism for calling into question the motives of Lt. Col. Alexander Vindman, who testified publicly Tuesday during the impeachment hearings. Vindman is a veteran of the Iraq War and received the Purple Heart for his service.