Ex-GOP Lawmaker Rips Marjorie Taylor Greene for Raging Over Infrastructure: 'Can't Fix Stupid'
Former Florida Republican Rep. David Jolly on Sunday slammed hard-right Rep. Marjorie Taylor Greene for calling the House passage of President Joe Biden's sweeping bipartisan infrastructure bill a "communist takeover of America" and lashing out at the House Republicans who helped to deliver the package.
Thirteen House Republicans broke with their GOP to vote in favor of the infrastructure bill, which passed largely along party lines in a 228-206 vote late Friday. With six progressive holdouts, the legislation would not have succeeded if it were not for their support.
The GOP defectors faced swift backlash from Greene and several other Republican lawmakers closely aligned with former President Donald Trump.
"These are the 13 'Republicans' who handed over their voting cards to [House Speaker] Nancy Pelosi to pass Joe Biden's Communist takeover of America via so-called infrastructure," Greene tweeted early Saturday morning. She also listed the names of the 13 Republicans who voted for the bill.
Asked to comment on Greene's reaction, Jolly told MSNBC's Alex Witt: "I would say you can't fix stupid"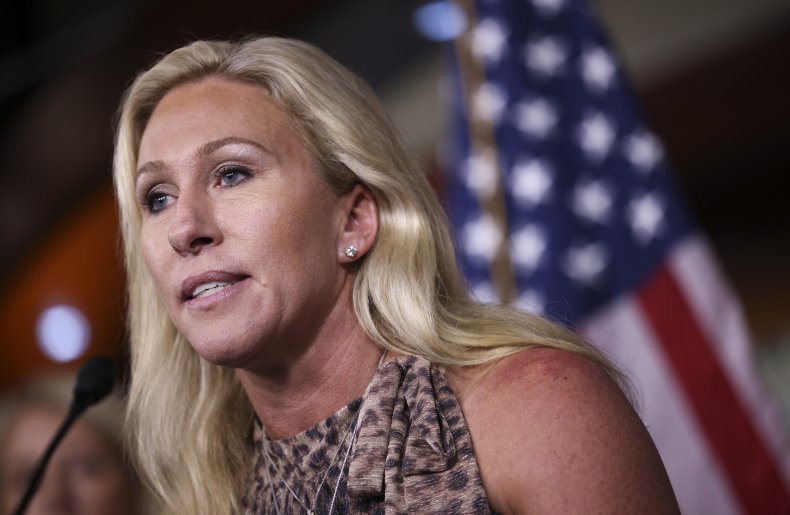 "I suppose if we really want to put some legislative analysis to this, by the numbers, this is right. Democrats did not hold their entire caucus together. It did pass with Republican votes, but it also passed in the Senate with I believe 19 Republican votes."
"The important thing for Democrats to take from this, this is a good thing. Take the victory lap, sell this as a jobs bill, sell this as economic stimulus, and also realize you have to really lean into this victory," Jolly added. "Because there will be zero Republican votes on the Build Back Better legislation, you have to get your caucus in line for that final vote."
Greene quickly dismissed the criticism in a statement, asking Newsweek: "Who is David Jolly?"
The controversial Georgia GOP lawmaker has also received criticism from fellow Republican Rep. Adam Kinzinger for her remarks.
"Infrastructure=communism is a new one. Eisenhower's interstate system should be torn up or else the commies will be able to conveniently drive! Red Dawn in real life," the Illinois lawmaker tweeted, sharing a screenshot of Greene's post.
"Also I'm assuming that the 'Republicans' being in quotes implies that if you don't believe in Jewish space lasers, and believe in roads, you aren't a real Republican," Kinzinger added.
Eight of the Republican defectors—Don Bacon of Nebraska, Brian Fitzpatrick of Pennsylvania, Andrew Garbarino of New York, Anthony Gonzalez of Ohio, John Katko of New York, Tom Reed of New York, Christopher H. Smith of New Jersey, and Fred Upton of Michigan—are part of the Problem Solvers Caucus, a group of bipartisan lawmakers who helped to negotiate the bill.
Four others—Kinzinger of Illinois, Don Young of Alaska, David B. McKinley of West Virginia, and Jeff Van Drew of New Jersey—appeared to buck their party to follow down the traditionalist GOP route of backing infrastructure funding above partisan politics.
The final defector, Nicole Malliotakis of New York, said she voted for the infrastructure legislation to "weaken" progressives and their efforts to push through Biden's larger social spending package.