Ex-GOP Senator Claims Joe Biden 'Told Me Personally' He Did Not Believe Anita Hill During Hearings
Former Republican Senator Orrin Hatch claimed in an interview with Fox Nation's Confirmation Chronicles that Democratic presidential frontrunner and former Vice President Joe Biden told him that he did not believe Anita Hill when she came forward and testified before the Senate that then-Supreme Court Justice nominee Clarence Thomas had sexually harassed her.
"Biden told me personally that he didn't believe her. He said I don't know why she did this," Hatch, who represented Utah, told interviewers in the Confirmation Chronicles Volume 2: High Tech Lynching, which will air on Wednesday. "I don't mean to malign Joe, but Joe told me he didn't believe her, and there were some others that told me that too."
Biden, who previously served as a Senator for Delaware, chaired the Senate Judiciary Committee at the time of the Anita Hill hearing back in 1991. Hill came forward with her allegations against Thomas, and eventually testified ahead of the Senate's vote to confirm the conservative justice to a lifetime appointment on the nation's top court. Biden has faced significant criticism for his handling of the hearings, with that backlash resurfacing recently due to his current presidential bid.
The former vice president anticipated that Hill's experience under his committee could be a problem for his campaign, so he called her a few weeks before making his official announcement this spring. According to his campaign, he expressed "his regret for what she endured." For Hill, that didn't go far enough.
"I cannot be satisfied by simply saying, 'I'm sorry for what happened to you,'" Hill, who is now a professor at Brandeis University, told The New York Times in an April phone interview. She refused to characterize Biden's comments as an apology. At the same time, she said that her experience with Biden did not necessarily disqualify him from the presidency. "I'm really open to people changing," she said.
"The focus on an apology, to me, is one thing," Hill asserted in her interview with The Times. "But there needs to be an apology to the other witnesses, and there needs to be an apology to the American public because we know now how deeply disappointed Americans around the country were about what they saw."
Before announcing his presidential run, Biden said at a March event in New York that he had regrets about how the Hill testimony played out.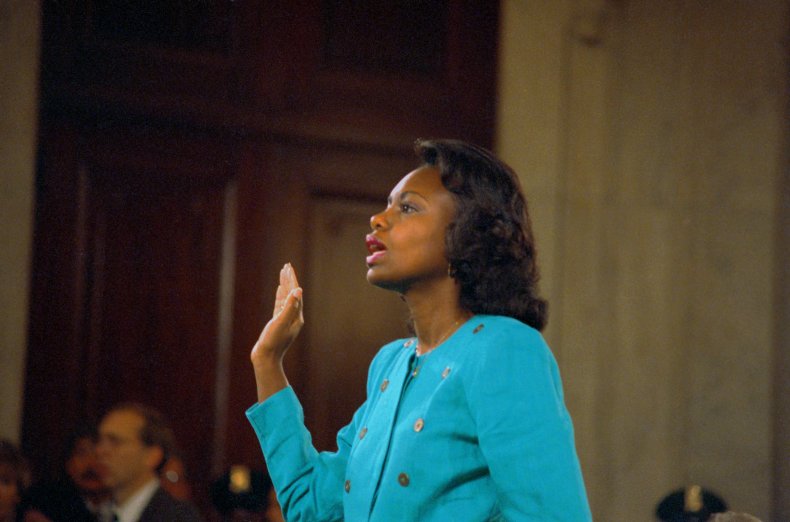 "To this day I regret I couldn't come up with a way to get her the kind of hearing she deserved, given the courage she showed by reaching out to us," he said, according to CNN.
"She paid a terrible price – she was abused through the hearing, she was taken advantage of, her reputation was attacked," Biden added.
Critics of Biden's handling of Hill's testimony, have questioned why he did not allow other witnesses to testify in support of her claims, including Angela Wright – who'd made a similar accusation against Thomas. Biden did, however, personally vote against the justice's confirmation.