Ex-GOP Speaker John Boehner Ramps Up Attack on Ted Cruz, Calls Him 'Lucifer in the Flesh'
Former Republican Speaker of the House John Boehner has ramped up his attacks on Sen. Ted Cruz (R-Texas), calling the senator "Lucifer in the flesh" on Monday.
Boehner made the remarks during an interview on the latest edition of the ABC daytime talk show The View. The former speaker was promoting his new book On the House: A Washington Memoir. The memoir, set to be released on Tuesday, includes Boehner describing Cruz as a "reckless a**hole." The View co-host Sara Haines asked Boehner what it was about Cruz that got him "so fired up," noting that Cruz has said Boehner is "obsessed" with him.
"Well, this guy was not even a member of the U.S. House," Boehner said. "He's a member of the Senate. And he's coming over to the House side of the Capitol, stirring up some of my knuckleheads and pushing them to do things that are about the dumbest things I've ever seen in my life. And he's not even a member of our caucus."
"So, it's just a bit bizarre that I've never seen happen before or since like the activities of Ted Cruz," he added. "You know, I don't really beat up too many people in this book, except one, Ted Cruz, Lucifer in the flesh."
Cruz's communications team pointed Newsweek to an earlier tweet by the Senator with a meme from the film Mean Girls, captioned "Why are you so obsessed with me?" The tweet was in response to a leaked audio excerpt of Boehner's audiobook version of his memoir. In the clip, Boehner can be heard saying "P.S.: Ted Cruz, go f**k youself" after reciting a seemingly unrelated section of the book.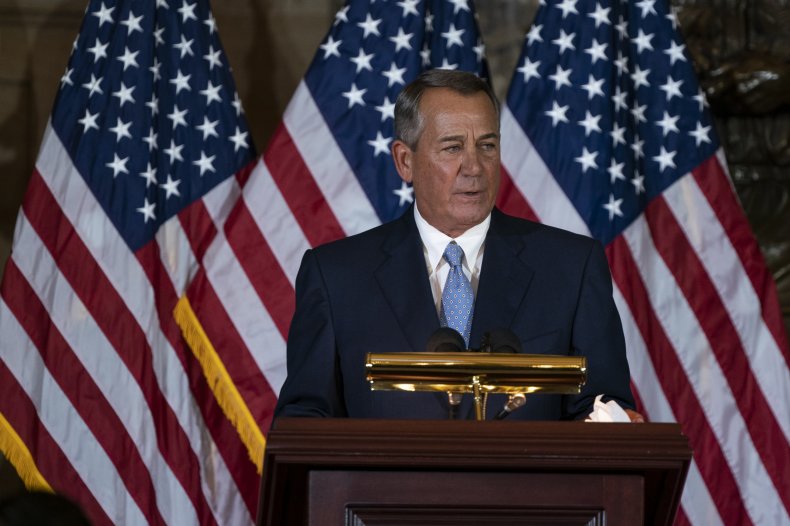 Boehner made similar comments about Cruz earlier the same day. During an appearance on CBS This Morning, Boehner said that Cruz had gone out of his way to provoke "some of the crazies" in the House GOP caucus.
"This guy wasn't even a member of the United States House of Representatives," said Boehner. "He was a member of the Senate, stirring up some of the crazies of my own caucus to cause all kinds of problems. And that's probably why I zeroed in on him, probably the only person in this book in the way that I did."
"As I say in the book, there's nothing worse than a reckless jackass who thinks he's smarter than everybody else," Boehner added.
Cruz responded to Boehner's remarks in a tweet a short time later, insisting that his actions had been intended to hold fellow Republican lawmakers accountable in a "translation" of Boehner's remarks.
"If you don't speak Swamp-creature, here's the translation: 'stirring up some of the crazies of my own caucus to cause all kinds of problems' means 'encouraging elected Members of Congress to actually honor the promises they made to the voters & DO WHAT THEY SAID THEY WOULD DO,'" Cruz tweeted.
Boehner also took aim at former President Donald Trump during his interview on The View, having previously blasted Trump for inciting the "bloody insurrection" at the U.S. Capitol on January 6 in his memoir.
Boehner said that the former president had "abused the loyalty and the trust that voters had placed in him" by continuing to falsely claim that massive fraud was to blame for his 2020 election defeat to President Joe Biden.
When speaking about Trump repeating some of the same falsehoods during a fiery speech to GOP donors at a Mar-a-Lago fundraiser in Florida over the weekend, Boehner said that Trump was "a guy who is unemployed" and "has nothing else to do except to cause trouble."