Republicans 'More Radical' and 'More Committed' to Trump 'Lie' Since 1/6: Ex-GOP Strategist
Former GOP strategist Steve Schmidt said the Republican Party is "fully committed to the authoritarian movement" in the wake of the riot at the U.S. Capitol on January 6.
"Objectively since the insurrection on January 6, the Republican Party is far more radical, far more committed to the lie that Trump has told," Schmidt told MSNBC host Brian Williams during his show, The 11th Hour, on Friday.
"And should the events repeat themselves, the Republican Party is in a much different place than it was this past election with regard to being prepared to try to subvert the legal and lawful results," he added.
Schmidt co-founded the Lincoln Project—a political action committee led by Republicans that sought to unseat Trump in 2020—but resigned from the organization earlier this year.
During his appearance on MSNBC, Schmidt said that the U.S. is "in trouble."
"We have a real-life autocratic movement alive and well in the United States. We have a political party that seems committed to the project of taking power, regardless of what the results are," he added.
Schmidt also criticized Democrats, who he said haven't accomplished enough following the 2020 elections. Democrats now control the presidency and both houses of U.S. Congress.
"The Democrats have done nothing since coming into office," he said
"Not on the question of voting rights, not on the question of ethics reform. They have done nothing to prevent any of the abuses that we've seen. Done nothing to harden any of the infrastructure," Schmidt added.
Largely due to disagreements within their own party, Democratic lawmakers have struggled to advance the legislative agenda of President Joe Biden. And on several occasions this year—including one earlier this week—Republicans have also blocked Democrats' attempts to pass legislation to expand voting rights.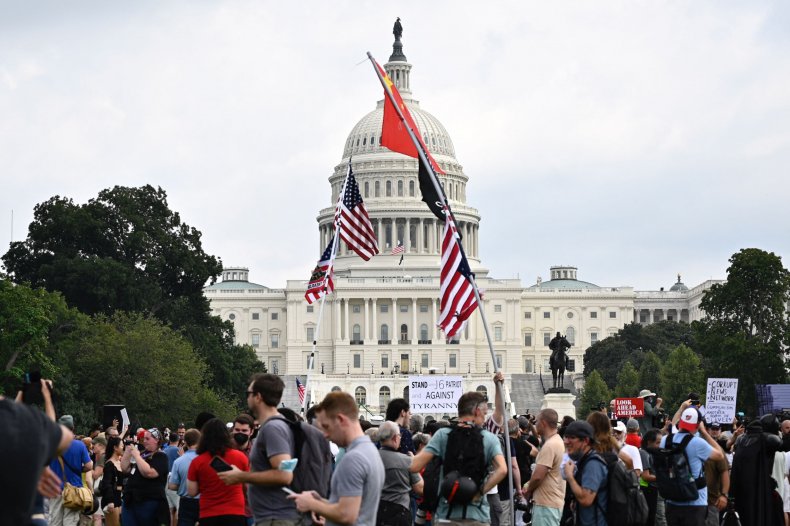 On Thursday, when the House of Representatives voted to approve a criminal contempt referral against Steve Bannon an ex-White House adviser to former President Donald Trump, the vast majority of Republicans opposed the effort. The referral came after Bannon refused to comply with a subpoena issued by the House select committee investigating the January 6 attack against the Capitol.
The House voted 229-202 to send the referral to the Justice Department—with only nine Republicans joined Democrats in approving the measure.
A poll released in September found that the majority of Republicans believe that left-wing activists deserve the most blame for the January 6 attack, which was carried out by pro-Trump supporters.