Ex-Illinois Governor, Who Trump Freed from Jail, Files Lawsuit to Run for Office Again
Former Illinois Governor Rod Blagojevich filed a lawsuit Monday claiming his state House impeachment and state Senate trials in 2009 were unconstitutional and he should regain the right to hold office in Illinois.
"The issues are very clear," Blagojevich said to reporters Monday."It's about right to vote and it's about due process." He told reporters his prosecution was "dishonest," and took evidence out of context to remove him from office for political motivations.
Blagojevich filed his lawsuit per se, meaning he will act as his own attorney, though he was disbarred in 2020, after speaking to reporters outside the Dirksen U.S. Courthouse—the site of his conviction in 2011. He repeatedly said he had no specific plans to run for any office, but refused to rule it out.
Blagojevich, who was governor of Illinois from 2003 to 2009, was impeached by the state House for abuse of power and corruption. The state Senate then voted to remove him and block him from ever holding political office in the state of Illinois. Separate from these hearings, he received a federal indictment related to a wide array of corruption charges, including an attempt to sell the United States Senate seat being vacated by then-President-elect Barack Obama. After serving eight years of a 14-year jail sentence which began in 2011, then-President Donald Trump commuted his sentence in 2020.
Blagojevich said Monday the 2009 State Senate resolution to disqualify him from ever again holding public office in Illinois, was "the handiwork of a rigged impeachment process engineered by Illinois House Speaker Mike Madigan." He is now seeking a permanent injunction from a federal judge declaring the resolution unconstitutional.
Blagojevich's lawsuit claims that "the [Illinois] House impeachment hearings and the subsequent Senate trial violated due process and the Constitution," and in doing so, robbed Illinois voters of their elected governor.
According to reporting from abc7, which is working with documentary filming crews, Blagojevich has said his lawsuit claims he was not allowed to call and question witnesses in his impeachment proceedings or play all of the voluminous undercover FBI recordings, which he said makes them unconstitutional.
Among the more memorable public soundbites of the impeachment trials was a phone call taped by the FBI where Blagojevich can be heard referencing the open U.S. Senate seat, saying "I've got this thing, and it's f**king golden. I'm just not giving it up for f**king nothing."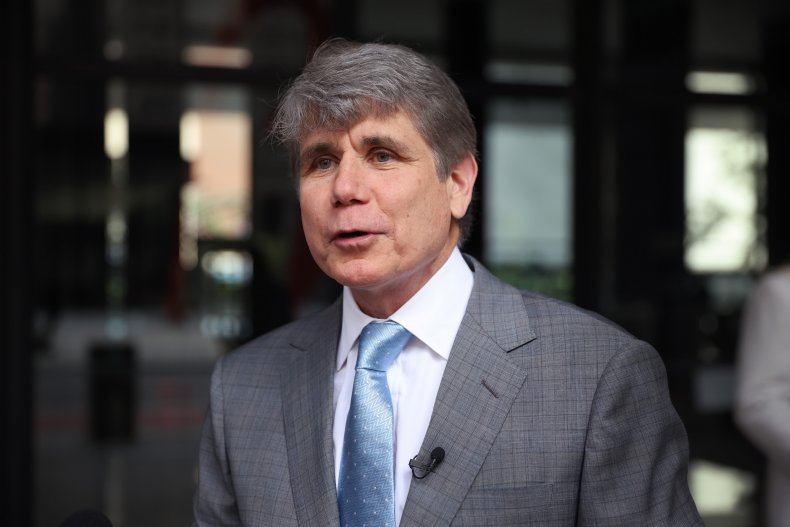 Blagojevich has done much to remain in the public eye over the years. Between his impeachment and jail time, he appeared on Trump's Celebrity Apprentice reality show. He also attempted to appear on the reality show, I'm a Celebrity ... Get Me out of Here! but was denied travel permission to fly to Costa Rica.
Since Trump commuted his sentence, Blagojevich said he has been making money on the website Cameo where he records personal messages for money.
Newsweek reached out to Mr. Blagojevich for comment through his booking agent.