Ex-LAPD Commander Calls Kneeling With George Floyd Protesters One of His 'Better Leadership Moments'
Taking a knee with protesters following the death of George Floyd was "one of the better moments of leadership" in former Los Angeles Police Department Commander Cory Palka's career.
"To stand with our community in solidarity, I would never undo it. It was a great moment," Palka told Yahoo News. "The city was at a tipping point. The city was in crisis."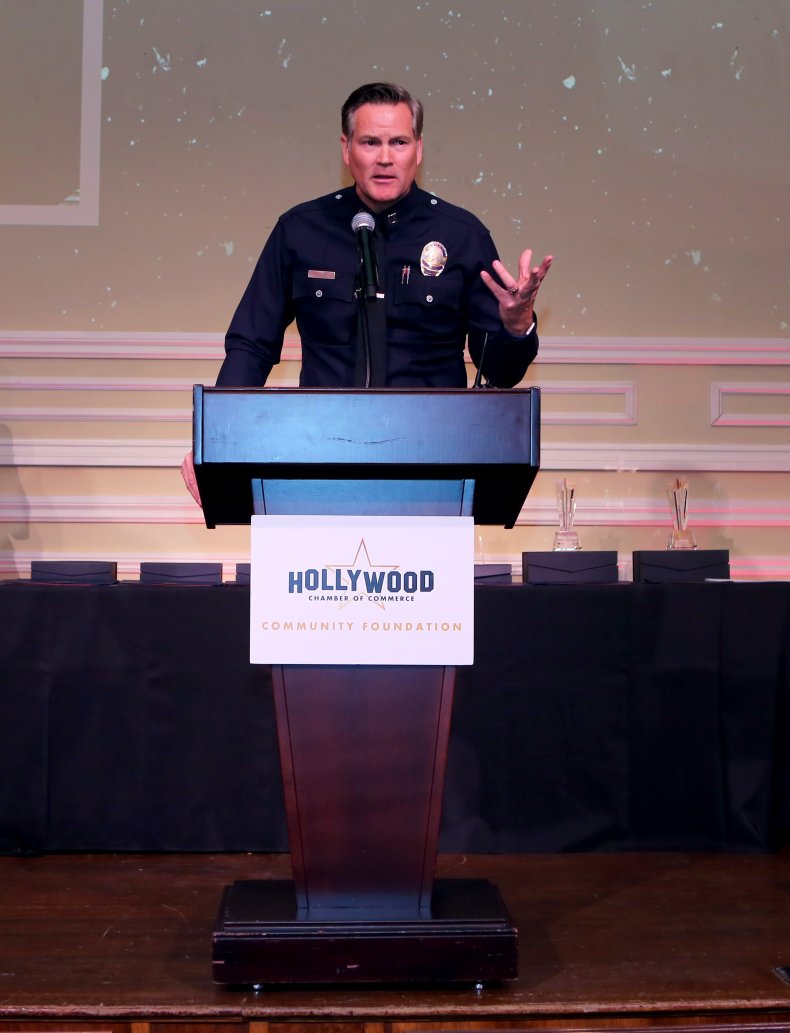 Palka said he made a split-second decision on June 1 to kneel with protesters paying tribute to Floyd, a Black man who was killed five days earlier as a white Minnesota police officer knelt on his neck. A crowd of emotional protesters had gathered outside of the Laugh Factory in Hollywood, California, with hundreds of police officers at the scene under orders to break up the demonstration when a 6 p.m. curfew began.
Palka ignored warnings from fellow officers who said he could be hurt if he entered the crowd.
"I knew in my heart that I needed to give it my good-faith effort," he said. Palka entered the emotional gathering with a megaphone and asked the protestors if they would keep the assembly peaceful as long as he took a knee in support.
"Take a knee!" the crowd repeatedly chanted in response. Palka took one knee and bowed his head before he said, "We stand together. Within the next 30, 40 minutes, if you peacefully go out and return to where you came from, I give you my commitment and honor that you will not see police officers in front of you. Fair enough?"
No protesters or police officers were injured as the demonstrators dispersed and headed home.
The response to Palka's actions were mixed. Palka said he has received hate mail and rebukes from fellow police officers since that day, including internal complaints that described his actions as those of a "coward." The LAPD conducted an internal review of Palka and announced in February his actions were not considered misconduct. According to Yahoo News, the internal report said that Palka took a knee to deescalate what could have been a violent situation, not to make a political statement.
Activists weren't all supportive of Palka, either. Some thought that police officers should do more politically than taking a knee. Roxane Gay wrote in a Twitter post on May 6: "I need cops and politicians and white people more broadly to stop kneeling. We don't need you to kneel. We need you to stand up for real, radical, sustained change."
Criticism further grew when a video emerged last June of Palka flashing the "OK" hand sign after finishing a conversation with a TV reporter. The sign is associated with white power and caused alarm among activists, although Palka said he didn't know what the sign meant at the time.
Palka told L.A. Taco: "I was waving goodbye to a videographer. I had never been aware of that association to a hate group. Never. My assistant brought it to my attention after the Twitter alert."
Reports said Palka had followed accounts linked to white nationalism and racism on Twitter. Palka responded that he followed a "balanced group" to gather information relevant to policing.
According to L.A. Taco, Palka was with the LAPD's Hollywood Division when businesses and venues that attracted Black and other nonwhite customers were targeted with nuisance complaints from law enforcement. The report also said he advocated shuttering the "urban" nightclubs.
Palka retired after 34 years of service on March 1, just days before the start of the trial of Derek Chauvin, the former Minneapolis police officer charged in Floyd's killing. The former Cmdr. told the Los Angeles Times Chauvin's actions were murder and condemned the killing. The LAPD released a statement calling Floyd's killing "incredibly disturbing."
"[Chauvin] will face a justice system that will most likely find him guilty of this crime," Palka told the Times. "It's horrible conduct. It's an embarrassment. That was terrible training and terrible application of common sense."
Newsweek reached out to the Los Angeles Police Department for comment but did not receive response in time for publication.