Ex-News Corp VP Quit Over Fox News' 'Relationship With Facts' and 'Anti-Immigrant, Anti-Refugee, Anti-Muslim Rhetoric'
A former News Corp. senior vice president said on Sunday he resigned from the media conglomerate two years ago because of Fox News' "relationship with facts" and what he saw as the network's tendency to favor "anti-immigrant, anti-refugee, anti-semitic, anti-muslim rhetoric."
During a segment on CNN's Reliable Sources Sunday, host Brian Stelter asked Joseph Azam why he resigned from News Corp in 2017, where he worked as a senior vice president and chief group compliance officer for Australian American media mogul Rupert Murdoch.
"A couple of things. I've never been a consumer of the broadcast products and I didn't work for Fox, I worked for News Corp so I think I hadn't been exposed for a long time to a lot of what was going on, the opinions side," Azam noted.
"But beyond that, I noticed a significant change in tone. I'm a big believer in the marketplace of ideas, right?" the former News Corp executive continued. "And I was fine with working with and for people who had different values and opinions than I did, but I noticed a significant shift in the ferociousness and, frankly, in the relationship with facts, particularly on the Fox side."
"When was that shift in tone?" Stelter asked, promping Azam to explain that it happened "in the run up to the elections."
"I think it became very profitable to fall in line with some of the anti-immigrant, anti-refugee, anti-Semitic, anti-Muslim rhetoric. I was affected by that," Azam added.
Stelter noted that he'd heard other Fox staffers echo Azam's sentiments. According to him, they said "it has really changed, it has gotten a lot more venomous in the past couple of years."
He then asked Azam how he "interacted with this content?"
"I was in the legal department. I was working with people who were not a part of that world but every day in the elevators I would have to endure the coverage of a lot of the opinion shows and frankly, I interacted with the folks who were on TV," Azam replied. "I was exposed to it every day."
Azam and Stelter went on to discuss how this rhetoric did not extend to "all of Fox News, it's not all of the Wall Street Journal, it's not all of News Corp."
"Absolutely not," Azam said. "It's a very diverse company in terms of ideology, opinion and intention. It's absolutely not all of it. And one of the things I was hoping to accomplish by coming out is to say, 'we're here too.' The difficulty for people in my position is that we succeed a lot of times by being invisible and and keeping quiet. And I thought it was the wrong moment to keep doing that."
Azam then explained that he spoke to some of his colleagues before he left in 2017 and found some shared his concerns.
"I wasn't the only one who was troubled… by the dehumanization that was taking place in some of the coverage and the opinion shows, by the other-ing that was taking place and frankly what I viewed as a lack of decency."
"When you start getting people not agreeing on the facts, I think it was troubling for a lot of folks," the former News Corp executive added.
Azam's comments did not mark the first time he has spoken out about his time with the company. In an interview with NPR last month, Azam accused the company of "scaring people" and "demonizing immigrants." Azam worked for News Corp for roughly two years, between 2015 and 2017.
In 2013, News Corp spun off its Fox properties into a separate — but still Murdoch-controlled — corporate entity, 21st Century Fox. Fox News was spun off yet again — along with Fox Business, Fox Sports, and Fox Television — in 2019 into the new Murdoch-owned Fox Corporation when Walt Disney acquired 21st Century Fox.
While the Murdoch family business may be most publicly associated with the Fox brand, News Corp is home to a variety of media properties. The company owns Dow Jones & Company, which publishes The Wall Street Journal; book publishing giant HarperCollins, and its various imprints; and real estate information site Realtor.com.
According to Nielsen Media Research, Fox News Channel (FNC) was the most-watched cable network in 2018, for the third year running. In addition to beating out MSNBC and CNN, Fox in 2018 hit its highest-rated year in primetime since it was launched around 22 years ago. Fox News also took four of the five top program slots ranked by average viewers, with Hannity, The Five, The Ingraham Angle and Tucker Carlson Tonight.
Fox News has repeatedly come under fire in recent months over offensive comments made by two of its most popular hosts, Tucker Carlson and Jeanine Pirro. Pirro was suspended by the network last month after she questioned whether Democratic Rep. Ilhan Omar's (Minn.) hijab contradicted the Constitution.
"Omar wears a hijab, which according to the Quran 33:59, tells women to cover so they won't get molested," Pirro said live on air during a segment of Justice With Jeanine. "Is her adherence to this Islamic doctrine indicative of her adherence to sharia law, which in itself is antithetical to the United States Constitution?"
Shortly after the comments were made, Fox News moved to "strongly" condemn Pirro's statements and asserted that "they do not reflect those of the network and we have addressed the matter with her directly."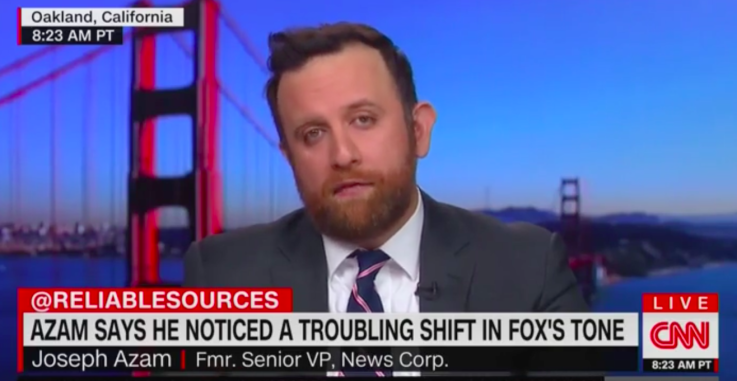 Ex-News Corp VP Quit Over Fox News' 'Relationship With Facts' and 'Anti-Immigrant, Anti-Refugee, Anti-Muslim Rhetoric' | U.S.