Ex-NATO Chief Denied Entry Into United States Because He Went to Iran
Javier Solana, the former secretary-general of NATO, was refused a visa to enter the United States because he visited Iran.
Spanish newspaper El Pais reported that the former Spanish foreign minister was due to give a speech at the Brookings Institution, a Washington think tank. But an electronic authorization system rejected a U.S. visa for Solana because of recent trips he'd taken to the Islamic republic, which is among seven countries blacklisted by the U.S. Department of Homeland Security.
Solana helped negotiate the 2015 Iran nuclear deal when he was the European Union's foreign policy chief. He also attended the inauguration of President Hassan Rouhani in 2013.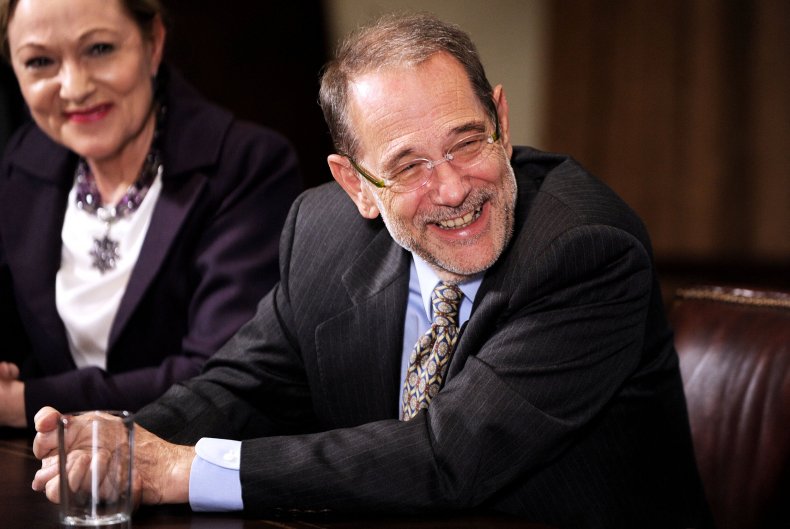 "It's a bit of a mean decision. I don't think it's good, because some people have to visit these difficult countries to keep negotiations going," Solana told the Spanish TV station Antena 3.
Citizens of the 38 countries in the U.S. Visa Waiver Program who have visited the blacklisted countries—which include Sudan, Libya, Somalia and Yemen—do not get the waiver. They have to apply for new Electronic System for Travel Authorization permission before traveling to the U.S.
The rules were introduced before President Donald Trump's travel ban on the five Muslim-majority countries.
"I went there to represent all those who had been involved in the negotiations. I'll see what I can do to fix this. It's a computer—an algorithm—and if you've been in Iran lately, they take you out of the system. It's like you don't exist visa-wise, because you can't visit the country," said Solana.
He said he hoped to resolve the situation soon: "I need to go because I need to work there and I'm a professor at various universities."
Tom Wright, a senior fellow at the Brookings Institution, tweeted: "Dismayed & saddened that the Trump admin has denied entry to the US to my friend and Brookings colleague Javier Solana, a former Sec Gen of NATO and one of the strongest & truest friends America could wish for."
However, Solana did tell the New York Times the rejection was likely "to be more bureaucratic than political," and that he was in the process of applying for a U.S. visa.
Referring to the fact that the restrictions for Electronic System for Travel Authorization were tightened under the Barack Obama administration, the French ambassador to the U.S., Gerard Araud tweeted: "Strange that our American friends are discovering only now this Obama regulation. Scores of European scholars, parliamentarians and business people have already faced the same constraints."
Iran is set to decide soon whether it will pull out of the nuclear deal Solana helped broker after Trump withdrew from it last month, despite widespread opposition from European countries.